A mysterious seller.
Internationally condemned chemical weapons.
Until recently, the whole thing was a secret — and even now the Pentagon is cagey about its involvement.
Working with the U.S. military, the CIA purchased some 400 Borak rockets from an Iraqi seller between 2005 and 2006, uncovering and destroying reserves of sarin nerve agent, the New York Times reported.
The name of the program: Operation Avarice.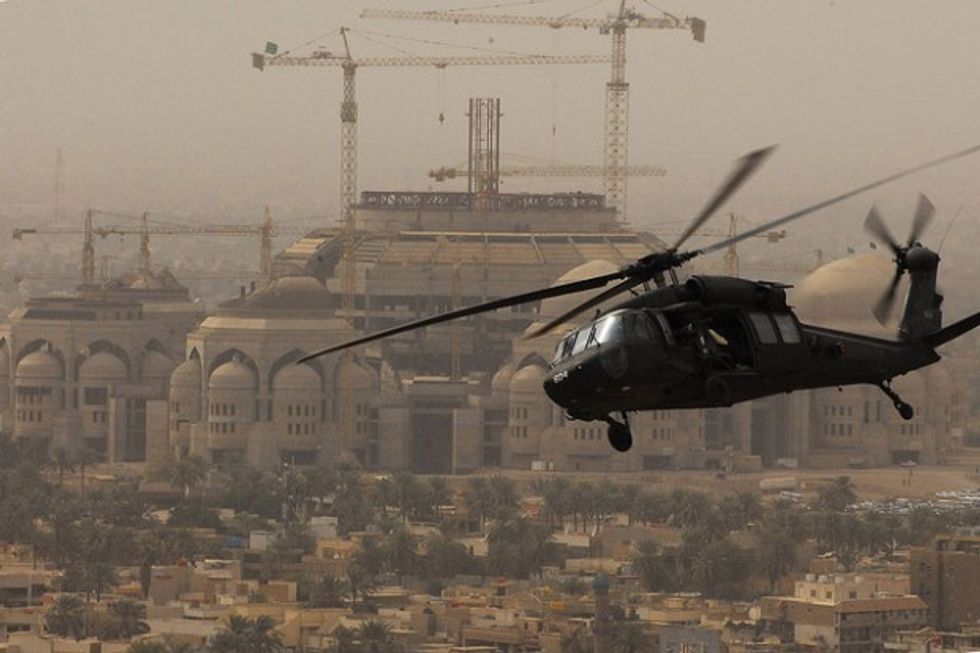 A military helicopter over Baghdad. (Image via U.S. Army/flickr)
According to the Times' report, Operation Avarice revolved around a single Iraqi who sold the weapons to the Americans in batches.
Run by the CIA office in Baghdad and the Army's 203rd Military Intelligence Battalion, the program destroyed most of the rockets it recovered — along with thousands of other chemical weapons recovered throughout the American occupation of Iraq — though some rockets were tested in rudimentary ways that may have exposed soldiers to dangerous chemicals.
One source said operatives would place warheads in "an old cast-iron bathtub" and drill through the metal exteriors to extract the liquid sarin nerve agent within.
Manufactured by Saddam Hussein's regime in the 1980s, the Borak rockets were found to contain surprisingly pure sarin despite their age, the Times reported.
Sarin gas is a lethal chemical used by Iraq in the Iran-Iraq War of the 1980s — with occasional CIA guidance — and more recently in fighting in Syria.
The chemical weapon, which painfully destroys victims' nervous system functioning, has been internationally condemned.
In response to the Times story, military officials declined to offer specifics about Operation Avarice.
"Without speaking to any specific programs, it is fair to say that together with our coalition partners in Iraq, the U.S. military worked diligently to find and remove weapons that could be used against our troops and the Iraqi people," Rear Adm. John Kirby, the Pentagon press secretary, said in a written statement.
Read the full Times report here.
—
Follow Zach Noble (@thezachnoble) on Twitter