A man was shot and killed inside a grocery store named after President Barack Obama and that bears the rising sun emblem of his campaign.
Jhai-quel Rai-Tez Black, 23, was shot dead by security guards at the St. Petersburg, Florida, Obama Express Food Market on Tuesday, Bay News 9 reported.
The man apparently entered the store arguing with another man before he started waving a gun around, at which point security guards outside came into the store and shot him.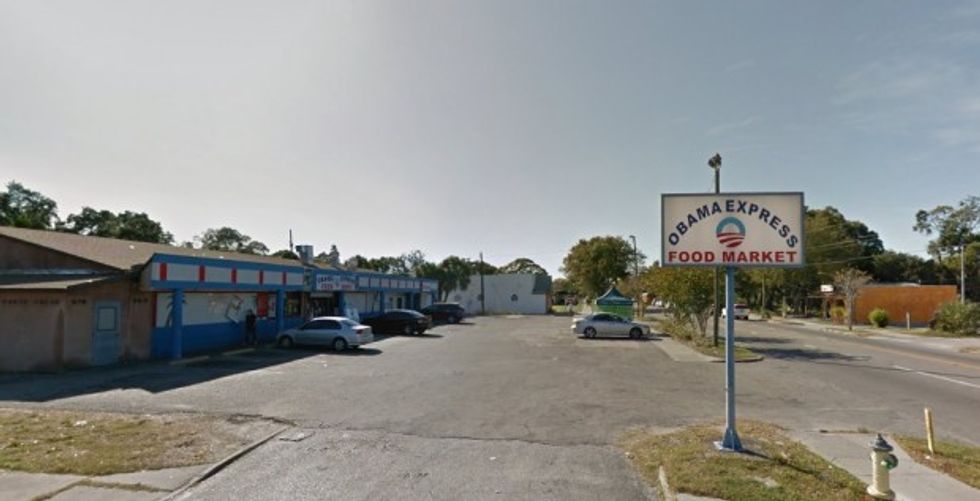 The Obama Express Food Market in St. Petersburg, Florida. (Image via Google Maps)
The store is a hotbed of violence, police said.
Cops have been called to the Obama Express Food Market 206 times since August to handle crowd issues, fighting, trespassing and other shootings, Bay News 9 reported.
"They're piled up in my parking lot, the post office parking lot, just hanging out, 3 o'clock in the morning coming from the clubs," local barber Troy Jones said of the rough crowds that frequent the area around the Obama Express Food Market.
In this case, police said they anticipate no charges being filed, though the shooting is still under investigation.
(H/T: Drudge Report)
—
Follow Zach Noble (@thezachnoble) on Twitter