A delegation of House Democrats visiting Cuba this week had nothing to say about a new wave of political arrests on the island, which prompted more criticism that the Obama administration has jettisoned human and political rights issues in an effort to quickly restore diplomatic relations with the Castro regime.
House Minority Leader Nancy Pelosi (D-Calif.) led the delegation of Democrats to Cuba, and said her visit was an effort to build upon President Barack Obama's December decision to normalize relations with Cuba. Pelosi acknowledged on Tuesday that her visit would on economic issues, not human rights issues.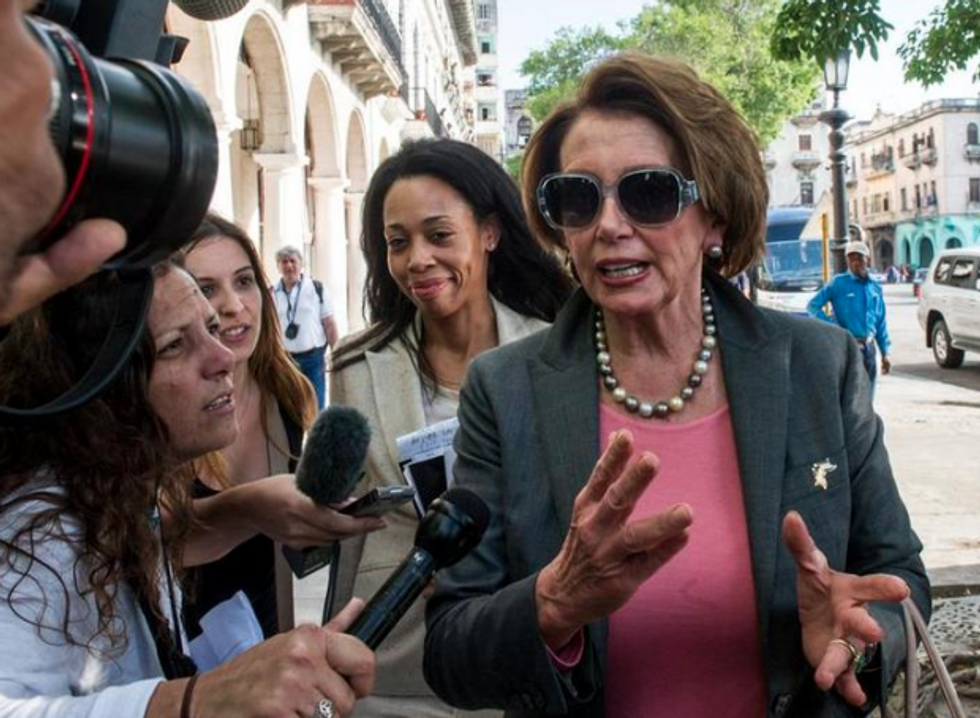 House Minority Whip Nancy Pelosi (D-Calif.) and other Democrats had little to say about the latest wave of political arrests in Cuba, which they are visiting this week. Image: YAMIL LAGE/AFP/Getty Images
"This delegation travels to Cuba in friendship and to build upon the announcement of U.S. normalization of relations and other initiatives announced by President Obama," she said Tuesday. "This delegation will work to advance the U.S.-Cuba relationship and build on the work done by many in the Congress over the years, especially with respect to agriculture and trade."
But as many have feared, these efforts don't seem to include any effort to push Cuba to commit to higher human rights standards. Cuba has arrested dozens of political dissidents in the last week, but there were no signs that House Democrats were raising these issues with Cuban officials.
As of Wednesday morning, none of the Democrats on the trip had tweeted anything about the arrests, and Pelosi's Twitter account had just one tweet of her positing with U.S. Marines at the U.S. Interests Section in Havana:
Visiting w Marines @ US Interests Section in Havana. Our delegation will work to advance US-Cuba relationship. pic.twitter.com/uwUYVKDJAq

— Nancy Pelosi (@NancyPelosi) February 17, 2015
Rep. Ileana Ros-Lehtinen (R-Fla.) told TheBlaze that Cuba often tries to get policymakers to fall in love with Cuba, in order to hide that its government is a communist dictatorship that is an 'avowed enemy of our nation."
"There is no freedom of expression in the state controlled media in Cuba, so we cannot allow ourselves to fall for the ruse of the Castro regime that only uses trips as a political propaganda coup for their own sadistic purposes and emboldens its spy network to undermine our national security," she said.
"In the last week, almost 100 people have been arrested by Castro's thugs and more arrests will continue right under the nose of the State Department who continues its misguided talks with the regime while failing to prioritize the cause of human rights," she added.
When Obama announced his new policy toward Cuba, he said Cuba had agreed to release 53 political prisoners. But both Republican and Democratic supporters of the embargo noted that some of those released were quickly re-arrested.
Many others have noted that the administration appears to be uninterested in securing the release of Americans who fled to Cuba in order to escape prosecution in the United States. State Department officials have said only that they have asked Cuba for the release of these fugitives, but that Cuba does not want them released.
Despite the lack of progress on these issues, the State Department has indicated that it still wants to see normal diplomatic relations with Cuba in a matter of months, even as Cuba has said this can only happen when the U.S. lifts the embargo completely and compensates Cuba for the economic damage the sanctions have caused.