Democratic and Independent callers on Wednesday slammed C-SPAN for hosting a morning discussion about whether Vice President Joe Biden went too far when he got behind Defense Secretary Ashton Carter's wife and whispered in her ear.
Biden's behavior led several news outlets to talk about whether Biden went too far, and more broadly about Biden's tendency to get touchy-feely with women in public. C-SPAN host Greta Brawner noted that while many in conservative media wrote about Biden's awkward moment, several left-leaning outlets did as well, such as the New York Times and NPR.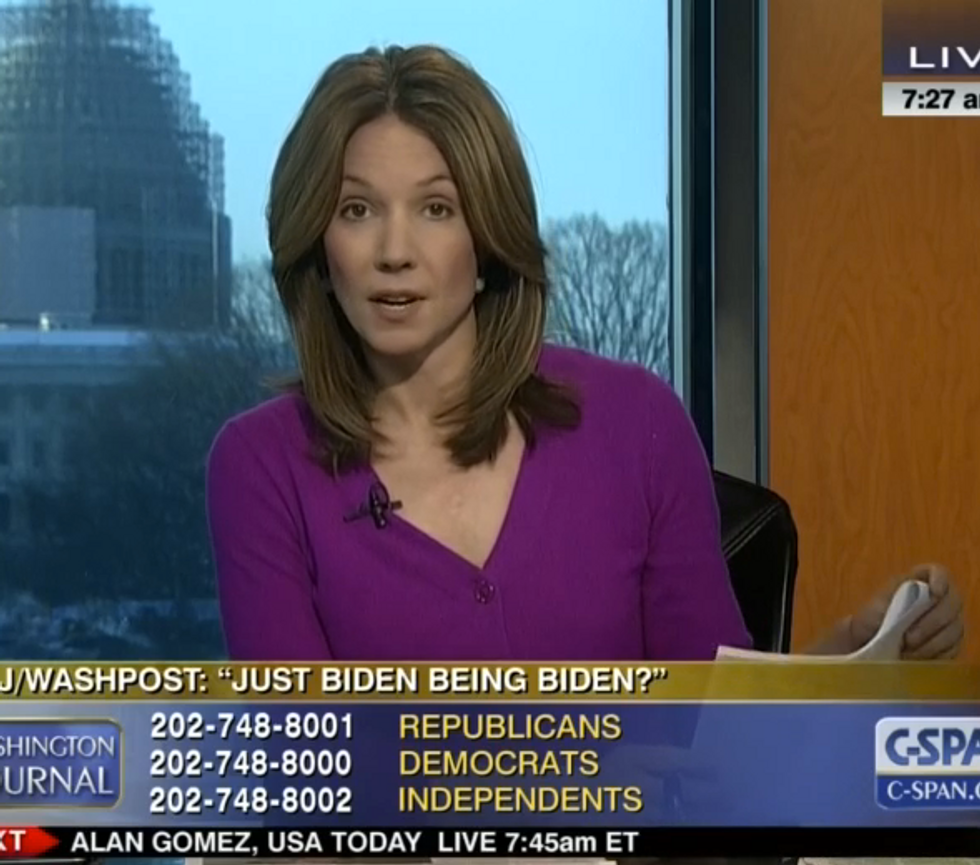 C-SPAN host Greta Brawner heard lots of criticism Wednesday morning for discussing Vice President Joe Biden's 'creepy' moment with a Cabinet official's wife on Tuesday.
But that didn't sit well with some callers, who said C-SPAN shouldn't be discussing this at all.
"This is absolutely… hello?!" said one Democratic caller. "Take a deep breath, sit back, get a grip."
As the show went on, some callers began to speculate that C-SPAN was taking its cues from Fox News.
"I just want to know if C-SPAN is affiliated with Fox News, because y'all need to really get a grip on what y'all put on TV," another Democrat said. "This is disgusting."
Biden hanging onto Ashton Carter's wife (and whispering things) at Carter's swearing-in pic.twitter.com/qc911pu1GT

— jennifer bendery (@jbendery) February 17, 2015
After about 20 minutes, callers began openly criticizing C-SPAN for talking about Biden.
"In the early days of Washington Journal, when Brian Lamb and Susan Swain were the main anchors, this would never have been talked about," one Independent callers said. "This is titillating entertainment for trailer trash."
"I really don't think it's a big thing," said one Democrat. "Shame on C-SPAN for even having this subject. We have so much other important stuff."
"Just a bunch of whining, crybaby Republicans, that's all it is," he added.
Another Independent said he was "trembling" in his den as he listened to the conversation, and said some people are just touchy-feely and shouldn't have their character dragged in the mud.
"I look for objective, good reporting, not this kind of trash that would trash a man of Joe Biden's character," he said.
"[What] have Americans subjected themselves to, when people can't show they're still touchy-feely people?" he asked. "Of course you're going to have some people out there that take it as a pervert, but we're not like that as American people. We show people that we care about them by touching them sometimes."
"Over the years, I've seen C-SPAN erode, if you will," another Independent said. "This is stepping over the line, where you get to slandering people like this."
That same caller said C-SPAN is tainted because Fox News is one of the companies that contributes to its funding.
"You support one of your stations that are out-and-out spewing lies," he said. "You are not educating anyone, you are indoctrinating."
Not every caller criticized C-SPAN for hosting the discussion, and even some Democrats said Biden's behavior was inappropriate.
"Biden's got something wrong with him," said one Democrat. "Maybe we should hospitalize him or something? Is he a pervert or something?"
"Clearly Democrats do get a free pass," one Independent opined. "Bill Clinton, impeachment, hello?!"
"He definitely needs to be reminded," she added of Biden. "He's feeling her up, let's face it."