Write enough words over the years and you're bound to forget what you've written — and what you haven't.
John Green, the author of such young adult fiction hits as "The Fault in Our Stars," made a startling realization this week: He'd been making money off of a poster that purported to show a quote from one of his books, but in fact, the quote was nowhere to be found in his writing.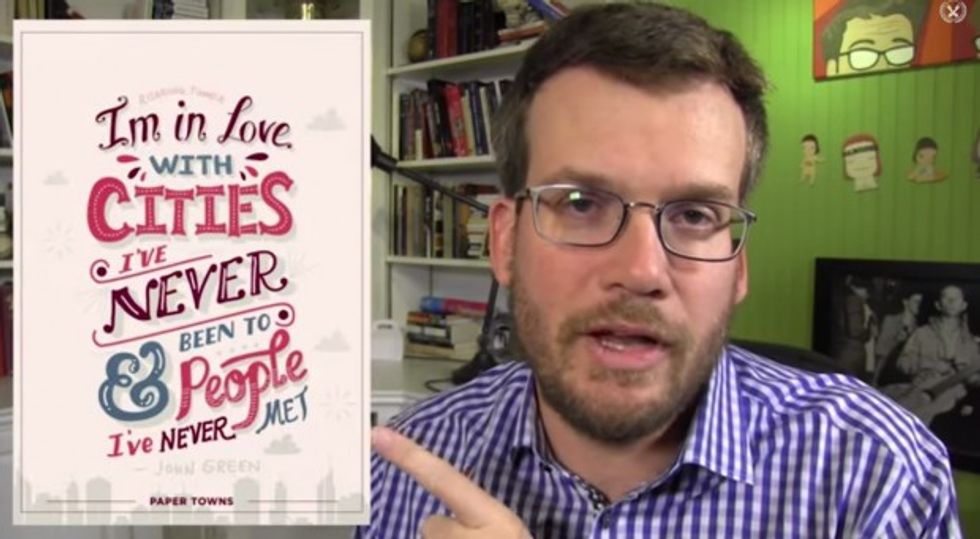 Author John Green points to a poster that attributes a quote to one of his books — but the quote actually came from a 13-year-old girl's Tumblr page. (Image via YouTube)
The quote is, "I'm in love with cities I've never been to and people I've never met," and the poster sold online attributes it to Green's 2008 book "Paper Towns."
In a video posted to YouTube Tuesday, Green said he chanced upon a forum online where someone was complaining about the quote being stolen from a 13-year-old girl's Tumblr page.
Unable to actually remember whether he'd written the words or not, Green said he illegally downloaded a copy of his own book just so he could search the text for the quote — and he discovered it wasn't there.
Watch Green tell the weird story below:
Green chalked the whole thing up to the problems of sourcing material online — people can and do remix quotes and attribute things where they don't belong in the Wild West of Internet writing.
He pledged, however, to fix the mistake and funnel the proceeds of the poster sales to the girl who actually wrote the line.
Green brings in some $9 million annually on the strength of young adult fiction hits such as "The Fault in Our Stars" and "Looking for Alaska." He's also one of the "Vlog Brothers" — his brother Hank was one of the YouTube celebrities who interviewed President Barack Obama in January.
—
Follow Zach Noble (@thezachnoble) on Twitter