The University of Massachusetts Amherst on Wednesday said it will end a controversial policy announced this month that banned Iranian nationals from admission to certain science and engineering graduate programs.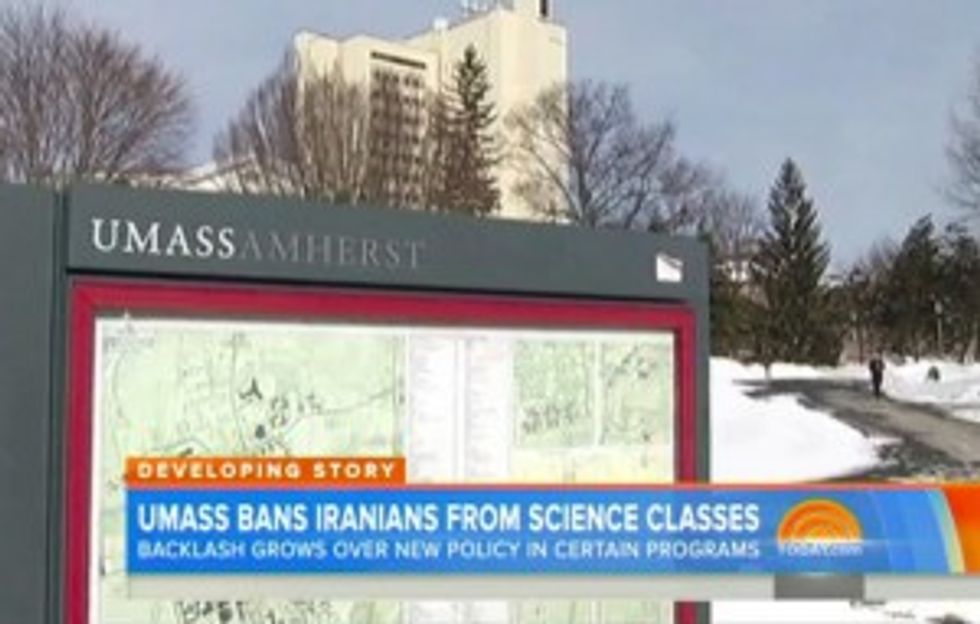 Image source: NBC News
Previous to its reversal, the school said the policy was prompted by an inquiry from a student, NBC News reported, and was meant to comply with U.S. law denying visas to Iranian students looking toward fields in energy and nuclear science. An outline of the policy was posted to the school's website Feb. 6.
But colleges typically have deferred to the State Department, which issues visas, and the Department of Homeland Security, which investigates threats, to weed out risky applicants, NBC added.
The university is changing its policy after dialogue with the State Department, the Boston Globe reported.
The State Department on Tuesday told NBC it would "reach out" to the school to discuss the policy and that "U.S. law does not prohibit qualified Iranian nationals coming to the United States for education in science and engineering. Each application is reviewed on a case-by-case basis."
"We have always believed that excluding students from admission conflicts with our institutional values and principles," Michael Malone, vice chancellor for research and engagement, said in a statement Wednesday. "It is now clear, after further consultation and deliberation, that we can adopt a less restrictive policy."
[sharequote align="center"]"It is now clear...that we can adopt a less restrictive policy."[/sharequote]
Going forward the school will now create individual study plans "based on a student's projected coursework and research in conjunction with an offer of admission."
There had been a growing tide of backlash over the ban among Iranian students and others.
"We always felt like an integral part of the university community. Now we're just kind of confused," Shirin Hakim, an Iranian-American who graduated last year and spoke for current Iranian students, told NBC. "We want an explanation for all this, and we don't think it should be tolerated, because it's clearly discriminatory against Iranian nationals."
Jamal Abdi, policy director of the National Iranian American Council, told the network his outfit was working on a petition over the issue.
"The State Department and Department of Homeland Security really does cause headaches for these universities, but instead of allowing them to interview students and figure out which ones don't get a visa, the university is taking a short cut and policing it on their own," Abdi said. "That's discriminatory."
TheBlaze reached out for comment Wednesday from the school's Center for Multicultural Advancement and Student Success — which provides support for students as well as for institutional diversity — but an official there referred questions to university relations.
The following report ran before the ban was halted Wednesday:
—
Follow Dave Urbanski (@DaveVUrbanski) on Twitter