LONDON (AP) -- Britain's defense minister has said Russia poses a "real and present danger" to European security, as Royal Air Force jets were scrambled to escort Russian warplanes off the British coast.
The Ministry of Defense said Thursday that RAF Typhoon jets escorted two Russian bombers away from British airspace after they approached the coast of southwest England on Wednesday.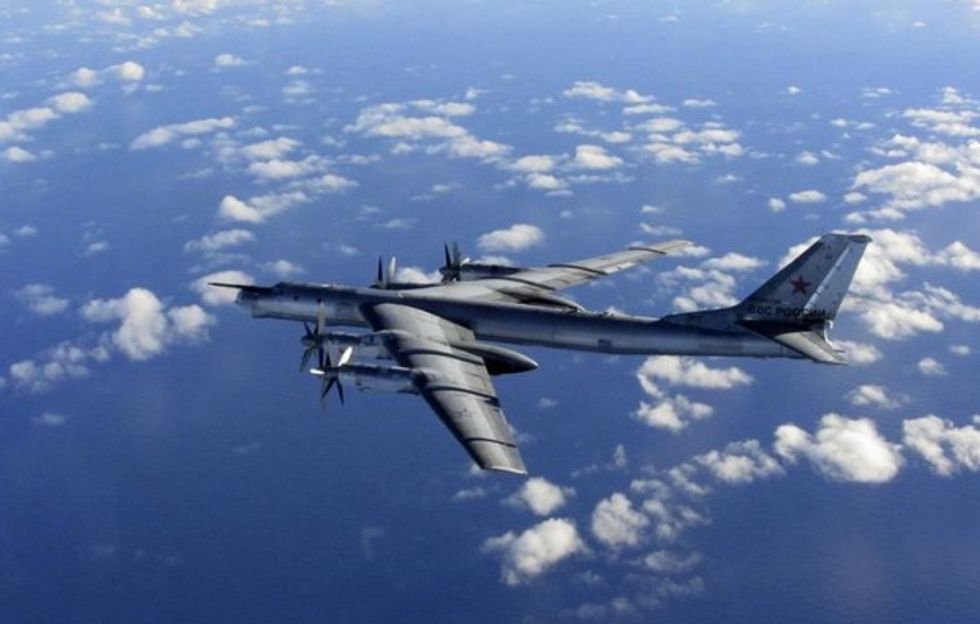 FILE - This is a Wednesday, Oct. 29, 2014 file photo provided by Britain's Royal Air Force of a Russian military long range bomber aircraft photographed by an intercepting RAF quick reaction Typhoon (QRA) as it flies in international airspace. Russia's defense minister says the military will conduct regular long-range bomber patrols, ranging from the Arctic Ocean to the Caribbean and the Gulf of Mexico. Sergei Shoigu's statement comes as NATO has reported a spike in Russian military flights over the Black, Baltic and North seas as well as the Atlantic Ocean. It reflects Moscow's increasingly tough posture amid tensions with the West over Ukraine.(AP Photo/Royal AIr Force)
Prime Minister David Cameron said the Russian planes did not enter U.K. airspace.
"I suspect what's happening here is the Russians are trying to make some sort of a point, and I don't think we should dignify it with too much of a response," Cameron said.
Russia has stepped up its probing of NATO defenses as relations deteriorated over the conflict in Ukraine.
Britain summoned Russia's ambassador last month and asked him to account for an incident in which Russian bombers flew along the coast and through the English Channel.
British Defense Secretary Michael Fallon said Wednesday that tensions between Moscow and NATO were "warming up." He NATO must be prepared for Russian President Vladimir Putin to threaten Latvia, Lithuania and Estonia, former Soviet republics that are now NATO members.
Fallon said that Putin "is as great a threat to Europe as Islamic State."
The comments made to reporters during a trip to Sierra Leone were among the harshest made by senior British officials in recent months.