When a man wearing a bandanna over his face walked into a Pinch, West Virginia, pharmacy on Wednesday, a surveillance camera was rolling and Don Radcliff apparently tried using humor at first to diffuse the situation.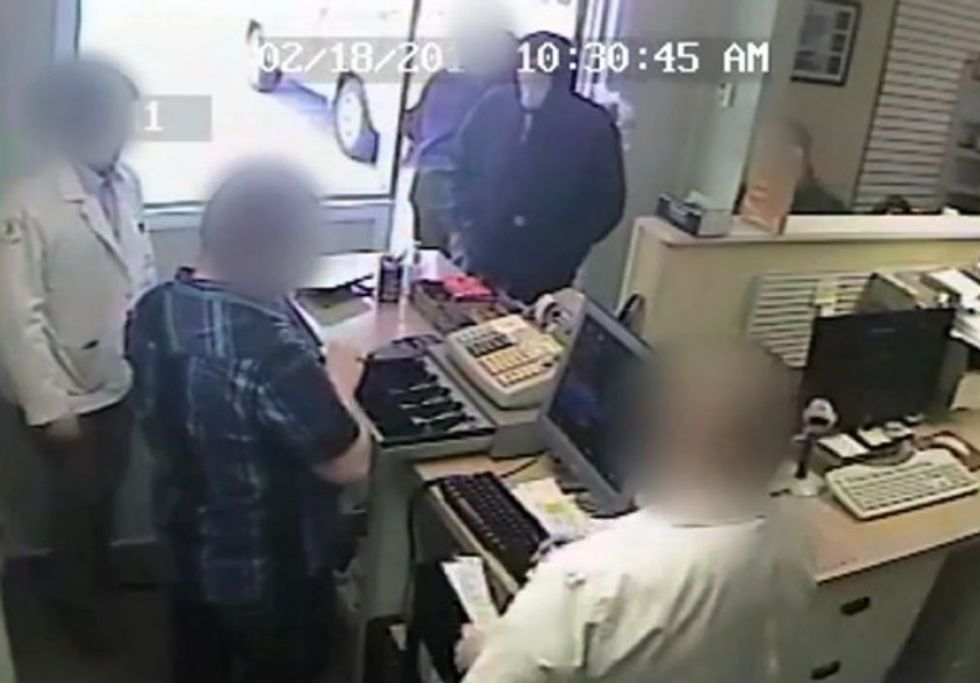 Image source: YouTube
The pharmacist tried to "feel the guy out" by joking with him, Good Family Pharmacy employee Chris Monk told the Charleston Gazette.
"Are you here to rob me?" Monk recalled Radcliff asking as he pointed at the man.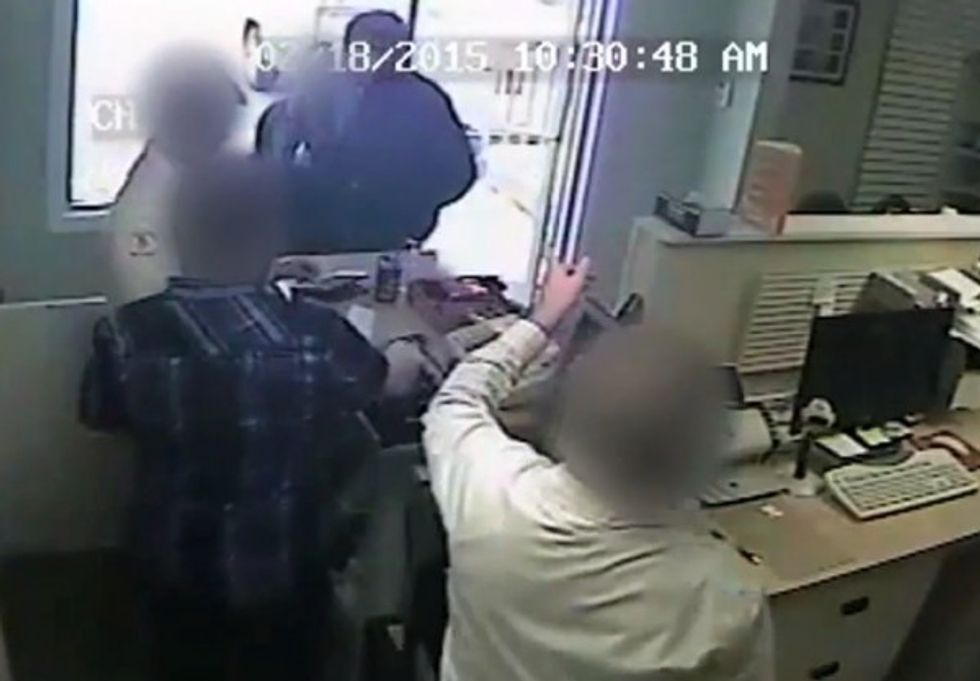 Radcliff, in foreground, appears to engage with and point at the masked man. (Image source: YouTube)
It was clearly no joke to the guy behind the makeshift mask, who then pulled out a gun.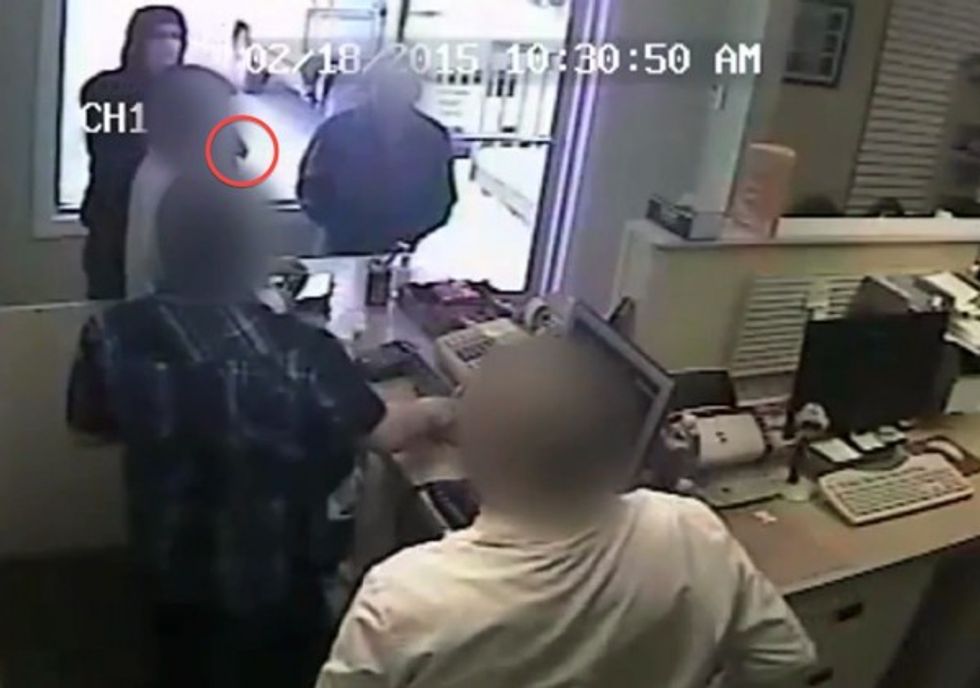 The masked man's gun is visible within the red circle. (Image source: YouTube)
But Radcliff had a gun under his white pharmacy coat that he'd already been reaching for — and he used it, firing three times at the man, the Gazette reported.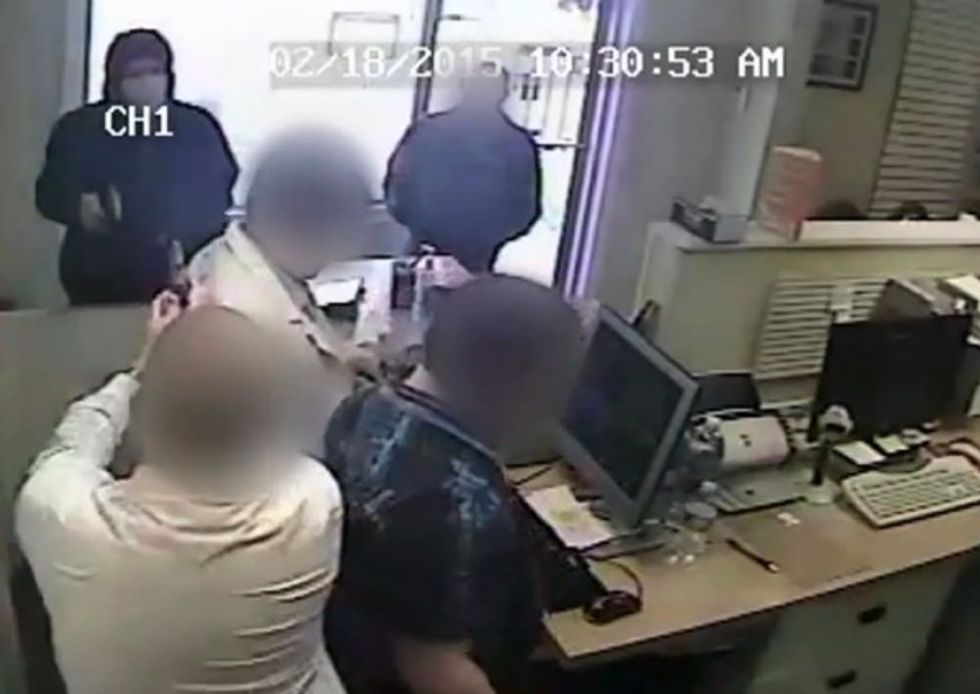 Image source: YouTube
Radcliff's first shot hit the suspect's chest.
The second shot hit the man's gun, which jammed it. The third shot struck his midsection, the Gazette reported.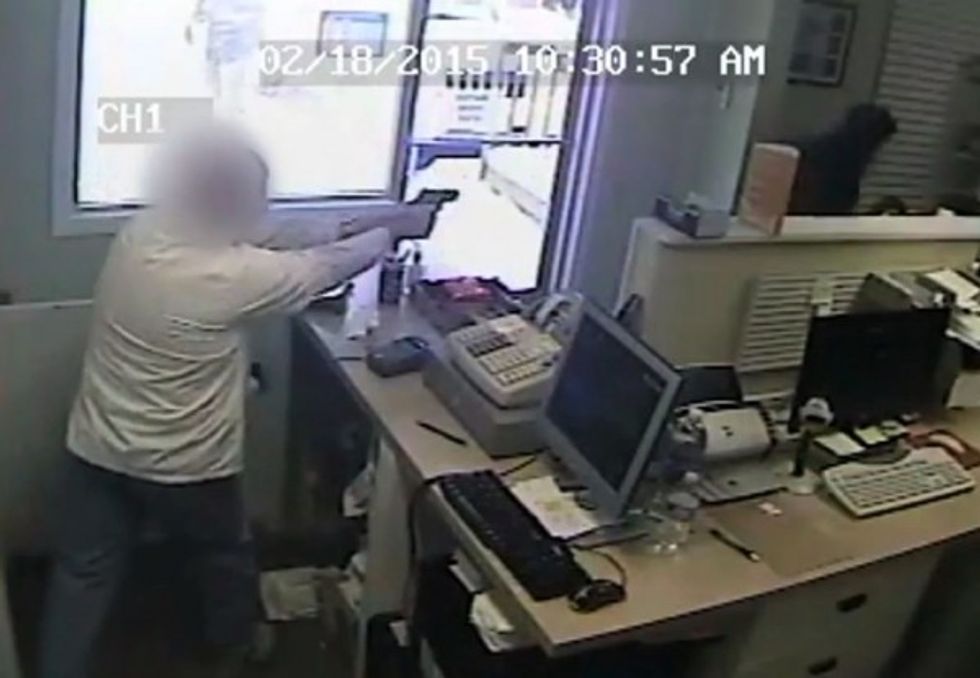 Image source: YouTube
A pharmacy employee told the Gazette that the man was attempting to shoot back during the few seconds the confrontation lasted.
After Radcliff stopped firing, he and a pharmacy intern attempted to give the gunman first aid. Pharmacy employees told the Gazette that Radcliff asked, "Why did you make me do this?" and also said, "I didn't mean to do this."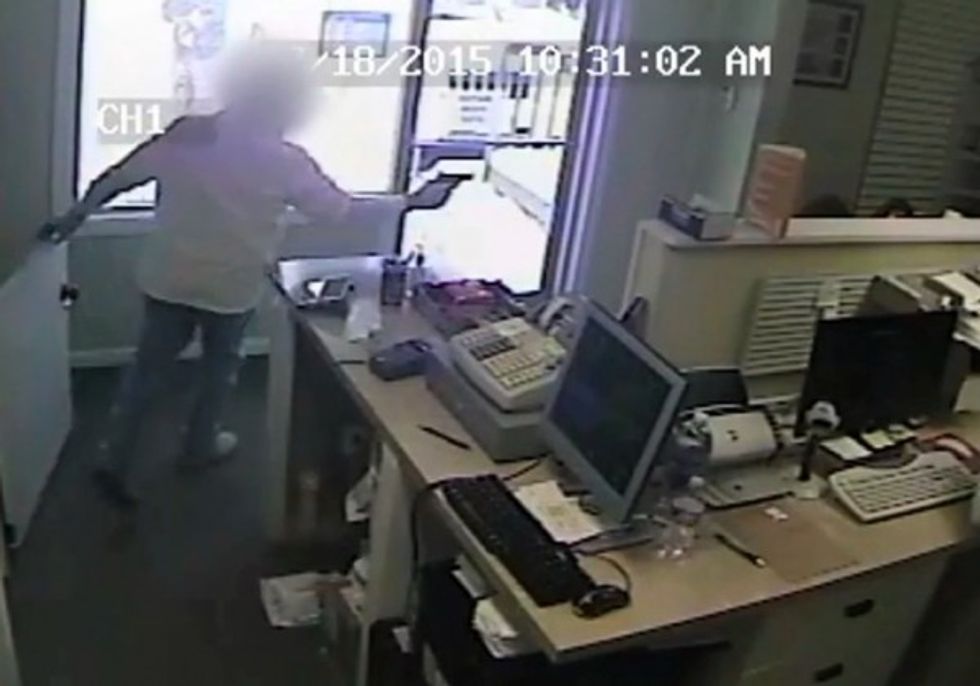 Image source: YouTube
The man later died of his wounds, the paper said.
The pharmacy didn't close after the incident, the Gazette noted, adding that employees swept up glass from a broken window and then began attending to customers again.
Pharmacy owner Joe Good — who was headed to his business when the shooting happened — took over for a broken-up Radcliff for the remainder of the day, the paper said.
"He's a lot more tore up now that he found out the guy died," Good told the Gazette.
Terry Gillenwater, 25, was pronounced dead at a hospital Wednesday, Kanawha County Sheriff's Corporal Brian Humphreys told the Gazette in a follow-up article.
No charges will be filed against Radcliff, Sergeant Sean Snuffer of the sheriff's department told the Gazette; but final approval on that matter rests with the county prosecuting attorney, the paper added.
Watch the video below (Warning: Graphic content):
(H/T: Opposing Views)
—
Follow Dave Urbanski (@DaveVUrbanski) on Twitter