Add "American Sniper" to the top of one more chart.
It's not necessarily a ranking producers want to be on, but it goes to show just how popular the film they made is.
AP Photo/Warner Bros. Pictures
According to a study released by Irdeto, a company that tracks online piracy, the biopic about the late American Navy SEAL sniper Chris Kyle has been illegally downloaded more times than any other Oscar-nominated film since the Academy Award nods were announced last month.
Between Jan. 15 and Feb. 14, "American Sniper" was illegally downloaded 1,389,819 times, amounting to more than $24 million in potential lost revenue.
Potential lost revenue, as explained by Irdeto, was calculated by multiplying the number of illegal downloads by the average cost of a Blu-ray disc ($19.99). However, not every illegal download can be considered a lost sale, the study notes.
Below is the study's full list of the most-pirated 2015 Oscar-nominated films: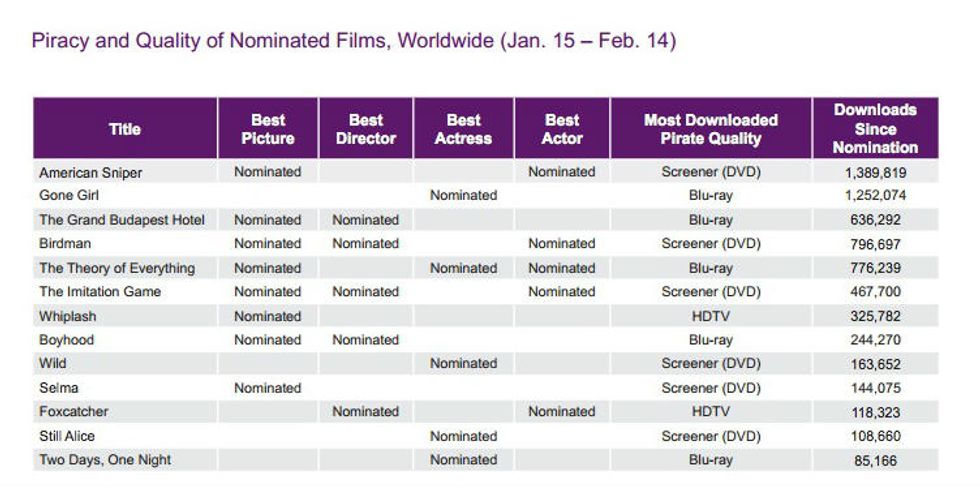 Image source: Irdeto.com
The information was gathered by Irdeto's proprietary tracking software to identify users illegal downloads of each film on the BitTorrent network. Each piracy case had a unique IP address that downloaded a unique file on the BitTorrent network, which is a way for users to download large amounts of data at once and allows users to share files across the Internet.
(H/T: BBC)
–
Follow Jon Street (@JonStreet) on Twitter