The Obama administration announced Friday that it would extend the enrollment period for Obamacare for about six weeks, in a last-ditch effort to help people sign up for health insurance and avoid higher tax penalties next year.
It's the second time in two years that the administration has extended enrollment under Obamacare. A year ago, officials said they'd give people more time to sign up because of the several glitches that the HealthCare.gov website was having.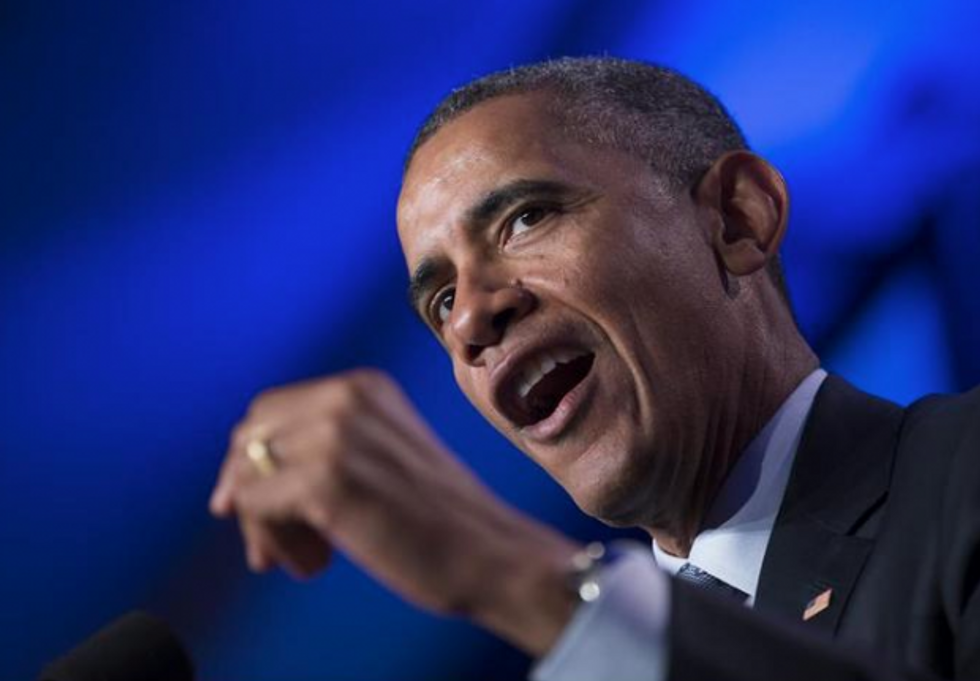 President Barack Obama and his administration just made a last-ditch effort to spare people from the rising tax penalty they must pay if they don't get insurance under Obamacare. Image: AP Photo/Evan Vucci
This time around, the problems weren't technical, and more likely reflected a political effort to avoid hitting people with a steep tax penalty for failing to comply with the law. The Centers for Medicare & Medicaid Services said many people didn't seem to be aware that failing to sign up for health coverage in 2015 could mean a higher tax penalty, and said it wanted to give people a second chance.
"For those who were unaware or didn't understand the implications of the fee for not enrolling in coverage, CMS will provide consumers with an opportunity to purchase health insurance coverage from March 15 to April 30," CMS said. "If consumers do not purchase coverage for 2015 during this special enrollment period, they may have to pay a fee when they file their 2015 income taxes."
While the government's move is partly a reaction to people seeing a tax bite this year, it will only help people when they file their taxes a year from now. Here's what's going on:
People are currently in the process of filing their 2014 tax returns. Anyone who wasn't covered by health insurance in 2014 will get hit by a minimum $95 "shared responsibility payment," also known as a tax, and that tax will be assessed on their returns, which are generally due on April 15.
CMS's announcement today doesn't affect anyone's 2014 tax bill. Most people who didn't have insurance last year will pay the $95 penalty or 1 percent of household income, whichever is higher.
Instead, CMS's move is a pre-emptive attempt to help people avoid an even larger tax hit next year. CMS said it will let people sign up for Obamacare one more time, from March 15 to April 30.
Signing up during this new period will let people get insurance for the 2015 tax year. Then, when they file their 2015 taxes in 2016, they have a better chance of not getting hit by the penalty.
The penalty for not having insurance in 2015 is $325 per person, or 2 percent of yearly household income, whichever is higher. The maximum family penalty is $975.
"We recognize that this is the first tax filing season where consumers may have to pay a fee or claim an exemption for not having health insurance coverage," said CMS Administrator Marilyn Tavenner. "Our priority is to make sure consumers understand the new requirement to enroll in health coverage and to provide those who were not aware or did not understand the requirement with an opportunity to enroll in affordable coverage this year."
Officials have estimated that about 2 to 4 percent of taxpayers will end up paying the penalty for failing to have health insurance.
The Obamacare law has been under significant lately. Earlier today, the administration announced that it sent the wrong tax information out to hundreds of thousands of people.
And in a few weeks, the Supreme Court will hear oral arguments in the second major Obamacare lawsuit. That suit says the administration improperly gave out billions of dollars in health insurance subsidies.