Louisiana Gov. Bobby Jindal said in front of the White House Monday that he believes President Barack Obama loves America, but questioned if the president could be commander-in-chief if he is unwilling to identify the enemy.
Jindal defended the controversial comments last week by former New York Mayor Rudy Giuliani that, "I do not believe that the president loves America." The Louisiana governor and likely 2016 Republican presidential candidate said, "the mayor should have used different words to express what he wanted to say."
"I didn't want to throw him under the bus. I know how much the media loves to see Republicans attack other Republicans," Jindal said.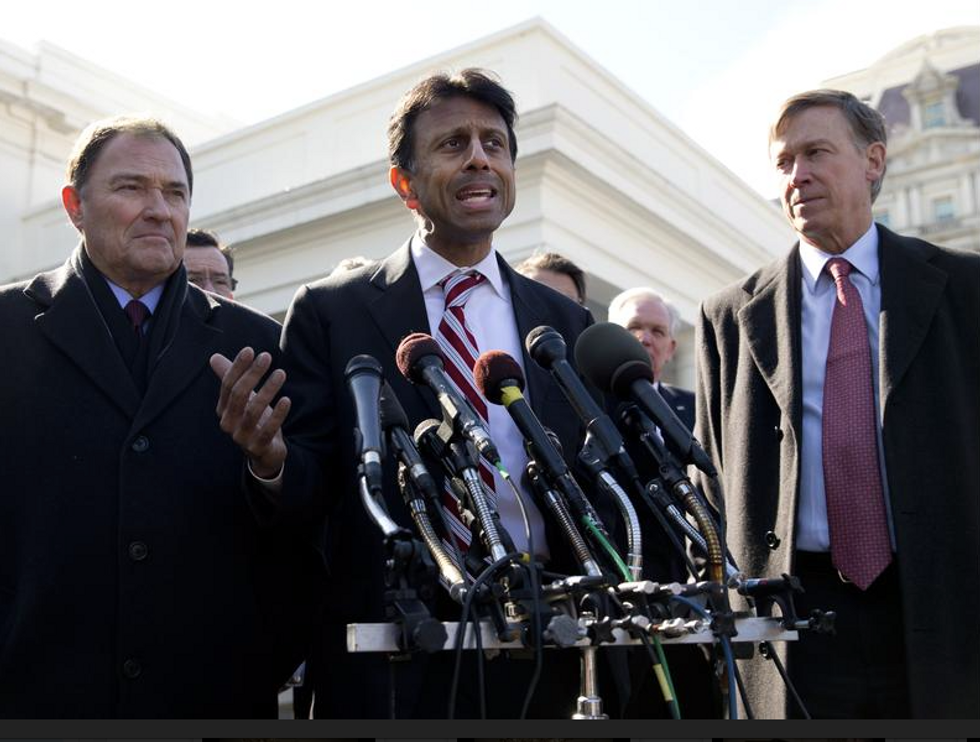 Louisiana Gov. Bobby Jindal, center, joined by National Governors Association Chairman, Colorado Gov. John Hickenlooper, right, and Vice Chair, Utah Gov. Gary Herbert, speaks outside the White House in Washington, Monday, Feb. 23, 2015, after meeting with President Barack Obama. President Barack Obama warned the nation's governors Monday that a looming shutdown of the Department of Homeland Security would have a direct impact on their states' economies, as well as on security throughout the U.S. (AP Photo/Carolyn Kaster)
"The president loves America. He loves our country. There is no doubt about that," said Jindal flanked by a group of other governors in Washington since Friday for the National Governors Association Winter Meeting. "The substance, the point that the mayor was trying to make is an important one."
"There are many of us that are very concerned about the president's unwillingness to call out radical Islamic terrorism and the threat that we face," Jindal continued. "I wrote an op-ed today saying the president has really disqualified himself to be our commander-in-chief because he will not only identify the threat but won't take the steps necessary to defeat this threat."
Jindal was referring to an op-ed he wrote published on FoxNews.com Monday.
"You've got the administration, people in the State Department, saying we can't kill our way to victory. We've got to focus on jobs programs or better governance," Jindal told reporters. "This is a war against radical Islamic terrorism. So I think the essential point was that it would be better for the president not to warn us about the points of medieval Christianity rather than identify the threat we face."
Jindal further criticized Obama's proposed Authorization for Military Force by place a three-year timeline with the stipulation of no ground troops.
"Whether there are plans to use ground troops now or not, I think our commanders need to have the tools they need to defeat the radical Islamic terrorist that threaten us," Jindal said. "I'd like to take out the three-year timeline. The real timeline should be, we are done when we have hunted down and have killed these terrorists."
---