Senate Majority Leader Mitch McConnell (R-Ky.) on Monday proposed a new way of attacking President Barack Obama's executive action on immigration, one that's not tied to efforts to fund the Department of Homeland Security.
But Senate aides said McConnell's move shouldn't yet be seen as an attempt to split the immigration language from the DHS bill. Many conservatives worry that splitting the issues up would remove all the leverage Republicans gained by combining a must-pass DHS bill with language to fight Obama's immigration move.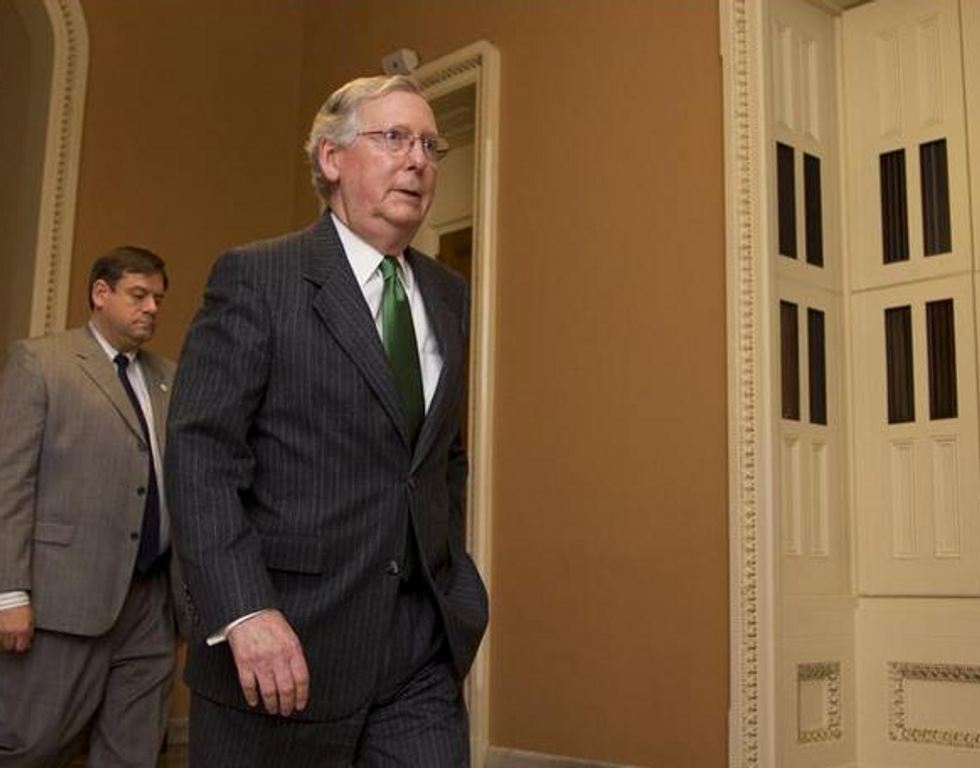 Senate Majority Leader Mitch McConnell (R-Ky.) tried a new approach Monday aimed at getting Democrats to support language to defund President Barack Obama's immigration action. Image: AP Photo/Manuel Balce Ceneta
Instead, aides said McConnell is trying to test whether a handful of Senate Democrats might support a stand-alone bill to defund Obama's action. Several Democrats have said previously that they were skittish about Obama's move, although every Senate Democrat has blocked progress on a bill that combines immigration defunding language with the broader DHS bill.
Many interpreted McConnell's move as a sign that a separate vote would be allowed on a "clean" DHS spending bill that doesn't attack Obama's plan. But importantly, McConnell made no promises on Monday that this would happen.
Instead, he said only that the Senate would consider language to defund Obama's executive action, and said this could be an option as long as Democrats keep blocking the bill that combines immigration language with DHS funding.
"As long as Democrats continue to prevent us from even doing that, the new bill I described offers another option we can turn to," McConnell said. "It's another way to get the Senate unstuck from a Democrat filibuster and move the debate forward."
McConnell added that he still wants to pursue the combined bill that Democrats have so far blocked.
"Now, my preference… is still to debate and pass the funding legislation that's currently before us," he said. "It's already passed the House. It's the simplest and easiest way forward. And if Democrats think it needs to be amended, I'm sure they'll try to do that. But first, we need to bring it to the floor."
A spokesman for House Speaker John Boehner (R-Ohio) said Boehner supports McConnell's effort to root out Democrats in the Senate that might find a way to vote against Obama's immigration action.
"This vote will highlight the irresponsible hypocrisy of any Senate Democrat who claims to oppose President Obama's executive overreach on immigration, but refuses to vote to stop it," said spokesman Michael Steel. "If we are going to work together on the American peoples priorities, Washington Democrats must be honest with the people they represent."
But Democrats indicated that they'll oppose McConnell's latest effort. Adam Jentleson, a spokesman for Senate Minority Leader Harry Reid (D-Nev.), criticized McConnell's move as an effort to bring up a bill that doesn't fund DHS, which should be the main focus now.
"In other words, all Senator McConnell's move tonight allows him to do is force an initial procedural vote on Friday morning on a bill that doesn't fund DHS, with DHS funding set to run out Friday night," he said.