More than half of Americans (53 percent) believe that "marriage should be defined only as a union between one man and one woman," according to new survey results released by the Family Research Council, a conservative advocacy group.
At a press conference at the National Religious Broadcasters convention in Nashville, Tennessee, on Tuesday, Tony Perkins, president of the Family Research Council, was joined by National Religious Broadcasters president Jerry Johnson to recap the results, which come just months before the Supreme Court is expected to rule on gay marriage.
Perkins opened his remarks by offering a pointed warning about religious persecution in the U.S. and abroad, going on to explain the importance of Americans defending their rights to conscience. 
"Christians are losing their lives because of their faith. It has everything to do with what is happening with America today," he said. "As we allow this increase in religious intolerance at home, persecution grows abroad."
Perkins continued, "We have an obligation and a responsibility to exercise our freedoms and our rights just like the Apostle Paul did, so that religious freedom will continue to be protected."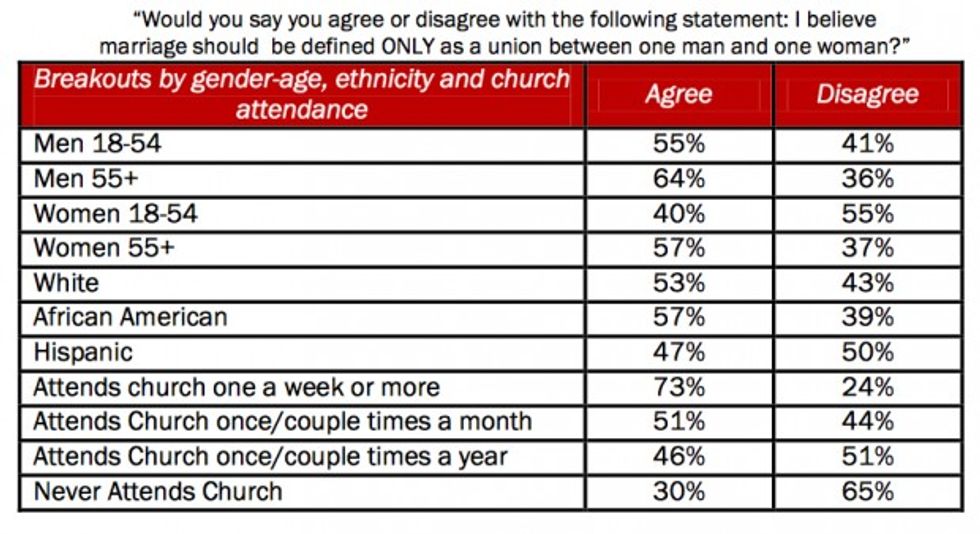 WPA Opinion Research/Family Research Council
He warned that shrinking back from the defense of religious liberty at home would send a message to tyrants abroad that the U.S. is no longer interested in defending religious freedom, and proceeded to reveal the results of the Family Research Council's recent survey exploring same-sex marriage in America — results that he said come at a "critical juncture of conflict" over the issue of same-sex marriage.
Perkins highlighted the fact that 53 percent of the 800 registered voters who were consulted in the poll agreed with the following statement: "I believe marriage should be defined ONLY as a union between one man and one woman?"
Rather than asking whether gay marriage should be legal or whether the U.S. Constitution should afford rights associated with gay matrimony, as many polls have, Perkins said that the question got more to the heart of the matter by seeking respondents' personal beliefs on the matter.
The survey also asked questions about the central role of government in defining marriage parameters, finding majority support for the ability of states and citizens to have final say on marriage, rather than the courts.
"Six-in-10 Americans agree that the states and citizens should define marriage, not the Supreme Court," Perkins said, claiming that the Supreme Court will be "at the point of overreach" if it officially changes the definition of marriage with its upcoming rulings.
More people in all demographic cohorts — including the non-religious — embraced the belief that citizens and states should be free to set the rules on marriage.
Perkins also unveiled a third finding that 81 percent of Americans "agree that government should leave people free to follow their beliefs about marriage as they live their daily lives at work and in the way they run their businesses."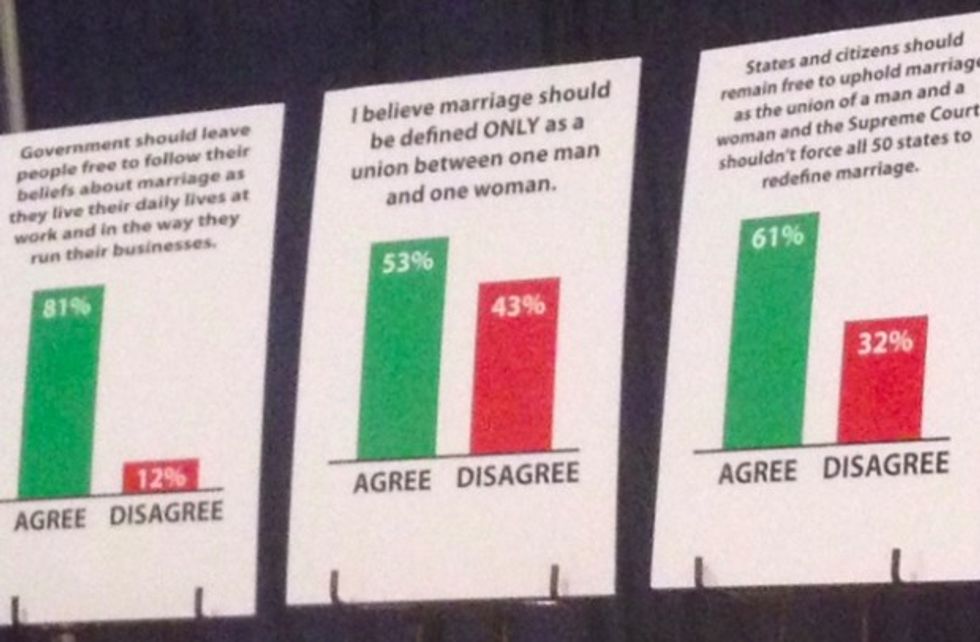 A display shows some of the key statistics released by the Family Research Council
This comes at a time when florists, bakers and other business owners are under fire for having refused wedding-related service to same-sex couples.
Johnson noted during his remarks that the "overwhelming majority" clearly want the government to allow people — and businesses — to permit owners to follow their conscience.
"If you look at polling, 80 percent is a threshold," Johnson said. "It's a slam dunk."
Perkins warned that the Supreme Court will overstep it boundaries and create a scenario in which marriage becomes an even bigger battleground issue if the justices single-handedly force states' hands on marriage, citing the court's handling of abortion as corroboration.
"In 1973, when the court said America would embrace abortion on demand as a national policy, the court said, 'We'll solve this issue of abortion,'" he said. "Years later, they have done nothing to solve the issue. You will see the same if not more if the court [changes marriage]."
--
Front page image via Shutterstock.com