UPDATE, February 27, 10:25 a.m: The Klamath County Sheriff's Department said the missing house was found about a half-mile from where it went missing. It has apparently been gone from its original location since last summer.
"I don't understand why they just now got around to saying it's a stolen home because it's been sitting out in plain sight for a year," Linda Utley said. Utley lives next door to where the cabin now sits, KOBI-TV reported.
At least three different people claim they own the home, one of whom sold the house to a fourth party, the sheriff's department said. The person who bought the home paid $3,000 for it last summer. The buyer has not been named.
"He's just an innocent person, and to quote him 'had a steal of a deal," a spokesman for the Sheriff's Department said. No charges have been filed against him.
The sheriff's office is still trying to figure out who the rightful owner of the house is.
–
Original story below:
An entire house has gone missing.
It wasn't a motor home. It wasn't a mobile home and it wasn't even on wheels.
It was a house on a foundation – and now it's missing, according to the Klamath County Sheriff's Department.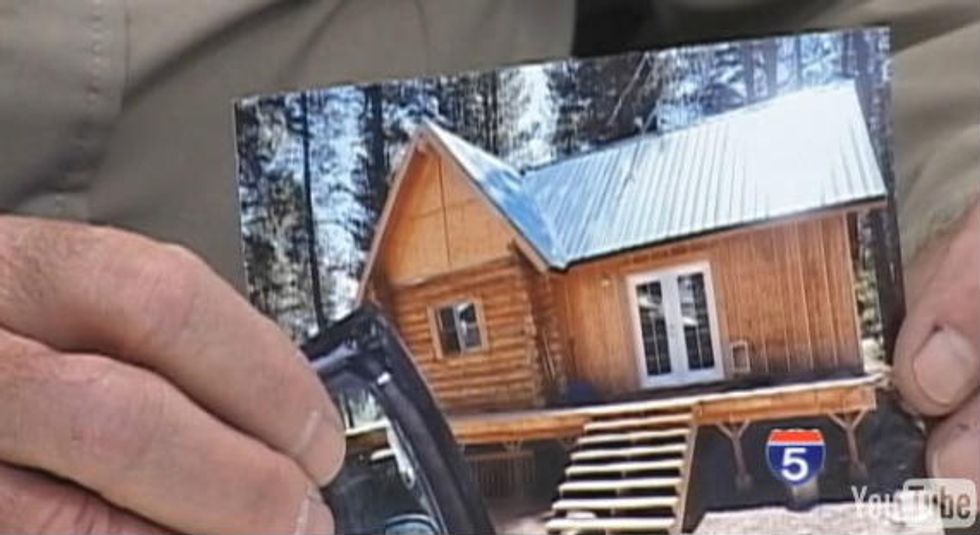 Image source: KOBI-TV
"We had a complete home stolen. This isn't a motor home, this isn't a mobile home and this is a 'home," Sheriff Frank Skrah said Tuesday, KOBI reported.
"It was on the foundation you see it on now," referring to a photo of the missing house, Skrah said.
The 1,200 square foot cabin in the Sprague River area was reported missing Tuesday. No one was inside and the owner of the house was notified. Police are now searching for leads on where the house might be.
(H/T: KOBI-TV)
–
Follow Jon Street (@JonStreet) on Twitter