NATIONAL HARBOR, Md. — New Jersey Gov. Chris Christie says he's far from finished, politically.
The media beg to differ.
"You've had a rough couple of months in the media," Laura Ingraham told Christie in front of the 2015 Conservative Political Action Conference on Thursday, citing a New York Times article that declared Christie to be "political toast" and reading off a list of words used to describe the New Jersey governor: "Explosive. Short-tempered. Hothead. Impatient."
"There's a word they missed," Christie shot back. "Passionate."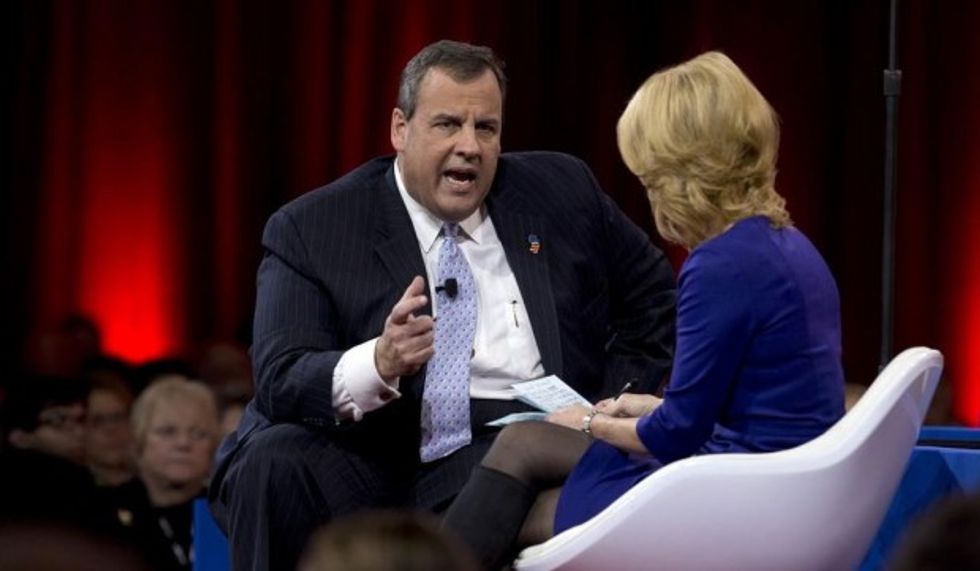 New Jersey Gov. Chris Christie speaks with Laura Ingraham during the Conservative Political Action Conference in National Harbor, Md., Thursday, Feb. 26, 2015. (AP Photo/Carolyn Kaster)
Blaming the "elite folks" in the media who are out to get him for his recent woes, Christie stressed his pro-life, anti-tax conservative bona fides and declared, "Here I am. I'm still standing."
Bucking the advice of "political consultants," Christie said, he learned to be brash from his Sicilian mother and Irish father.
"If you really care about something, you need to go all in," Christie said. "Sometimes people need to be told to sit down and shut up."
The Ingraham made the tough assessment: "Chris Christie a year ago was kind of one of the frontrunners [for the 2016 Republican nomination]. Now you're near the bottom."
Christie's response: "Is the election next week?"
He went on to say he will "run a hard, fighting campaign" if he decides to pursue the presidency, and despite his dramatic fall in polling results, he's not worried.
"In 2007, it was gonna be Rudy Giuliani versus Hillary Clinton, so I feel pretty good [about 2016]," Christie joked.
The big question Ingraham posed: "Is 2016 Jeb Bush's race to lose?"
"If the elites in Washington who make backroom deals decide who the president will be, [Jeb Bush] will do OK," Christie said. "If the hardworking people of America decide, I'll be OK."
Christie's appearance ended with him claiming that he tried to give up the New York Times for Lent.
"My priest told me I have to give up something I'll actually miss," Christie said.
—
Follow Zach Noble (@thezachnoble) on Twitter