NATIONAL HARBOR, Md. — Hillary Clinton's receiving no quarter from conservatives assembled on the doorstep of the nation's capital.
She was slammed in particular by a powerful woman who could give her a run for her presidential money.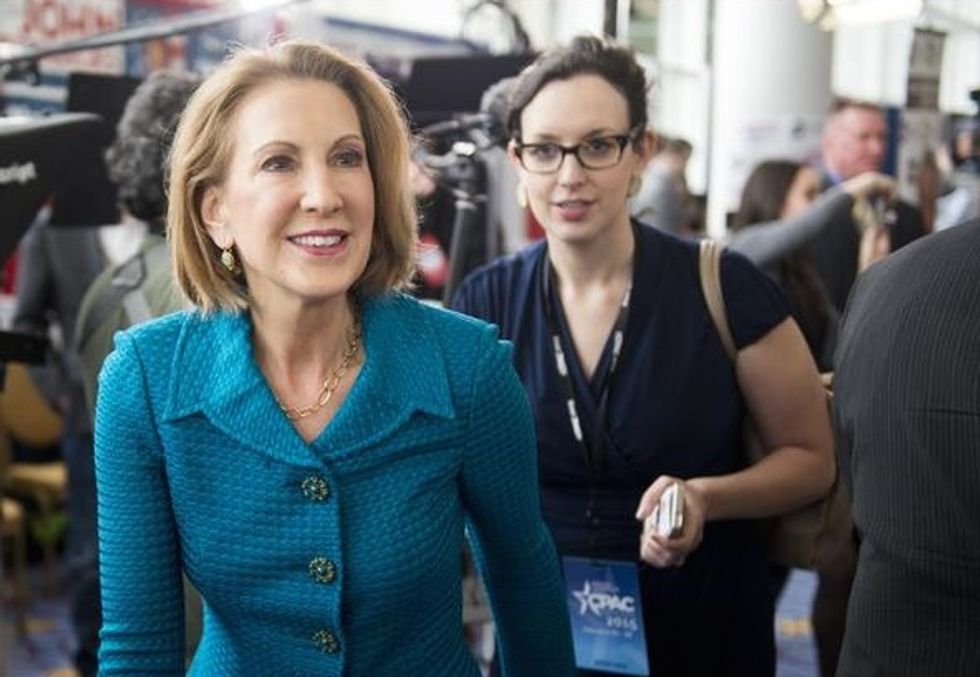 Carly Fiorina, former CEO of Hewlett-Packard, walks the hallway before her speech at CPAC in National Harbor, Md., on Feb. 26, 2015. (Bill Clark/CQ-Roll Call, Inc.)
Addressing the 2015 Conservative Political Action Conference on Thursday afternoon, Carly Fiorina, the former CEO of Hewlett-Packard and chair of the American Conservative Union Foundation, hammered the presumptive 2016 Democratic presidential candidate.
"Like Mrs. Clinton, I too have travelled the globe," said Fiorina, who mounted a failed bid for U.S. Senate in California in 2010. "Unlike Mrs. Clinton, I know that flying is an activity, not an accomplishment. Mrs. Clinton, name an accomplishment."
Then she doubled down.
"Please explain why we should accept that the millions and millions of dollars that have flowed into the Clinton Foundation from foreign governments don't represent a conflict of interest," Fiorina implored Clinton
Fiorina, an established business leader with a net worth north of $100 million, was referencing the news that broke Wednesday night that the Clinton Foundation accepted millions of dollars in donations from foreign governments during her tenure as secretary of state.
Fiorina's harsh assessment of Clinton wasn't over.
"[Clinton] tweets about women's rights in this country and takes money from governments that deny women the most basic human rights," Fiorina said. "She tweets about equal pay for women but won't answer basic questions about her own offices' pay standards — and neither will our president. Hillary likes hashtags. But she doesn't know what leadership means."
Fiorina may not be on many voters' radar for 2016, but when asked about the need for female candidates in 2016, she fired back with a hint that she may run.
"If Hillary Clinton had to face me on the debate stage, I guarantee she would have a hitch in her swing," Fiorina said.
—
Follow Zach Noble (@thezachnoble) on Twitter