NATIONAL HARBOR, Md. — John Bolton has one goal, one target and one main asset: the presidency, Hillary Clinton and national security credentials.
The former U.S. ambassador to the United Nations is one of the darker dark horses in the running for the 2016 Republican presidential nomination, but he's raised millions of dollars toward a campaign and in his appearance at the 2015 Conservative Political Action Conference Friday, Bolton attacked Hillary Clinton and hammered the issue he knows best.
"National security issues must be at the center of the 2016 presidential race," Bolton told the assembled conservative activists.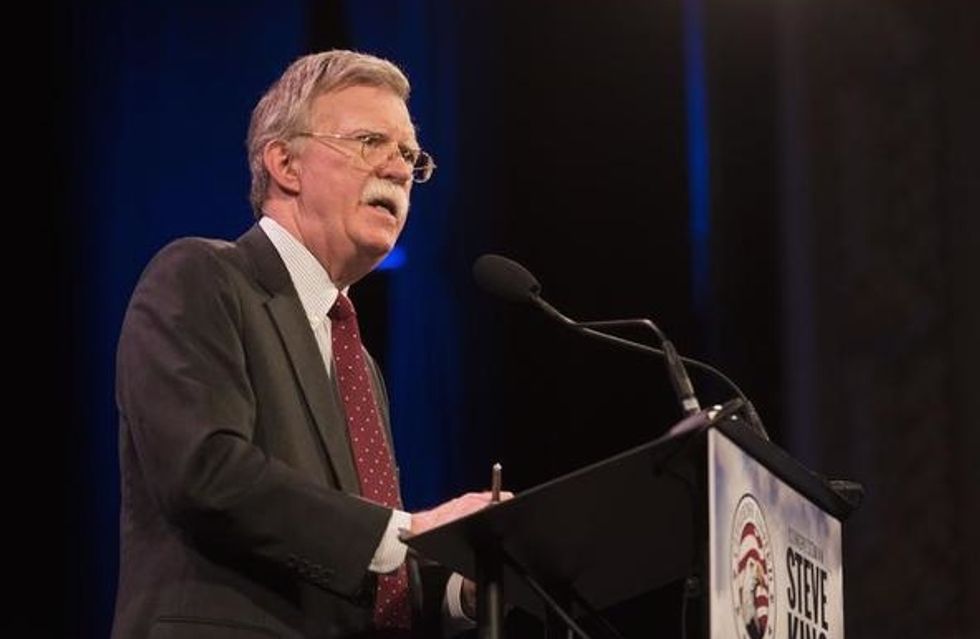 John Bolton, former U.S. ambassador to the United Nations, speaks during the Iowa Freedom Summit in Des Moines, Iowa, U.S., on Saturday, Jan. 24, 2015. (Bloomberg/Bloomberg via Getty Images)
"The conventional wisdom is depressingly clear that Hillary Clinton will be the Democratic nominee [for president]," Bolton said.
Relaying the fact that he was a year behind Clinton and her husband in law school, Bolton said he's intimately acquainted with the political power couple.
"I feel I have a civic obligation to escort [Bill and Hillary Clinton] to the exit door of American politics," he told the CPAC crowd, eliciting cheers and whistles.
"Her four years at the State Dept. demonstrate that [Clinton] is not fit to be the president of the United States," Bolton continued, saying Clinton failed to predict the rise of the Islamic State, has allowed Vladimir Putin's Russia to run roughshod over the world and has left the U.S. in a diminished position on the global stage.
He also attacked Clinton for leaving her secretary of state post during the Benghazi attacks.
"I've worked for six different secretaries of state," Bolton said. "Not one of my bosses would have left the State Department while their people were still in trouble."
Perhaps most importantly, Bolton said, Clinton has a "fundamental inability to understand what's at stake in the war on terrorism."
"We didn't start this war, the terrorists did," Bolton said. "Ignoring it doesn't mean it will go away."
Bolton has been toying with the idea of a presidential run for more than one election cycle. Will 2016 be his cycle to shine?
—
Follow Zach Noble (@thezachnoble) on Twitter