Among the pro-Palestinian activists outside the American Israel Public Affairs Committee's annual policy conference in Washington Sunday was one demonstrator holding the yellow flag of the Shiite terrorist group Hezbollah.
A reporter for the conservative website Legal Insurrection captured video of the protest and the flag associated with the Iran-supported group behind terrorist attacks that have killed not only scores of Israelis but Americans and others as well. The State Department classifies Hezbollah as a foreign terrorist organization.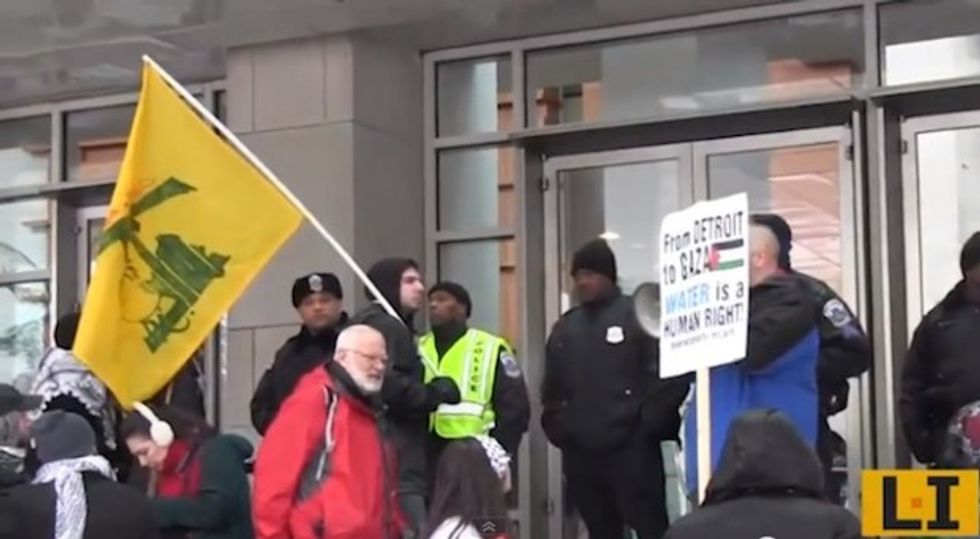 The flag of Hezbollah, a group responsible for killing scores of Israelis, Americans and others, was held up during a protest outside the American Israel Public Affairs Committee's annual conference in Washington, D.C. (Image source: YouTube via Legal Insurrection)
Protesters didn't hide their vision for a solution to the Israeli-Palestinian conflict, chanting: "Judaism yes, Zionism no, the state of Israel has got to go!"
"I also saw harassment of men, women and children who had done nothing to deserve it except make the mistake of revealing their conference badge before they reached the door," Legal Insurrection reporter Amy Miller also observed. "Those who were obviously religious Jews (based on their head coverings, clothing, and facial hair) got it worse."
TheBlaze reported Sunday that the anti-Israel activist group Code Pink helped led the demonstrations outside the Washington Convention Center where other chants included "Free, free Palestine!"
Hezbollah flags also made an appearance outside the AIPAC conference last year.
Israeli Prime Minister Benjamin Netanyahu spoke at the AIPAC conference Monday morning, a day before he will address a joint session of Congress to make his case that the emerging deal over Iran's controversial nuclear program poses an existential danger to Israel.
Here's the video of the protest, including the demonstrator holding the Hezbollah flag:
(H/T: Legal Insurrection)