Senate Democrats on Monday night blocked a Republican request to negotiate a Department of Homeland Security spending bill with the House, a move that could signal the end of GOP efforts to use that bill to defund President Barack Obama's executive action on immigration.
Republicans in the House and Senate have been pushing for a return to "regular order," in which the two chambers meet in a conference committee to work out differences between legislation. In this case, the differences are huge — the House bill defunds Obama's immigration plans, and the Senate bill doesn't.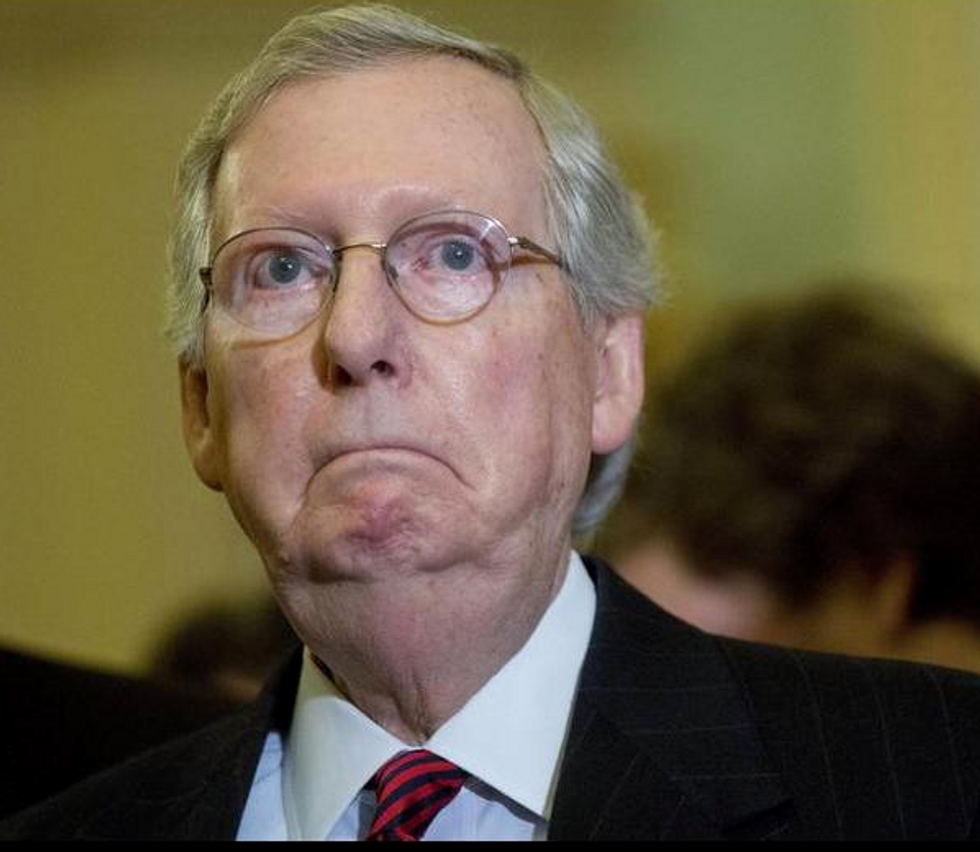 Senate Majority Leader Mitch McConnell (R-Ky.) sought to negotiate with the House on a DHS funding bill, but was blocked by Senate Democrats. Image: Bloomberg/Bloomberg via Getty Images
A conference committee may have allowed leaders in both parties to get together and negotiate something, potentially even language that somehow chips away or moderates Obama's immigration program.
But Senate Democrats have said routinely that they wouldn't go to a conference, and they voted that way Monday evening. The Senate voted 47-43 in favor of a negotiation, but because 60 votes were needed, and at least six Democrats to get to 60, the vote failed.
Immediately afterwards, the Senate held another vote to resend the clean Senate DHS bill back to the House, and that passed with the help of several Republican votes.
Those votes could start a chain of events that many think will result in passing the Democrats' preferred DHS bill by the end of the week.
With the Senate's rejection of a negotiation, the two chambers are officially in disagreement with each other. According to the House rulebook, that state will allow House Democrats to request that the House hold a vote on the Senate bill, the one that funds Obama's immigration plan.
Those rules say that request is "privileged," and that it would have to come up for a vote. If just 30 or so Republicans favor passage of the "clean" DHS bill, it would pass the House and be sent to the White House for Obama's signature into law.
Rep. Steve King (R-Iowa) told TheBlaze on Monday that he was pressing Republicans to alter the rule, so that a Democrat would not be allowed to call up the Senate bill in the House. But it was unclear whether GOP leaders would agree to this change.