Pakistan has arrested more than 450 parents who refuse to vaccinate their children against polio, according to health officials and police.
"There was no other option. We have run so many awareness campaigns for the parents and general masses that there is no harm in the vaccine, but to no avail," Pervez Kamal, director of health for the Khyber-Pakhtunkhwa region in northwest Pakistan, said Tuesday.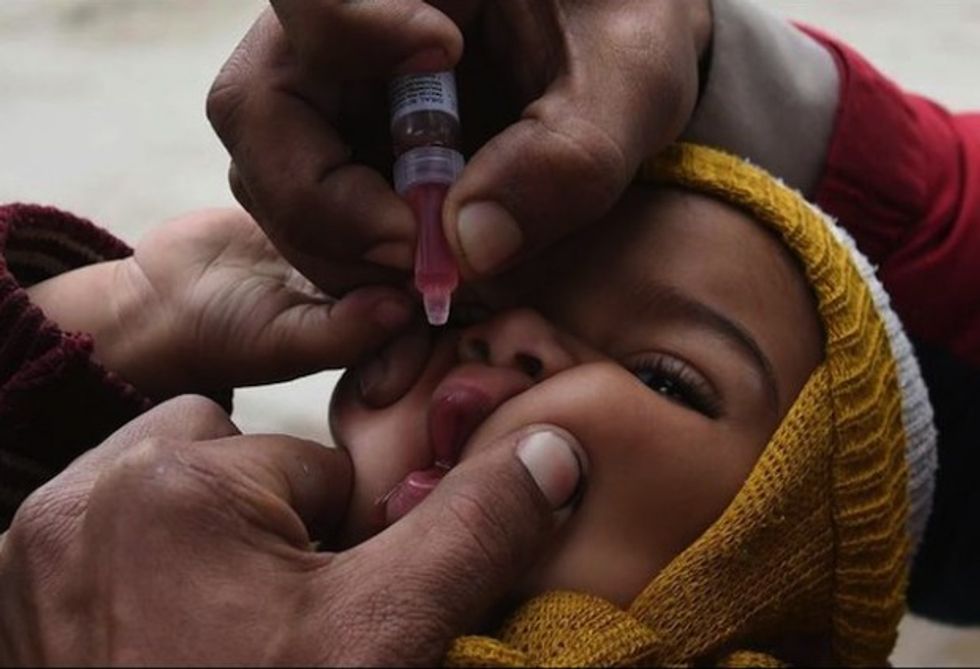 A Pakistani health worker administers polio drops to a child during a polio vaccination campaign in Peshawar on March 3, 2015. Police in northwest Pakistan have arrested more than 450 parents for refusing to vaccinate their children against polio, officials said. Pakistan is one of only three countries in the world where polio remains endemic but years of efforts to stamp it out have been badly hit by reluctance from parents, opposition from militants and attacks on immunization teams. (A Majeed/AFP/Getty Images)
The BBC reported:
Authorities in Peshawar, in the north-west of the country, detained 471 people and charged them with "endangering public security".

The local government says they will only be freed once they have pledged in writing to vaccinate their children.

The Taliban prohibit vaccinations and have attacked health workers.

The Pakistani government has declared "war" on the disease.

"We have decided to deal with the refusal cases with iron hands. Anyone who refuses will be sent to jail," said Riaz Khan Mehsud, deputy commissioner of Peshawar.
Warrants have been issued for 1,000 parents, Kamal said.
Muslim clerics in the area claim that the vaccine campaigns will weaken Islam and are aimed at sterilizing Muslims. The Taliban has targeted government health workers engaged in vaccination efforts, killing 64 since 2012.
Reuters reported that 306 polio cases were reported in Pakistan last year, "far and away the largest share of the 359 cases worldwide recorded by the Global Eradicate Polio Initiative."
Locals are also suspicious because the CIA in 2011 organized a fake vaccination drive in Abbottabad where Osama bin Laden was hiding out in an effort to obtain DNA samples from his relatives in the area.