The story of Hillary Clinton's private email account used during her tenure as secretary of state dominated conservative media on Wednesday. It also appeared on liberal outlets, and in many cases, was dismissed by them as a distraction or a non-story.
However, on Wednesday night's edition of MSNBC's "Hardball," host Chris Matthews took on the topic with a balance uncharacteristic for the unabashedly left leaning network.
Opening his show with a panel featuring the Washington Post's Carol Leonnig, Matt Schlapp of the American Conservative Union and Emily's List spokeswoman Jess McIntosh, Matthews spent more than 12 minutes on what he referred to as "front page news."
Image: MSNBC screen capture
Matthews wondered aloud about the validity of the controversy, "Is this a major one, a minor one or one concocted by her critics?"
After quoting stories about the email controversy from the New York Times, the Washington Post and the Associated Press, Matthews asked  McIntosh, "Where do you put this: No offense, small offense or a concoction?"
McIntosh responded, "Every secretary of state prior to Hillary Clinton used a private account for their emails."
She continued: " I think more importantly, can you possibly imagine any American family, at any kitchen table across the country, sitting down and saying, 'Wow, I am concerned that she used private accounts instead of state accounts. And where was the server located?' No! Because there are major economic questions that Americans are facing."
Matthews interrupted McIntosh saying, "Now you're changing the subject right now."
The conversation moved to whether McIntosh thought it was appropriate for Mrs. Clinton to set up her own private email server and be able to control all of her emails during the time she was secretary. Matthews wanted to know if it was OK that Clinton was the only one to decide "when and if and what she was going to release to anybody asking for it."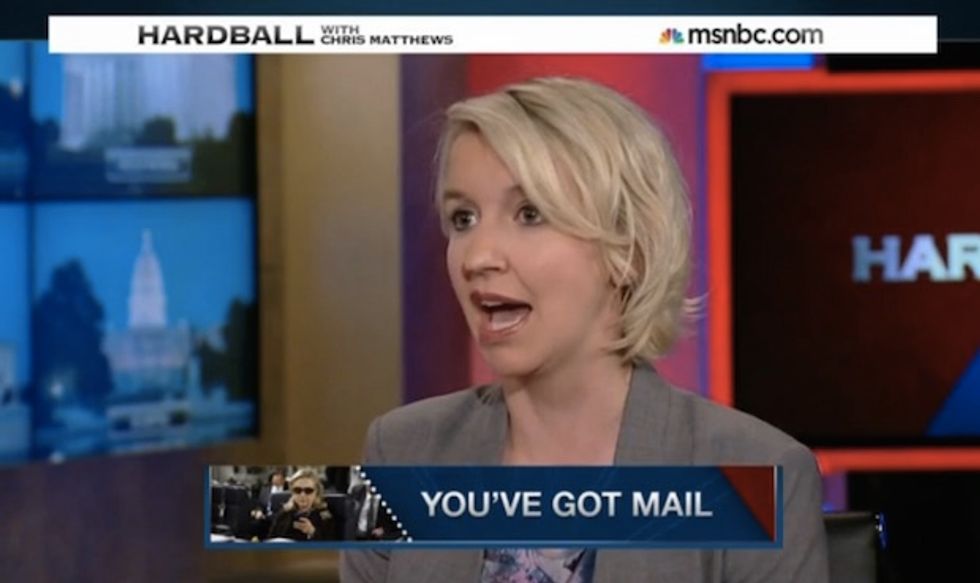 Image: MSNBC screen capture
Again, the Emily's List spokeswoman defended Clinton without answering Matthews' question, "Lots of public officials have set up their own servers, Jeb Bush did the same thing."
Matthews continued to press her again, "So you think it's right for her to keep it all private, if she wants to?"
"Yeah," said McIntosh, "I mean, I think she should be able to disclose things that ought to be disclosed and keep things private that ought to be kept private."
Once again trying to get a specific answer about the issue of Clinton controlling her emails, Matthews asked, "Should she be allowed to decide what she discloses?"
"I think she should follow the letter and spirit of the law," said McIntosh.
A frustrated Matthews kept pushing, "Yeah, that's their language that they use. I'm just asking, do you think it's OK for a public servant at the level of secretary of state to carry on correspondence -- official correspondence -- but keep it to themselves, if they choose to?" Adding, "Because that's the option she has now, since it's all her account."
"I think, that at that level, it's important they follow the law. I also think that if we spend the next few months debating how long something was kept on a server, the American electorate is going to flock to a third party," McIntosh responded.
With McIntosh deflecting the question and minimizing what Matthews believed to be an important issue, the host supported his thinking by reading from the Washington Post's front page story that declared, "Hillary Clinton appears to have violated or operated in violation of what the White House said Tuesday -- that's yesterday -- was very specific guidance that members of the Obama administration use government email accounts to carry out official business."
Matthews pressed McIntosh again, asking, "What do you make of that headline?"
"I think that she is talking about issues that matter to the American electorate," said McIntosh. "I think she'll have lots of opportunities to..."
"So, you're changing the subject?" replied Matthews.
After moving the discussion to the two other panelists, Matthews came back to McIntosh one last time, asking, "Hasn't she given Trey Gowdy and his committee an excuse?" Adding, "They've given them now a case, that there was something bad she did by simply putting up a wall that allowed her to get rid of stuff -- even if she didn't do it."
"I don't think there's any way she could have conducted herself as secretary of state that would not have told Republicans..."
Matthews interrupted McIntosh saying, "Anything that's said against Hillary Clinton, you're just going to move on from. This reminds me of moveon.org."
He closed the segment with a backhanded compliment to the Emily's List spokeswoman, "You're a good defender, but changing the subject, ain't gonna work."
Watch the full segment:
__
Follow Mike Opelka (@Stuntbrain) on Twitter.