In what is being called the "highest power ever documented by a laser of this type," Lockheed Martin announced this week that it fired a 30-kilowatt fiber laser weapon system at a truck more than a mile away.
The defense company's ATHENA — Advanced Test High Energy Asset — burned through a truck's engine manifold in just seconds, according to a Lockheed news release.
This photo shows the aftermath: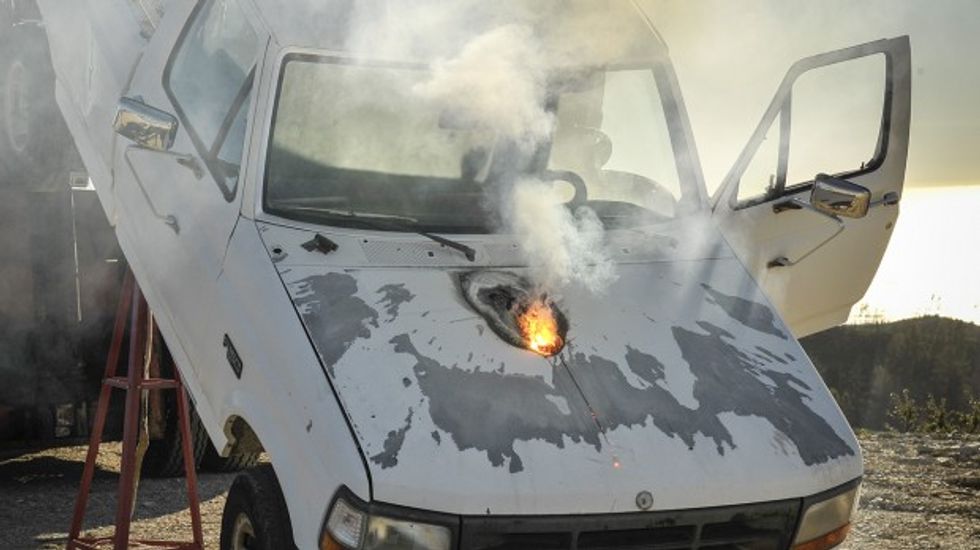 This truck was more than a mile away, but Lockheed Martin recently demonstrated how its ATHENA weapons system, a powerful laser system, could still burn through its engine in a matter of seconds. (Photo credit: Lockheed Martin)
"Fiber-optic lasers are revolutionizing directed energy systems," Keoki Jackson, Lockheed Martin chief technology officer, said in a statement. "We are investing in every component of the system – from the optics and beam control to the laser itself – to drive size, weight and power efficiencies. This test represents the next step to providing lightweight and rugged laser weapon systems for military aircraft, helicopters, ships and trucks."
ATHENA is based on Lockheed's Area Defense Anti-Munitions laser weapon system and it incorporates its Accelerated Laser Demonstration Initiative.
ATHENA uses a technique the company calls spectral beam combining, which is when several fiber laser modules combine to form a single beam, making it more efficient and lethal.
(H/T: Engadget)