Many were surprised to see the influence political outsiders had on the recent CPAC Straw Poll. Appearing in the top ten were three people who have yet to run for national office.
Ben Carson (fourth place) and Donald Trump (eighth place) may not be too surprising, as they are names regularly seen on television or in the news. However, finishing in ninth place was a relative political newcomer, Carly Fiorina.  The former Hewlett-Packard CEO finished ahead of well-known political figures and former governors like Chris Christie, Rick Perry, Bobby Jindal and Sarah Palin.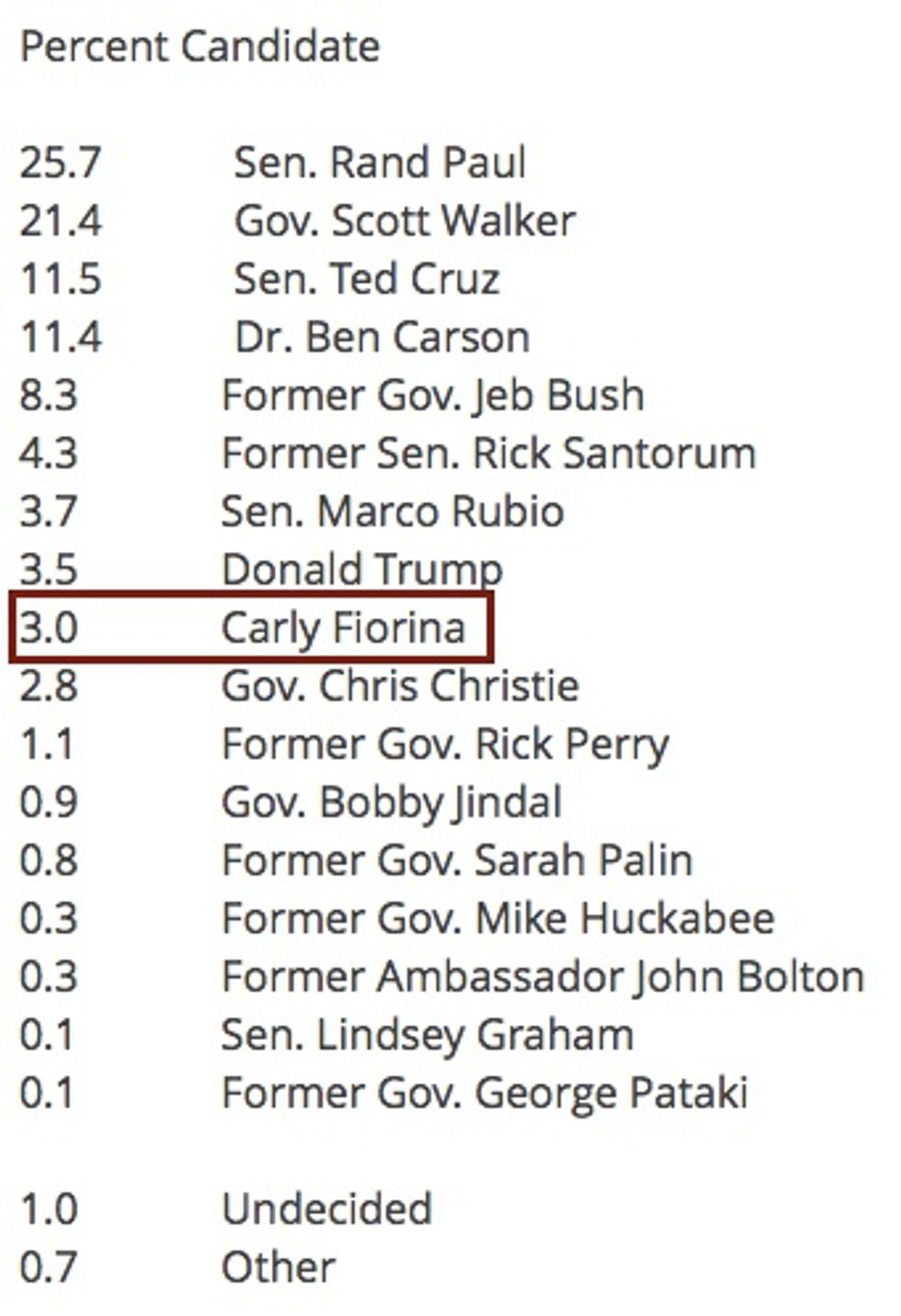 Image: cpac.conservative.org
Fiorina's ninth place finish, accomplished without the benefit of an organized ground campaign so often seen at CPAC, indicates to some that she may be a legitimate "dark horse" candidate for 2016. Asked at CPAC if she minded the term "dark horse," Fiorina replied, "Of course not."
On this week's episode of TheBlaze Radio's "Pure Opelka," Fiorina talked about her vision for the country and why Hillary Clinton's "Do as I say, not as I do" example is wearing thin with America.
Fiorina, who started her career as a secretary, typing and filing papers for a small real estate office, but ended up running the largest technology company in the world, sounded very much like a presidential candidate. Especially when she talked about restoring opportunity for all Americans by focusing on getting government out of the way of small businesses.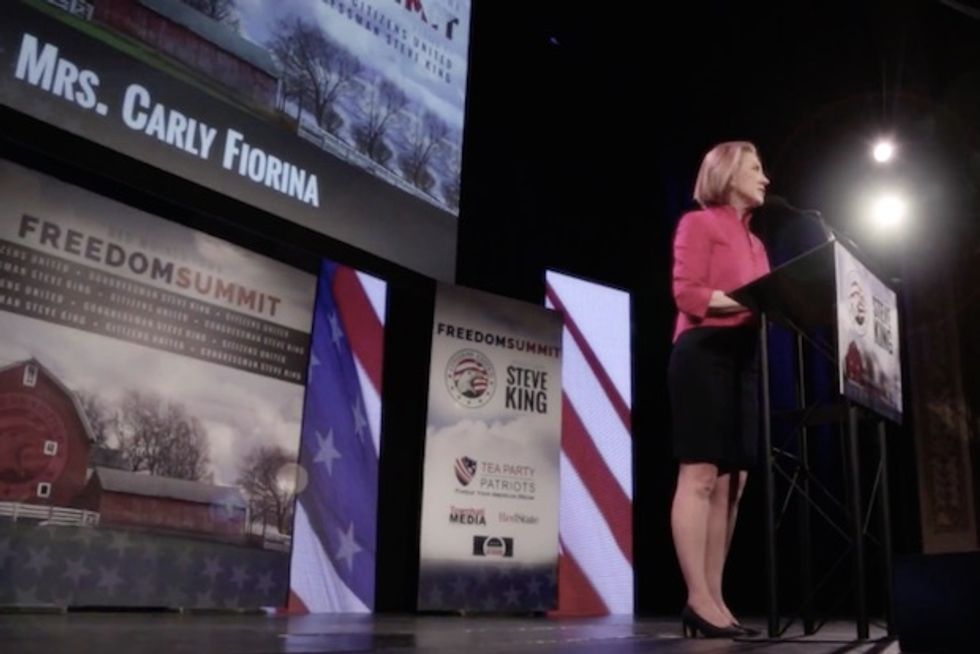 Image: YouTube
"We have to fundamentally reform government. Because government has grown so powerful, so costly, so corrupt, so complicated that only the big, the powerful, the well-connected can deal with this powerful government," adding, "In fact, we are crushing the potential of this nation under the weight of government."
Fiorina added some perspective on America's standing in the world. She talked about the need for the country to be seen in a position of leadership: "We have to restore American leadership in the world. The world's a more dangerous place when we're not leading. And we have allies begging us to lead -- that's why Bibi Netanyahu came here -- he is begging us to lead."
While discussing Hillary Clinton, the democrats' presumed 2016 candidate, Fiorina had some sharp criticism for the former first lady.
"Hillary Clinton does not understand that a critical part of leadership is transparency," she said. "And the reason transparency is so important for leadership is because people want to know that the leader they are preparing to follow is of good character and good motivation and high competence."
Addressing the democrats oft-mentioned "war on women," Fiorina drove home the stark contradiction between what Mrs. Clinton says and what she does. "Hillary Clinton for example loves to tweet about women's rights in Silicon Valley or women's rights in the United States, but at the same time the Clinton Foundation is taking money from, for example, the government of Algeria, while Hillary Clinton is secretary of state. And the government of Algeria denies women the most basic human rights."
Fiorina went on to stress that the 2016 presidential election is a "must win" for the GOP.
To secure this win, the former CEO says, "We must hold Hillary Clinton and the Democrats to account."  Fiorina continued, "We have to hold her to account for her track record, for her actions, for her lack of accomplishment and for her lack of leadership."
After talking about the need to hold Clinton's feet to the fire, Fiorina stated she was "willing to do that." Asked where she stood on a possible 2016 run, Fiorina talked about getting "closer" to making a decision, stating she "probably will make a final decision and an announcement towards the end of April."
Earlier this week, Hillary Clinton told thousands of supporters, "I really do hope we have a woman president in my lifetime." While the former secretary of state was obviously talking about herself, there are many people who think that first "woman president" could be Carly Fiorina.
Listen to the interview with Carly Fiorina here:
__
Follow Mike Opelka (@Stuntbrain) on Twitter.