MADISON, Wis. — The fatal police shooting of 19-year-old Tony Robinson has left Madison's black community in fear regarding community-police relations, a friend of Robinson's said.
Madison police confirmed that Robinson was unarmed when he was shot and killed Friday by Officer Matt Kenny, a white police officer who had responded to a call of a man jumping into traffic. Police Chief Mike Koval said Kenny followed Robinson to an apartment and shot him in a confrontation. Koval said Kenny was injured. The Associated Press reported Monday that court documents showed Robinson suffered from attention deficit disorder and anxiety.
TheBlaze TV's For the Record spoke with Tyrone Reese, who said he was a friend of Robinson's. Reese said the shooting "makes me look at law enforcement very differently."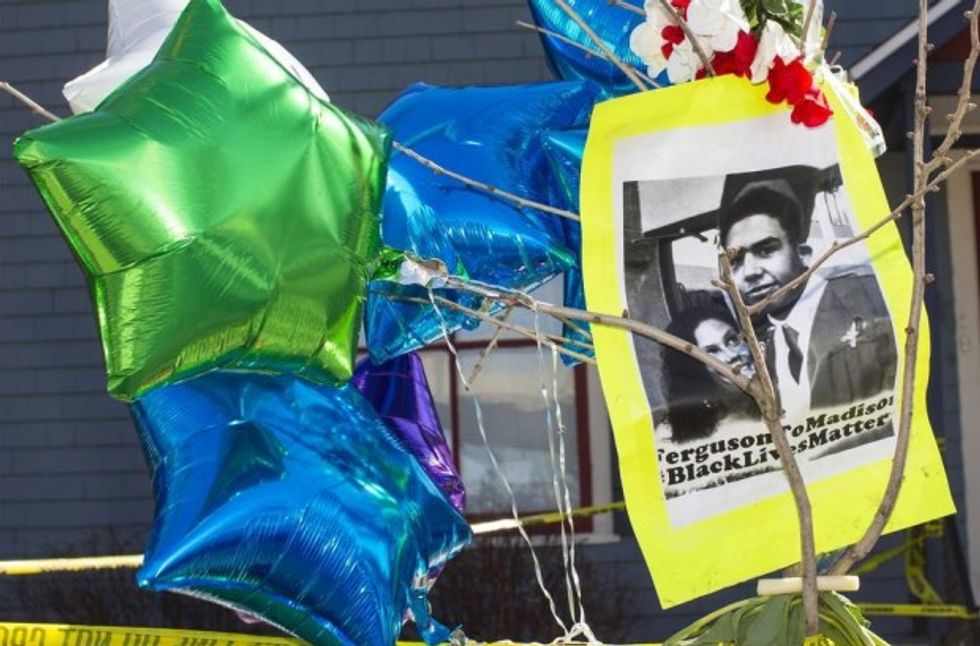 A makeshift memorial displays a photograph of Tony Robinson, Sunday, March 8, 2015, in Madison, Wis. Robinson, a 19-year-old black man, died Friday night after being shot by a police officer in an apartment during a confrontation. (AP Photo/Andy Manis)
"I have a son that's 22 months and it's just like, he's a boy — he's growing up and it's just scary," Reese said. "I'm scared for him."
Reese said Robinson loved to skateboard and was getting ready to start college.
"Everyone liked him, he was outgoing and he really didn't have any problems with anyone," he said.
Dozens of protesters stood outside the Dane County Public Safety Building on Saturday morning holding "Black Lives Matter" signs, a slogan that has galvanized protesters across the country after other recent officer-involved shootings of unarmed black men.
At a news conference Saturday, Koval acknowledged that the fact that Robinson was unarmed is "going to make this all the more complicated for the investigators, for the public to accept."
Listen to the interview on For the Record's "Field Report" podcast:
Follow Sara A. Carter (@SaraCarterDC) on Twitter