Education Secretary Arne Duncan said high standards for schools did not have to be Common Core standards, but was not clear on what he thought about a House Republican proposal to ban his department from making federal grants contingent on adopting the controversial K-12 math and English standards.
"Our goal is to just have high expectation and to have high standards," Duncan told TheBlaze Monday. "We want every single child, again, particularly children who have not had the best educational opportunities have the chance to graduate truly college and career ready. Our simple measure for that is can they graduate high school and not have to take remedial classes."
Duncan was at the White House joining President Barack Obama, who met with the Council of Great City Schools, a group of school superintendents from the country, to talk about challenges facing school in major cities across the country.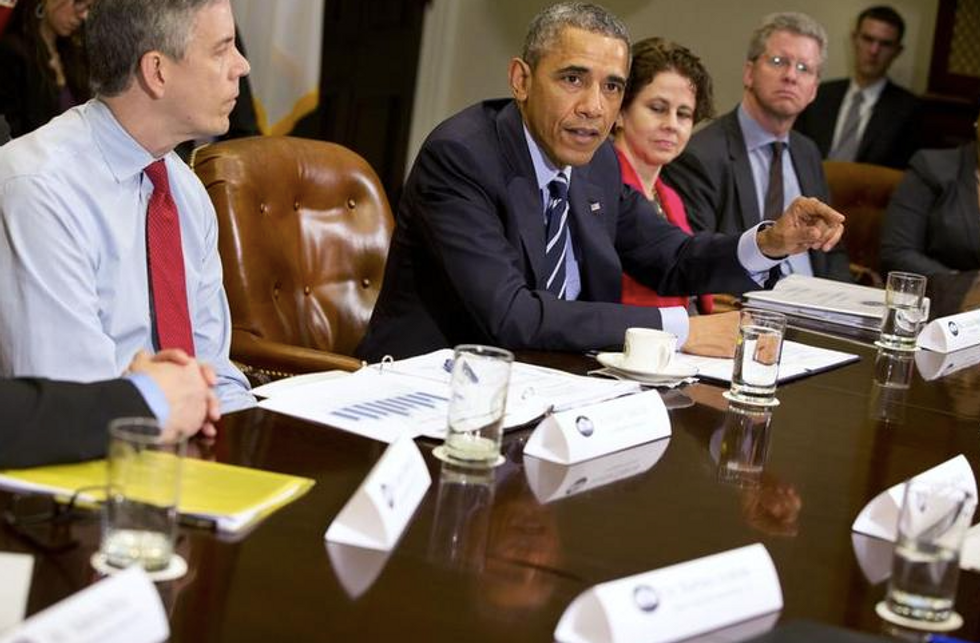 President Barack Obama speaks during a meeting with the Council of the Great City Schools Leadership, Monday, March 16, 2015, in the Roosevelt Room of the White House in Washington. From left are, Education Secretary Arne Duncan, the president, Cecilia Muñoz, Director of the White House Domestic Policy Council, and Budget Director Shaun Donovan. (AP Photo/Jacquelyn Martin)
"Far too often around the country, our high school graduates, kids who stayed in school and played by all the rules, thought they were on track to be successful were actually nowhere close," Duncan continued. "It's one of the most insidious things that happened. If young people in every state around the nation can graduate truly college and career ready, we are truly happy."
House Republicans proposed an education funding bill that would among other things prohibit the Department of Education from making grants contingent on adopting Common Core. The White House has threatened to veto the measure.
Asked about the specific provision, Duncan told TheBlaze it has always been the department's stand that the standards don't have to be Common Core. "We've been clear on that from day one." He added that better expectations is an issue for taxpayers to consider.
"If people continue to graduate and they are burning through Pell Grants and burning through yours and my taxpayer dollars, they are not prepared, we do them a disservice. So having a high standard of college and career readiness, let's not forget, is not a Republican idea, not a Democratic idea, it's the right thing for all of us," Duncan said.
After the meeting with superintendents, Obama talked mostly in vague terms about ensuring that the poorest schools are funded, but also said his administration has a goal of "making sure that we've got high standards and high expectations for all of our kids."
Several school districts across the country began the Partnership for Assessment of Readiness for College and Careers test this month, or the PARCC exam. While the test has sparked considerable criticism across the country, Kaya Henderson, Superintendent of Public Instruction for the District of Columbia, insisted the exam was going smoothly for their students.
"This is the second week of the PARCC test and we have been in preparation for this for the last few years, from redesigning our curriculum and providing professional development for our teachers to providing our young people with online assessments so this wouldn't be the first time they are encountering that," Henderson told TheBlaze shortly after the meeting with Obama. "Our young people and teachers are rising to the occasion. We've invested in technology, increasing our broadband. We've had some minor glitches. Otherwise our young people are successfully completing the exams. We're looking forward to the results."