Sometimes you're stuck on an airplane next to a crying baby or a space-hogging linebacker.
But those annoyances are nothing compared to a screaming, law-flouting socialist sympathizer.
Passengers aboard a flight from Nicaragua to Miami were subjected to a bizarre rant on Saturday from a woman who stood up and yelled, "The United States has declared war on Venezuela!"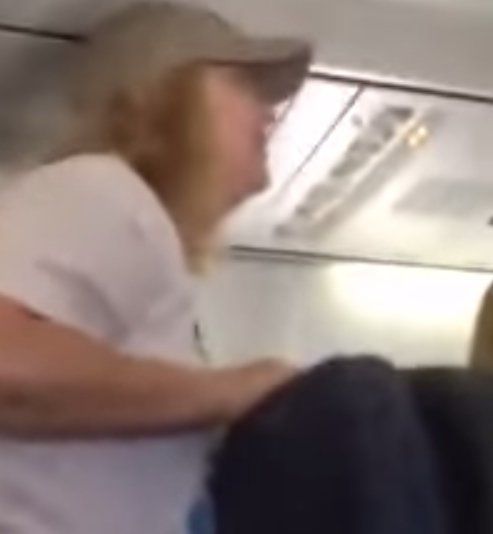 Image via YouTube
In videos of the rant the woman praises Venezuela's socialist former President Hugo Chavez, yelling:
The United States...previously owned the oil in Venezuela. My great hero Hugo Chavez nationalized the oil supply so that the people would own all of the oil, not Exxon Mobil. He told Exxon Mobil to go away!
Watch the impromptu speech below:
The same woman also lit a cigarette inside the plane, despite the decades-long, near-universal ban on smoking aboard airplanes.
When other passengers confronted her about the smoking, she tried to blame someone else for lighting it.
A man claiming to have been aboard the plane — the guy who switches seats in the video above — posted on Reddit offering more information about what had happened.
"I sadly was the poor soul sitting next to this woman," wrote commenter "Upsidedowndog."
Posting a photo of his shirt and boarding pass to verify his identity, the commenter wrote:
Halfway through the flight from Nicaragua to Miami on 3/14, she began to unintelligibly talk to herself in Spanish. Eventually she began to yell and "protest" on the flight about the United State's invasion of Venezuela, how the great Hugo Chavez was a friend to the USA, and how Obama kills people on Tuesdays. Eventually the flight attendants came over and gave her an ultimatum: Stop yelling like a psycho or the police will be waiting on the tarmac.

She took them up on this offer, and began screaming even more. While the plane was waiting on the tarmac for the police to arrive, she leans over to me and asks for a cigarette. She pulls one out of her bag and lights up. This is the point where I pull eject and run to the back of the cabin.

The police arrived after 20 minutes and escorted her off the plane.

She only had a single drink on the plane (however, others told me she was pounding them back pretty hard in the terminal and she also was on prescription painkillers).
The commenter said the whole thing made him miss his connecting flight, but he was able to catch a glimpse of the woman's boarding pass and passport when she left them behind on her seat — and he said they revealed an interesting tidbit.
"The irony is that she's a sociology professor [at a major university], and her dissertation was focused on women's hysteria," he wrote.
This story has been updated.
—
Follow Zach Noble (@thezachnoble) on Twitter