A person flying a drone captured something he can only describe by its very definition as a UFO. The YouTube and Vimeo user going by the name Darmino posted footage he took with a DJI Inspire drone, which can shoot in 4K, on the video-sharing sites. This type of drone films with more pixels and thus has a higher resolution.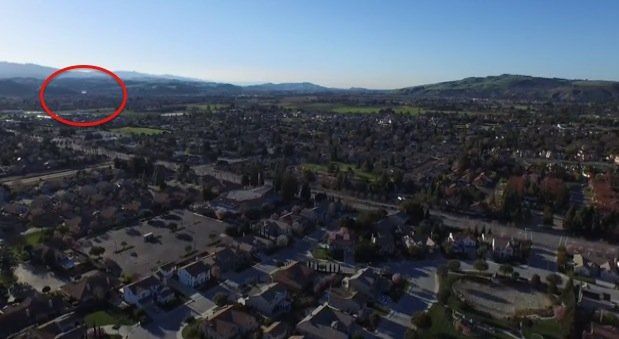 A fast-moving object was supposedly captured by someone flying a high-resolution drone. Many people speculate as to what the fleck of light could be, but ultimately settle on calling it a UFO for now. (Image source: Vimeo)
"I have no idea what this is, maybe a bug, Hummingbird, reflection or Alien space craft!" Darmino wrote on a forum for the drone's manufacturer. "The only thing I know for sure is that I did nothing that would cause this. You can analyze it better if you download the video in 4k and go frame by frame. Any other ideas of what it might be?" Take a look at the video posted earlier this month:
A Vimeo user going by Simon wrote, "Definitely not a bullet. That is either a military jet travelling low and at great speed or a UFO! My bet is the former at the moment. Difficult to work out the speed but it looks to have travelled about 1 mile in about 3-4 seconds - that's 900 miles an hour! Mach 1 = 768mph. Concorde travelled at 1,354mph - so it is possible."
Jason Passerell, also a Vimeo user, countered Simon's opinion though, writing that "[t]here would of been a massive sonic boom if it was a jet going that fast. [...] UFO it is."
Still others speculate that what Darmino captured was a bird, a reflection, or perhaps it was a flash of electricity over electrical wires.
Darmino does not specify in his posts where exactly the footage was taken, but the U.K.'s tabloid newspaper the Mirror reports it was in California's Silicon Valley.
Darmino did not immediately respond to TheBlaze's request for more information.