Police have arrested a girl they believe attacked a 13-year-old girl and her 5-year-old brother after the now-viral video of the vicious beatings were posted on social media.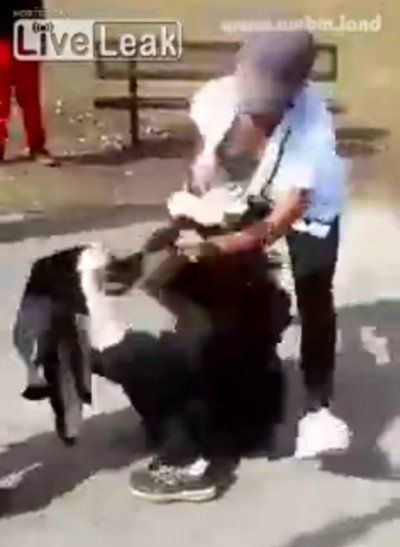 Image source: Live Leak
The Indianapolis Metropolitan Police Department told WXIN-TV the alleged assailant was arrested Sunday on an unrelated charge. Her name hasn't been released because she's underage. The victim's ages were reported on a WRTV-TV newscast but not their names.
Here's the clip. (Content warning: The video contains profanity and violence.):
As bystanders cheered during the attack in a park Saturday, the assailant was seen in the cellphone video repeatedly punching and kicking the victim who screamed, "What did I do?" and "Stop! Please stop!" The attacker also stomped on the girl's head and pulled her hair.
After the victim got up and walked away with her brother, the attacker ran after her and began beating her up again.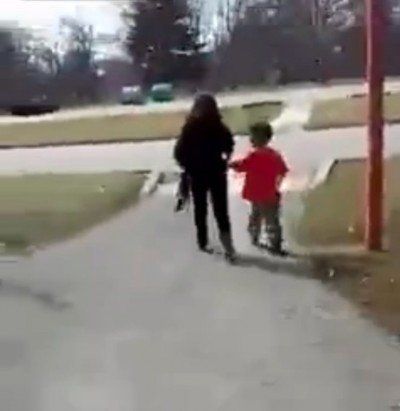 Image source: Live Leak
When the victim's 5-year-old brother stepped in and threw punches in his sister's defense, the attacker punched and pushed the boy, who fell backward and appeared to bang his head on the concrete.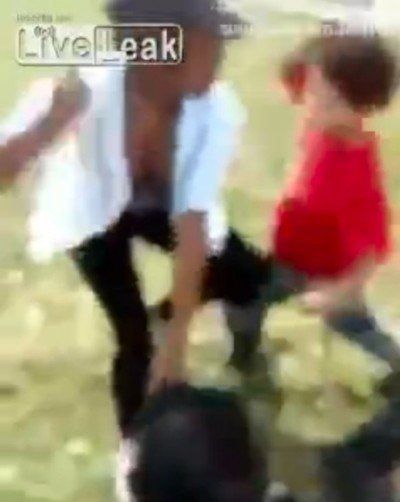 Image source: Live Leak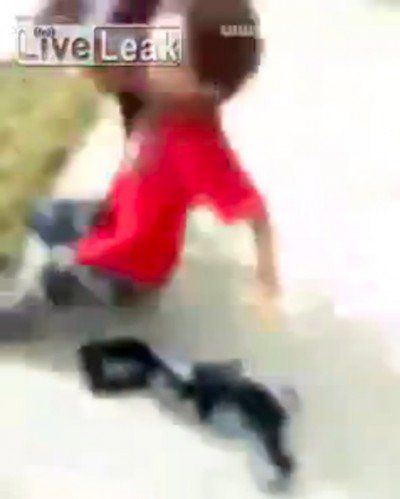 Image source: Live Leak
The stepfather of the victims told WRTV-TV it was hard watching the clip.
"I don't like to see that stuff happen to any kid, especially my own," Perry Bailey told WRTV, adding that he's also angry at Indianapolis Public Schools for failing to act when his stepdaughter reported bullying by the same group weeks ago.
"In the next few days we will go to the superintendent, we'll go to the school board, we'll go all the way up until we can't go up no more, and we will press charges on the kids that actually put their hands on my kids," Bailey told the station.
While the victim said she recognized her attacker from high school, the school district said the assailant in the video isn't a student at Indianapolis public schools.
IPS said the victim's earlier complaints about bullying involved fellow students and that the situation was properly addressed.
"The school district says the person who did this attack does not go to school here," Bailey told WRTV. "They could not deal with that. We don't believe that. Until they show us proof, we are not going to believe that."
Rev. Charles Harrison with Ten Point Coalition called the circumstances "horrible" and that fights like this posted to social media seem as though they're planned.
"This is glamorized, this is glorified, this brings them 'street cred,' this brings them notoriety, ya know? She's tough, she's going to beat somebody up," Harrison told WXIN. "It's almost like they plan these fights, they want these fights to be on tape where they can put it on social media. This is horrible."
(H/T: New York Daily News)
—
Follow Dave Urbanski (@DaveVUrbanski) on Twitter