He was a rising star in the NFL, set to replace a retiring starter and make millions.
But after just one season, he's calling it quits.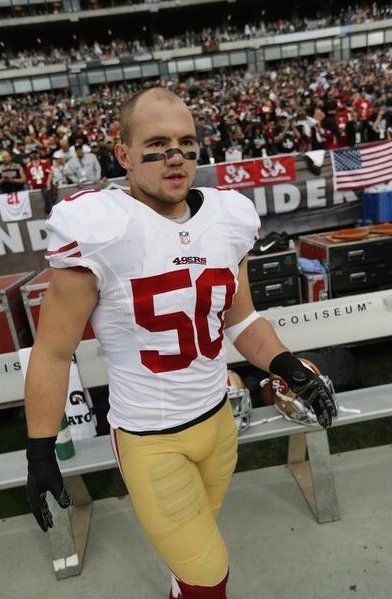 Chris Borland of the San Francisco 49ers stands on the sideline prior to the game against the Oakland Raiders at O.co Coliseum on December 7, 2014 in Oakland, California. Borland said Monday he was retiring from the NFL after only one season. (Photo by Michael Zagaris/San Francisco 49ers/Getty Images)
San Francisco 49ers linebacker Chris Borland shocked the football world when news broke late Monday that he was retiring at 24 years old after playing a single season in the NFL.
"I just honestly want to do what's best for my health," Borland told ESPN's "Outside the Lines." "From what I've researched and what I've experienced, I don't think it's worth the risk."
The University of Wisconsin star and third-round draft pick was set to make a small fortune in the NFL — his four-year contract with the 49ers was worth just under $3 million, including a signing bonus of $617,436 — but he said he started to have doubts when he sustained what he thought was a concussion during training camp.
"I just thought to myself, 'What am I doing? Is this how I'm going to live my adult life, banging my head, especially with what I've learned and know about the dangers?'" he said. "I've thought about what I could accomplish in football, but for me, personally, when you read about Mike Webster and Dave Duerson and Ray Easterling, you read all these stories, and to be the type of player I want to be in football, I think I'd have to take on some risks that, as a person, I don't want to take on."
Borland was referencing NFL icons diagnosed with chronic traumatic encephalopathy, a brain disease, after years of sustained battering in their football careers.
Webster died in unclear circumstances after brain damage sent him spiraling into debt and drug use.
Duerson and Easterling both committed suicide.
ESPN noted that more than 70 former NFL players have been diagnosed with progressive neurological disease following their deaths, and myriad studies have shown connections between football's repetitive head trauma, brain damage and issues including depression and memory loss.
Borland said he plans to go back to school, possibly pursuing a career in sports management.
The news of Borland's retirement came of the heels of the retirement of inside linebacker Patrick Willis — the man Borland was set to replace as a starter.
On Twitter, many noted the potentially devastating implications of the move for the NFL — if Borland is part of a rising trend of young talent opting out, the NFL could be in trouble.
49ers linebacker Chris Borland is just 24 years old and is already retiring after just one season. This is another wake-up call for the NFL.

— Jake Russell (@_JakeRussell) March 17, 2015
Chris Borland is retiring after one year of football due to concerns over health and safety. Not good for the sport. Not good at all.

— Just Blog Baby (@JustBlogBaby) March 17, 2015
At 24, retiring SF LB Chris Borland is closer in age to a 10-year-old Pop Warner player than Peyton Manning. That fact should worry the NFL.

— Don Van Natta Jr. (@DVNJr) March 17, 2015
Whether or not the NFL is hurt, the 49ers are undoubtedly feeling the sting of early retirements.
Chris Borland RETIRING? That might be more shocking to me than Patrick Willis retiring in the prime of his career. 49ers are decimated.

— Nathan Kearns (@nkearns12) March 17, 2015
Watch ESPN's report below:
—
Follow Zach Noble (@thezachnoble) on Twitter