Democratic FCC Commissioner Jessica Rosenworcel said Wednesday that the agency could choose to regulate internet rates under the net neutrality rules it passed February 26, but that claim stands in stark contrast with what one FCC senior official told TheBlaze just last week.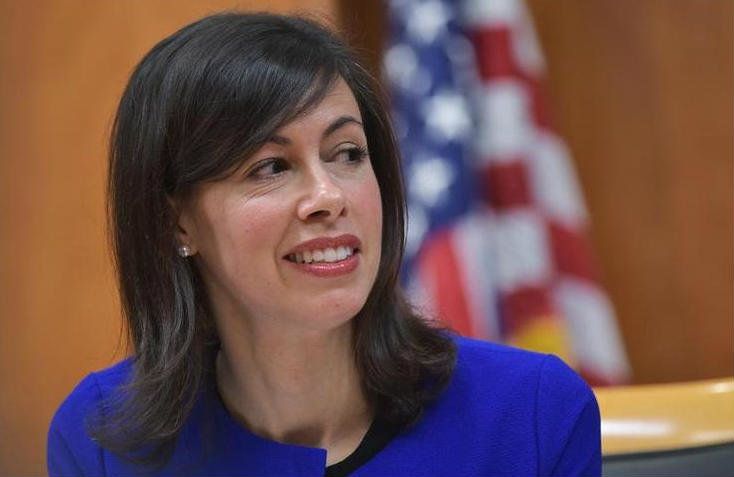 Federal Communications Commission Commissioner Jessica Rosenworcel listens to a fellow commissioner speak during a FCC hearing on the internet on February 26, 2015 in Washington, DC. (Credit
MANDEL NGAN/AFP/Getty Images)
During a senate committee hearing attended by all five FCC commissioners, Sen. John Thune (R-S.D.) asked Rosenworcel if the FCC "could" now subject internet service providers to fines and forfeitures if the agency deems their rates to be "unjust" or "unreasonable."
Rosenworcel at first tried to dodge the question, but eventually answered "sure."
The response seems to directly contradict what the FCC said March 12 when it finally dropped the 400-page plan of online rules. TheBlaze asked the FCC the same day what assurance it could give to the public that no new taxes or fees would be imposed on internet service providers or consumers.
A senior FCC official responded by saying the rules state "very plainly" that there will not be rate regulation.
"The order bars the kind of tariffing or rate regulation or bundling requirement that are the hallmarks of traditional utility regulation. The order makes plain that as a matter of law these sections will not be applied," the official said."In other words, no broadband provider will need to get the FCC's approval before offering any price or any product or any plan to the public." 
The FCC has previously maintained that while it is using the Title II authority under the Communications Act of 1934, it is forbearing the part of the statute that gives it permission to regulate rates or impose taxes or fees. Title II is the same statute by which public utilities are classified as such and regulated accordingly.
Republicans have long argued that the FCC should be specifically barred from taking such regulatory actions on its own. Thune drafted legislation ahead of the FCC's vote that would have accomplished the same protections as the FCC's rules – no blocking, no throttling and no paid prioritization of online content – but the legislation never made it to a vote.
Thune has labeled the agency's controversial move as a "power grab" while Republican FCC Commissioner Ajit Pai called it "a monumental shift toward government control of the internet."
–
Follow Jon Street (@JonStreet) on Twitter