A top State Department official on Thursday denied reports that the Obama administration might push for a United Nations vote on a Palestinian state in order to put pressure on Israel following Prime Minister Benjamin Netanyahu's decisive election victory.
Reports swirled Thursday morning that the White House was considering supporting a U.N. Security Council resolution calling for a solution to the Israel-Palestinian conflict, one day after a State Department spokeswoman also appeared to leave some wiggle room on the question of the U.S. maintaining its traditional role of standing staunchly with Israel at the international body.
Asked directly about the reports during a House Foreign Affairs Committee hearing, Deputy Secretary of State Antony Blinken denied that the Obama administration would push for a vote on a Palestinian state.
"No," Blinken said. "The administration's support for Israel is absolutely unshakeable."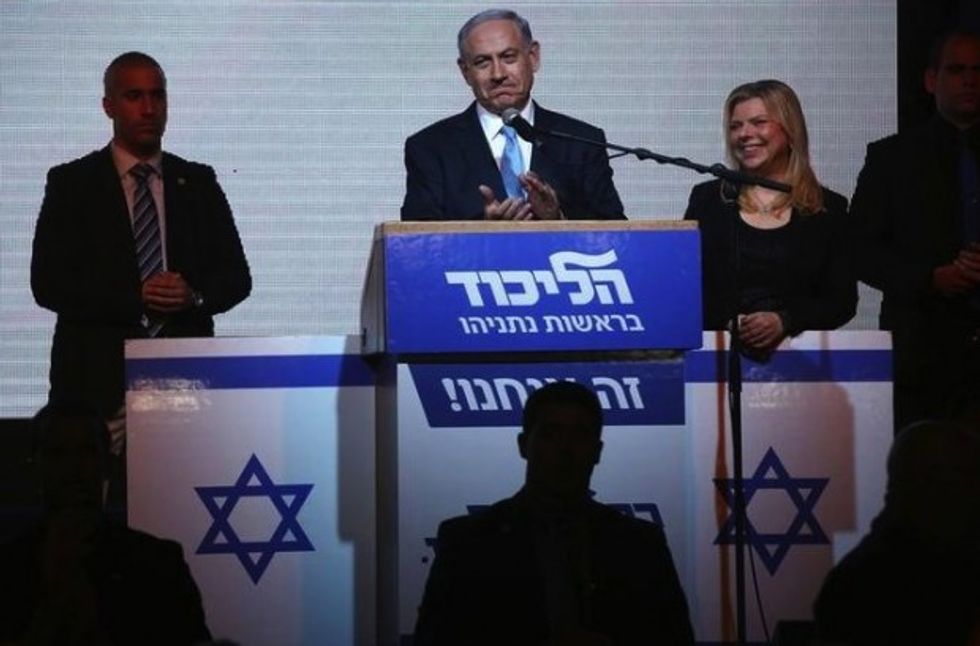 Israeli Prime Minister Benjamin Netanyahu delivers a speech next to his wife Sara as he reacts to exit poll figures in Israel's parliamentary elections late March 17, 2015 in Tel Aviv. (Menahem Kahana/AFP/Getty Images)
The New York Times reported Thursday that Obama might now refrain from engaging with Netanyahu altogether, instead leaving Secretary of State John Kerry to manage the U.S. relationship with Israel.
In Israel, the media reports about a U.N. resolution were interpreted as an effort by Obama to punish Netanyahu, now poised to serve a fourth term, and with whom his relationship has grown decisively frosty.
"Obama Lays Down Punishment on Netanyahu," was the headline in the right-wing Arutz Sheva website.
Foreign Policy reported that the decision to consider a resolution, which would call for the resumption of peace talks, followed Netanyahu's statements during his campaign that he opposed a Palestinian state and would not cede any further territory to the Palestinians, saying it would invite more terrorism against the Jewish state.
Several administration officials told the Times that the administration could now agree to a U.N. Security Council resolution promoting a two-state solution requiring Israel to give up land it captured in the 1967 Six Day War with several mutually agreed territorial adjustments.
"The premise of our position internationally has been to support direct negotiations between the Israelis and the Palestinians," a senior White House official was quoted as saying. "We are now in a reality where the Israeli government no longer supports direct negotiations. Therefore we clearly have to factor that into our decisions going forward."
Administration officials told the Times that Kerry and the Pentagon will now on be in charge of managing the U.S.-Israel relationship.
"The president is a pretty pragmatic person and if he felt it would be useful, he will certainly engage," a senior administration official said. "But he's not going to waste his time."
Unnamed U.S. officials were quoted in Politico saying that the Obama administration was revisiting its longtime role as a shield for Israel in the face of international pressure in response to Netanyahu's campaign statements.
"The positions taken by the prime minister in the last days of the campaign have raised very significant substantive questions that go far beyond just optics," a senior administration official said. "We are signaling that if the Israeli government's position is no longer to pursue a Palestinian state, we're going to have to broaden the spectrum of options we pursue going forward."
Foreign Policy reported that the U.S. told its diplomatic partners shortly before the Israeli election that it would not make any move at the U.N., which would put Israel on the defensive, in the event that Netanyahu's political challenger, Isaac Herzog won.
At the same time, Foreign Policy reported, U.S. officials were amenable to considering a resolution in the event Netanyahu was re-elected and formed a right-wing government, which is the coalition Netanyahu is most actively pursuing following the vote.
State Department spokeswoman Jen Psaki would not say Wednesday whether the U.S. would alter its traditional role of defending Israel at the U.N.
"We're not going to prejudge any decision about what the United States may do at the U.N.," Psaki told reporters. "Given the prime minister's comments, we're in a position going forward where we will be evaluating our approach with regard to how best to achieve a two-state solution."
"Our position remains that we continue to believe that the preferred path to resolve this conflict is for the parties to reach an agreement on final status issues directly," she said. "Certainly, while that's been our position, obviously the prime minister's position has changed."
The New York Times reported that the Israeli elections were "watched minute-by-minute at the White House."
The Blaze's Pete Kasperowicz contributed to this report.