When Tim McGuire was in college, he wrote a paper about what it would be like to find out you were going to have a child with a disability.
Being physically disabled himself, McGuire could offer a first-hand perspective about the hardships a parent might envision for such a child. At the time, he wrote that provided the child had all of his or her mental capabilities, he would consider the baby a blessing and not a disappointment.
Ten years later, McGuire learned that his son had Down syndrome.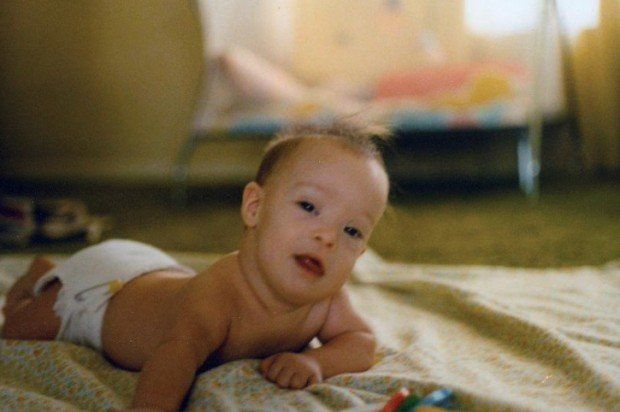 At the time they learned their son had Down syndrome, Tim McGuire recalled the doctor saying "some people even take them home." It was never a question for the McGuires to raise Jason. (Photo courtesy McGuire Family)
That paper, McGuire told TheBlaze, is one of the first things he thought of when he found out his son would have mental disabilities. The other was something he witnessed when he was in the hospital himself at 11 years old.
"Next to me in the Saginaw General Hospital were two twins, who I've never met but had more influence on me than anyone in real life," said McGuire, who wrote the book, "Some People Even Take Them Home: A Disabled Dad, a Down Syndrome Son, and Our Journey to Acceptance." "They had been in a fire and I remember their screams to this moment. I used that as the example in my life that whenever I think I have it rough ... I think about those two kids."
McGuire was born with arthrogryposis multiplex congenita, a birth defect that left his limbs twisted. He had 13 surgeries by the time he was 16 years old, but said he never coddled his physical disability.
Though his walk is "very distinctive," as he put it, he played flag football and ran and jumped with other kids as best as he could. What's more, he grew up with the understanding that "you never felt sorry for yourself ... you play the hand that you got dealt."
So when he and his wife learned their son, now 35 years old, had Down syndrome shortly after his birth, he said, "we had a hand and were we're going to deal with it."
Jason was born well before ultrasounds were routinely given to pregnant women, so the fact that he had Down syndrome was a complete surprise to McGuire and his wife.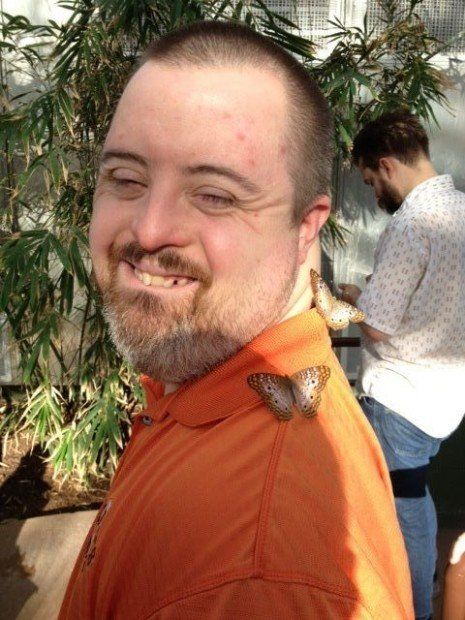 Tim McGuire said his book about raising a son with a metal disability while he himself has a physical disability is one of the more honest portrayals of having a child with Down syndrome. (Photo courtesy McGuire Family)
"Some people even take them home," McGuire, a professor at Arizona State University's Walter Cronkite School of Journalism, recalled the doctor saying to him at the news.
"I said, 'Well of course, by God, we're going to take him home!'" McGuire said. "It would have been a tragedy not to have him influence our life."
But it wasn't all sunshine and roses.
One of the more poignant hardships is Jason's understanding of his disability and his desire to grow out of it.
"Jason doesn't want to be disabled," McGuire said. "About three times in his life at 16, 18 and 21 [years old], he became convinced he'll grow out of it."
And knowing you're disabled and wishing you weren't can be a tough pill to swallow.
"Most people don't talk about that [aspect of disabilities,]" McGuire said ahead of World Down Syndrome Day on March 21. "This book is heartfelt, but I also think it's about the frankest book you'll ever read on disability."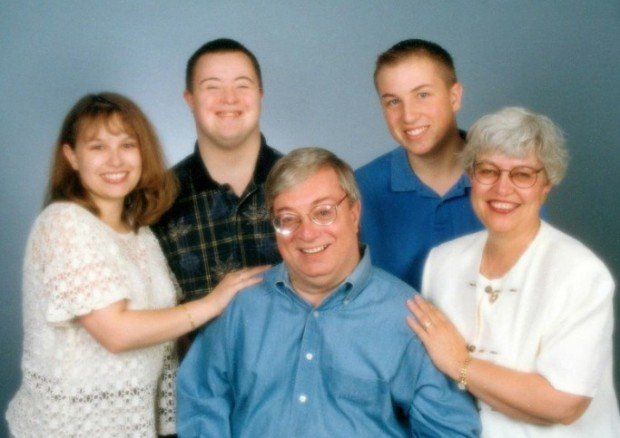 The whole McGuire family. (Photo courtesy McGuire Family)
Though McGuire said he doesn't think people with Down syndrome should be seen as "mascots or pets," he values the unique wisdom they seem to have.
"Sometimes you hear people say 'Oh, he makes me so happy,' kind of like they're a kitten or dog. That's a totally wrong-headed approach," McGuire said. "The way I view Jason and what I would tell someone if they were considering whether or not to have the Jasons of the world is that they have an incredibly positive effect on other human beings. None of us wants any more than that."
McGuire remembered one moment in particular that exemplified this.
After his wife of 39 years died last summer, McGuire sobbed uncontrollably in his grief.
"Jason stepped forward and gently turned me around and pointed at his head and his heart and he said, 'Daddy, she's here and she's here,'" McGuire said. "So this is a man who's got fascinating wisdom, incredible wisdom, despite the fact that he can't effectively count past 10.
"Has he made the world a better place? You're damn right he has."
Check out McGuire's book on Amazon for more on his story and learn more about World Down Syndrome Day.