Sen. Rand Paul (R-Ky.) turned to Twitter Friday night to blast Hillary Clinton for the "unacceptable" action of fundraising from "countries that oppress women" — and demanded she respond by returning the money.
"There is a war on women in these countries and I think it's inexcusable that she took money in the first place, and I'm calling on her today to return the money," Paul said.
Unacceptable. RETWEET if you agree Hillary Clinton must return the money she took from countries that oppress women. http://t.co/BfJEZtDETa

— Senator Rand Paul (@Senator Rand Paul) 1426894035.0
Earlier Friday, the libertarian firebrand told Politico that foreign contributions to the Clinton Foundation qualify as "thinly veiled bribes."
"The normal Clinton response is to cover up, deny, refuse to acknowledge," Paul said. "But the question is whether the country will rise up and respond to the unseemly nature of accepting foreign donations."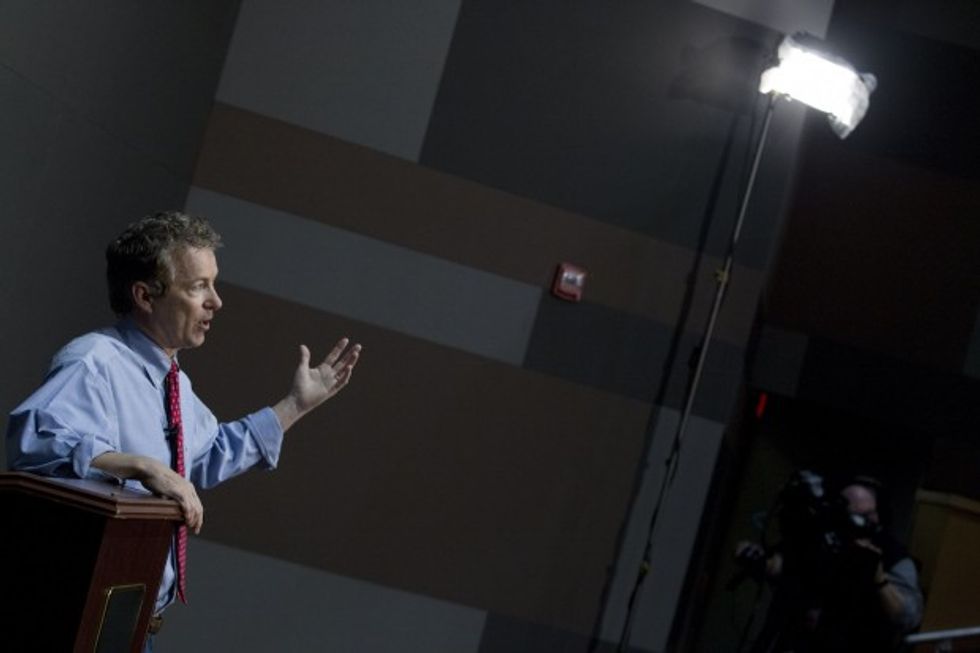 U.S. Sen. Rand Paul, R-Ky., speaks to students during a discussion on criminal justice reform at Bowie State University, in Bowie, Md., Friday, March 13, 2015. (AP Photo/Jose Luis Magana)
He specifically isolated donations from Saudi Arabia, the United Arab Emirates and Brunei.
"In countries that stone people to death for adultery and imprison people for adultery, this is the kind of thing you would think someone for women's rights would be standing up against, instead of accepting thinly veiled bribes," Paul told Politico.
Eyebrows were raised when the Wall Street Journal reported in mid-February that the Clinton Foundation had abandoned a self-imposed ban and begun collecting donations from foreign governments. Previously, the organization had stopped raising money in 2009 after Clinton was appointed as secretary of state.
—
Follow Oliver Darcy (@oliverdarcy) on Twitter