UPDATE March 26, 9:19 a.m. ET: Glenn Beck announced on his radio program that Grover Norquist would be on his television show this afternoon. He said his producer received an email saying Norquist would come on, and their email Wednesday did not mean he was backing out.
Beck described the email chain as "almost psychotic" and "bizarre," adding that they have "never had this problem setting up a guest before." But he reiterated his pledge to make his television program free that afternoon to anyone who wants to watch Norquist's rebuttal.
--
Glenn Beck on Wednesday presented an hour-long special on Grover Norquist, the president of Americans for Tax Reform, who he has described as an "agent of influence" for radical Islamists. In the middle of the show, Beck revealed an interesting twist involving Norquist's previous commitment to come on the show to answer the charges. Norquist cancelled, saying Beck made the accusations in front of more than 7 million people on radio, which listeners can tune into for free, but invited Norquist to defend himself on a show that requires a subscription.
"If you have a problem with [my TV show] being paid, I will make this episode free," Beck promised. "It will be free tomorrow to anyone who wants to hear your response."
The email from Norquist's representative also accused Beck of "never checking" any of his facts and "never reaching out" to Norquist's team for a "reality check," but Beck called both allegations "absolutely untrue."
"I knew this would happen," Beck said. "Grover has no interest in coming on the show."
Americans for Tax Reform President Grover Norquist attends a press conference discussing the taxation of marijuana businesses outside the U.S. Capitol September 12, 2013 in Washington, DC. (Photo: Getty Images)
You can read the complete letter from Norquist's representative, below:
No conservative should have to pay Glenn Beck to hear a grown up response to Frank Gaffney's nonsense. Two weeks ago, March 11, Glenn had Frank Gaffney on his radio show for a lengthy interview in front of an audience of seven million Americans. Uncritically accepting Gaffney's ten to fifteen year old nonsense, Glenn kept saying Grover was a "dangerous" and "bad" man. On the free public airwaves in front of seven million people, Glenn repeated Gaffney's long discredited nonsense over the course of several shows. Never checking anything. Never reaching out to us for a reality check. And then, after repeating stuff from Gaffney over and over on the public airwaves, you invite Grover to a paid, subscription-only show with a different, and much smaller, audience. If you are now interested in the facts that dozens of reporters and most conservative leaders already know, the best way to proceed would be to hash through Gaffney's attacks in front of the audience where Glenn gave Gaffney plenty of time to present them. If you are serious about fact checking Gaffney's material, contact me to find a time to do something on the radio show, the same venue where Gaffney told his conspiracy theory.
Beck said the hour-long special "isn't personal," but the result of research into Norquist's connections to radical Islamists.
"He is a power player who has managed to use his influence to evade any real scrutiny over his dangerous connections," Beck said. "He has a long list of connections with radical Islamic organizations, and in some cases, actual terrorists. ... I don't know the man at all. I'm not going to try to figure out why he's doing this. I don't know. ... [But] this is about national security. This is a danger to you, your family and the republic."
Beck began by highlighting Norquist's influence within the GOP and his close relationship with Karl Rove, whose organization Crossroads GPS reportedly gave Americans for Tax Reform $26.4 million in 2012 for "social welfare."
"What other alliances is he making?" Beck asked. "Let me show you some people he's been working with and crossing paths with."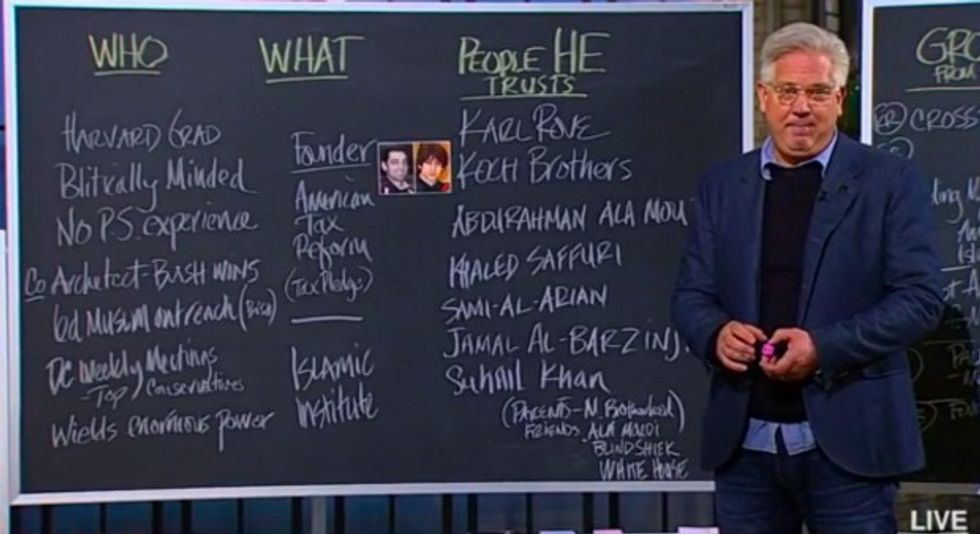 Glenn Beck speaks on his television program March 25, 2015. (Photo: TheBlaze TV)
Beck introduced his audience to Abdurahman Alamoudi, who allegedly raised money for Al Qaeda in the United States and is serving a 23-year prison sentence on terrorism charges. Alamoudi was recorded saying that outside of the United States, it is acceptable to say "Oh Allah, destroy America," but once inside the "mission" is to "change" America from within. Beck said Alamoudi donated at least $20,000 to the Islamic Free Market Institute, which Norquist co-founded.
Beck also spoke about Sami al-Arian, a former college professor in Florida who plead guilty to supporting a terrorist organization and was recently deported by the Obama administration. He was quoted saying, "Let us damn America, let us damn Israel, let us damn them and their allies until death." Beck said Norquist worked with al-Arian to fight against the use of secret evidence.
"I don't know what Grover's motivations are for working with people that range from Muslim Brotherhood sympathizers all the way to full-blown terrorists. It can only be one of two things. Either he is the most unlucky and naive guy ... and I hope it's that, because the only other option is that he strongly agrees enough with the Muslim Brotherhood's mission, or they're just paying him enough cash to subvert America."
"Either way, somebody with this much power inside the Republican Party and inside the NRA with these connections is absolutely unacceptable," Beck continued. "No person with any shred of integrity whatsoever would be within the same zip code of some of these people, let alone at the same office or exchanging money with them. And so far, the explanations given for the connections are completely unacceptable as well."
Beck discusses Norquist's connections more in depth in the video below.
[mlbvideo content_id=53995383]
Beck asked how someone like Norquist could "possibly be mixed up with so many radical extremists whose mission is to subvert the United States of America and fund Islamic jihad."
"I'm not claiming that he's a secret Muslim," Beck said. "I'm not claiming he wants to destroy America. All I'm claiming are the facts. This is who he is."
[mlbvideo content_id=54003883]
The full episode of The Glenn Beck Program, along with many other live-streaming shows and thousands of hours of on-demand content, is available on just about any digital device. Click here to watch every Glenn Beck episode from the past 30 days for just $1!