Grover Norquist, the president of Americans for Tax Reform, appeared on The Glenn Beck Program Thursday to defend himself against accusations that he is an "agent of influence" for radical Islamists. Norquist set up the Islamic Free Market Institute roughly 20 years ago, and through the organization, Beck said, he crossed paths with a number of controversial figures, including two now-imprisoned terrorists.
"When we set up the Islamic Free Market Institute in the mid-nineties it was because I had seen in Afghanistan and Pakistan during the end of the war against the Soviet Union, this radical strain of anti-Americanism and statism in the Muslim community from people who you would think would've be more supportive of the United States," Norquist explained. "I was looking around for, how do we make the case for a reformation in Islam focused on something that I know something about, which is free market economics."
"That sounds like an unbelievably noble goal," Beck said. "Now here is the question that leaps to mind: if that's my goal, gosh, how do I take a check from a guy like [Abdurahman Alamoudi]?"
Beck explained on his television program Wednesday that Norquist's Islamic Free Market Institute accepted at least $20,000 from Abdurahman Alamoudi, who allegedly raised money for Al Qaeda and is currently serving a 23-year prison sentence on terrorism charges.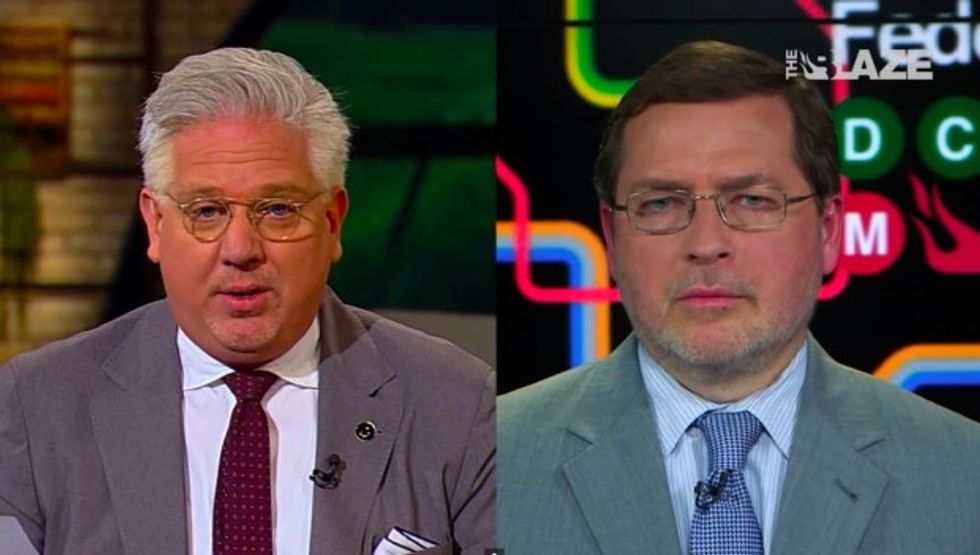 Glenn Beck speaks on his television program March 26, 2015. (Photo: TheBlaze TV)
But Norquist said Alamoudi's radicalism wasn't well-known at the time they did business.
"He worked with the Pentagon for crying out loud," Norquist said. "He traveled evidently for USAID or the State Department. ... He is somebody who was, at that point, people thought or said he was an OK guy."
But Norquist said after Alamoudi voiced support for Hamas and Hezbollah in 2000, he and his partner at the Islamic Free Market Institute Khaled Saffuri made it clear that Alamoudi was no longer welcome at their events. Norquist said it is not true that his organization sponsored the event where Alamoudi made the inflammatory comments, but that an intern signed them up without permission.
"Somebody was claiming that we got him to the White House and stuff like that," Norquist added. "Not true. ... He certainly wasn't ever encouraged to go by me."
"If I take you at face value, you're the most unlucky person ... I've ever met in my life," Beck said. "Only Barack Obama is this unlucky with a string of friends who are radicals."
Beck asked Norquist to explain his connection to Sami al-Arian, a former college professor in Florida who plead guilty to supporting a terrorist organization and was recently deported by the Obama administration.
"The proof that I was tight with Arian was that he opposed the misuse of secret evidence, wanted to abolish it, and I came to believe that too," Norquist said. "The second reason ... was that he gave me an award for opposing secret evidence. Well the award went to quite a number of people, starting with [James Woolsey], the former head of the CIA."
"So is Woolsey a good guy?" Beck asked Norquist.
"I think so, yeah," Norquist responded.
"OK, because he thinks you're a very dangerous man," Beck said. "Our office has spoken to Mr. Woolsey and asked him about you. He believes you're a very dangerous man."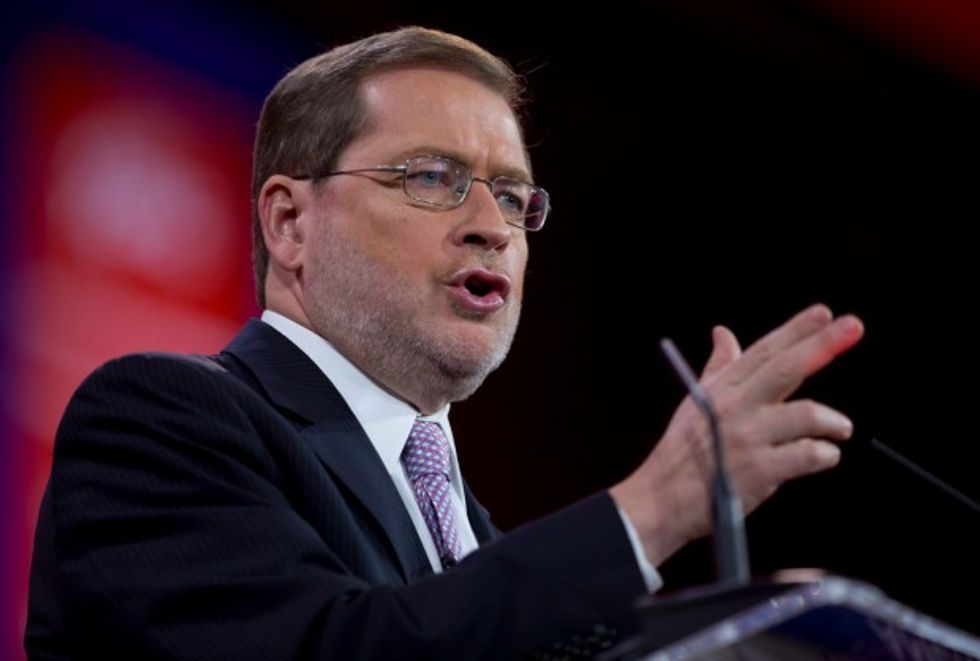 American for Tax Reform President Grover Norquist speaks during the Conservative Political Action Conference (CPAC) in National Harbor, Md., Thursday, Feb. 26, 2015. (AP Photo/Carolyn Kaster)
Beck also read a Wall Street Journal article from 2003 indicating Norquist's connection to Arian may have been deeper than he admitted. The article said Arian visited the Islamic Institute's Washington offices, which share office space with Americans for Tax Reform.
"Do you recall that at all?" Beck asked. "What was he at your offices for?"
"I don't know, sir," Norquist said. "I wasn't there. Somebody claims he dropped by and left off a flyer or something. I couldn't tell you, but it's a rather thin read to make me a co-conspirator with the guy."
"Just again, you're so unlucky because I don't have any terrorists that just stop by my offices, or who I take checks from," Beck said. "Did you pay him back, Alamoudi? One was a loan; one was a gift."
"I believe so," Norquist said. "Khaled organized it. But if it was a loan, then it was paid back."
"That's right, I forgot that you weren't really involved," Beck said with sarcasm. "I don't have my friends who run things for me take checks from terrorists, and I don't have other terrorists come stopping by my offices to drop by literature. It doesn't happen to most people. But I'm not you."
The full episode of The Glenn Beck Program, along with many other live-streaming shows and thousands of hours of on-demand content, is available on just about any digital device. Watch the special for free here.