Just a day after the House passed a resolution calling for a balanced budget within the next 10 years, the House turned around and passed legislation that would increase budget deficits by $141 billion, putting a balanced budget out of reach once again.
House Republican leaders worked with Democrats to bring up a bill to permanently end the threat of a steep cut to Medicare doctor reimbursement rates. Without a permanent resolution, Congress has had to pass "doc fix" bills every so often to ensure these payment reductions don't take place.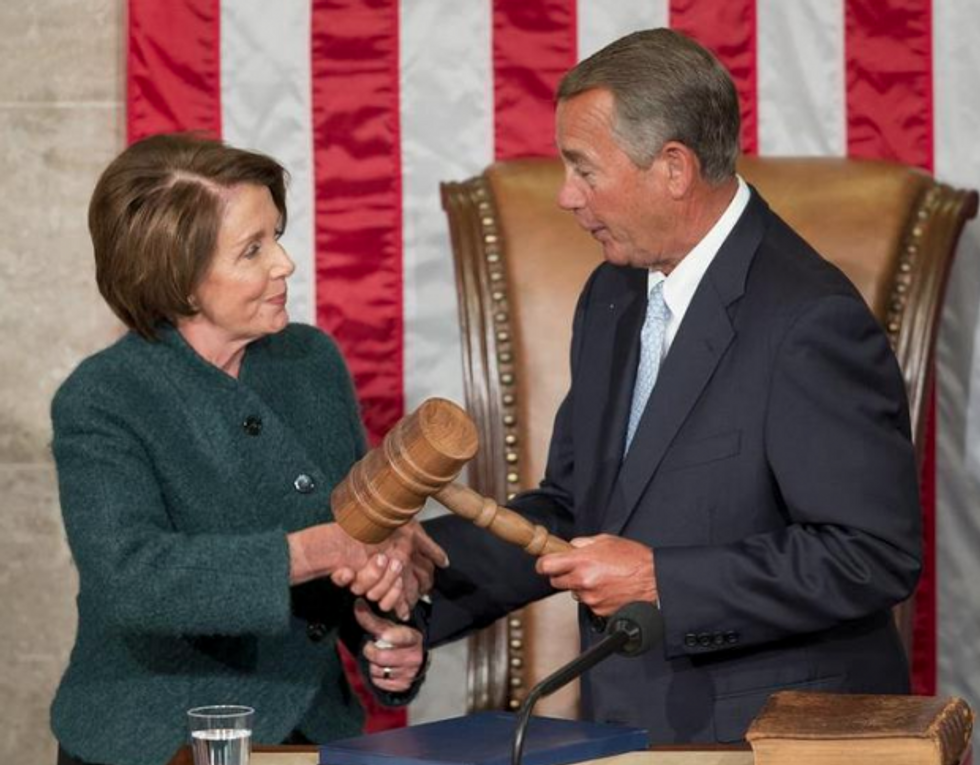 Minority Leader Nancy Pelosi (D-Calif.) and House Speaker John Boehner (R-Ohio) negotiated a deal to permanently avoid cuts to Medicare doctors, but at a $141 billion price tag. Image: AP Photo/Pablo Martinez Monsivais
But this week, the Congressional Budget Office said changing the law to eliminate the scheduled payment cuts permanently would create $141 billion in new deficit spending, since the change wasn't offset by new revenue or spending cuts in other areas.
That $141 billion more than eats up the savings many Republicans cheered on Wednesday when they passed the balanced budget resolution. According to that budget plan, the government would be on track to see a total budget surplus of about $50 billion by 2025, but that would be overtaken by the $141 billion in new deficits created by the permanent "doc fix" bill.
The doc fix bill clearly had some GOP skeptics in the House, but not enough to turn the bill away. The bill passed easily in a 392-37 vote, and 33 of those "no" votes were Republicans.
The vote had one Republican budget hawk in the Senate seething on Thursday, since the House vote came just as the Senate was preparing to pass its own balanced budget resolution. The Senate could also pass the doc fix bill this week.
"The same day we assert that we have to have a balanced budget, and we've laid out a plan that will get that in ten years, we're now considering passing … an unpaid-for increase in spending," Sen. Jeff Sessions (R-Ala.) said. "So we just can't do that, colleagues."
Some observers say the permanent doc fix bill is even worse than advertised, and could add $500 billion in deficits by 2035. The Committee for a Responsible Federal Budget made that assertion in a report it issued on the bill Wednesday.
Heritage Action also called on members to oppose the bill because it would increase the national debt, and noted that the bill was negotiated by House Speaker John Boehner (R-Ohio) and Minority Leader Nancy Pelosi (D-Calif.). The group said the permanent fix passed today ends the chance to made small reforms along the way, and also ends any chance of finding spending offsets that had been found in prior, short-term fixes.
"Past doc fixes have contained small, but important structural reforms to Medicare as well as reductions in other areas of federal spending," the group said.
Most Republicans, however, saw the bill as a way to end the annual need to pass bills that ensure there are no cuts to Medicare doctor reimbursements. Those fixes are needed because current law requires cuts to these reimbursements that Congress has dodged for more than a decade in order to avoid a disruption in Medicare access for patients.
Without some action by Congress, those reimbursement rates were scheduled to see a steep, 21 percent cut, which many say would have put some doctors out of business and put patients at risk.
GOP supporters of the bill also say reforms in the bill will lead to cost savings after the next decade, but many say the bill only gets more expensive. Either way, none of those savings — if they do exist — show up in the traditional 10-year budget window that is usually used to assess the budget.