North Dakota this week became the 27th state to call for a meeting of states that would propose an amendment to the Constitution requiring a balanced federal budget.
The need for a balanced budget amendment has become more urgent with each passing year, as the annual budget deficit has created a total national debt of more than $18 trillion. Recent projections have said the debt will keep growing and will be nearly $20 trillion by the time President Barack Obama leaves office.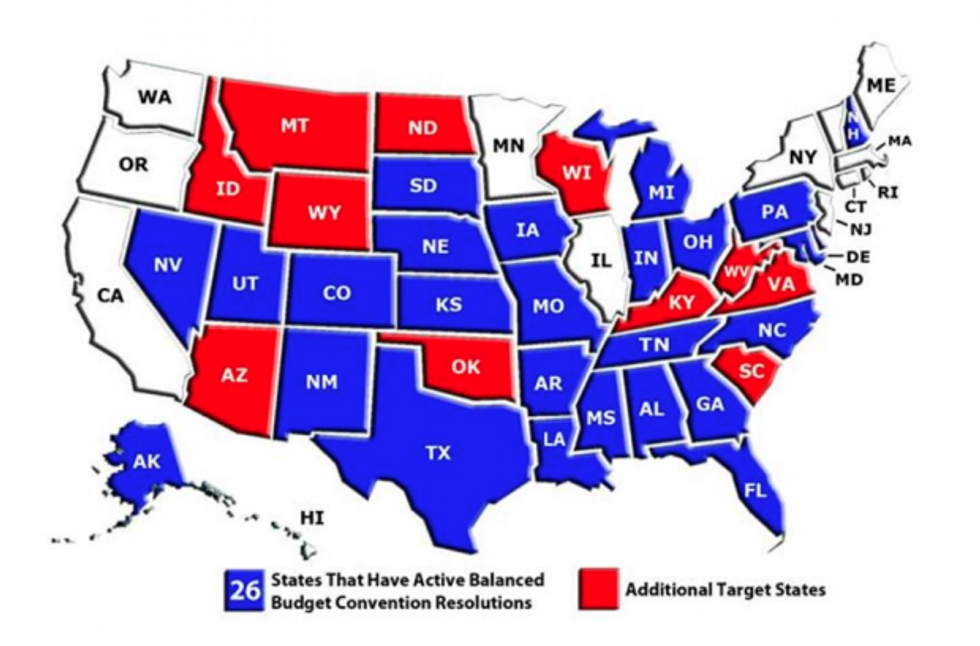 This map shows the 26 states in blue that have called for a convention to push for a balanced budget amendment. North Dakota, still in red, became the 27th state to make that call this week. Image: Balanced Budget Amendment Task Force
Congressional Republicans have made some headway stopping the growth of discretionary spending, but the reform of massive entitlement programs — known collectively as "mandatory" spending programs — has so far eluded Washington.
Barring a solution from Congress, Article V of the Constitution allows a convention of the states to be called, which would let states propose changes to the Constitution that three-fourths of the states would then have to ratify.
Two thirds of all states need to agree to a convention, or 34 of the 50 states. This week, North Dakota became the 27th state, leaving just seven more states before a convention could take place.
"If we want fiscal discipline in Washington, D.C., it has to come from the states. We have to be bold in our approach to them," Republican state Sen. Dick Dever told the Forum News Service.
While a state-led effort to force Congress to balance the budget would likely be frowned on by many Democrats, some Republicans are cheering the effort. House Judiciary Committee Chairman Bob Goodlatte (R-Va.) supported the North Dakota vote on Friday.
"North Dakota now joins over half the states in our nation in calling for a constitutional convention to address federal spending," he said. "The actions by an increasing number of states demonstrate the strong support for a constitutional amendment that requires the federal government balance the budget."
"For far too long the federal government has been living beyond its means and it is time to put an end to this fiscal irresponsibility," he said.
Goodlatte himself is a sponsor of two proposed amendments to the Constitution that would require a balanced budget, and he said North Dakota's action should encourage Congress to pass an amendment on its own.
Ohio Gov. John Kasich (R) has led the charge around the country for states to call for a convention to push for a balanced budget amendment.
"I'm doing this balanced budget thing because I think it can save the country from fiscal ruin," Kasich told TheBlaze in January in a phone call during a meeting with young supporters. "I have 40 or 50 kids in here who are going to have to pay the bills of adults who were mounting up a big debt. I don't think that's moral."
According to the Balanced Budget Amendment Task Force, the 27 states that have called for a convention are:
Alabama
Alaska
Arkansas
Colorado
Delaware
Florida
Georgia
Indiana
Iowa
Kansas
Louisiana
Maryland
Michigan
Mississippi
Missouri
Nebraska
Nevada
New Hampshire
New Mexico
North Carolina
North Dakota
Ohio
Pennsylvania
South Dakota
Tennessee
Texas
Utah
The site also lists several states that could call for a convention:
Arizona
Idaho
Kentucky
Montana
Oklahoma
South Carolina
Virginia
West Virginia
Wisconsin
Wyoming