Glenn Beck believes Grover Norquist was less than honest during their interview on Thursday, and declared on his radio program Friday: "This guy is lying to you."
"There is no smoking gun here, I want you to know," Beck began. "I wanted to make it a reasonable interview. I did start out a little sarcastic because I really do not like this man at all, just because I've done my homework and he plays the Saul Alinsky card. He calls people racist, [but] he didn't last night. I was shocked by that. But he calls people racist. He smears them. He destroys them. He's a very, very, very, very powerful man, and a man who I just do not believe."
Beck said Norquist excused his questionable connections the same way President Barack Obama has, and it is important that "we hold the GOP to the same standard that we hold the Democrats to."
"What Grover Norquist did last night was use every single excuse that Barack Obama uses for his relationships with nefarious people who want to see the end of the United States of America," Beck said. "So we have to decide, are we going to make a special exception because we agree with this guy? Or are we going to be consistent? If we are consistent, you will see that this road leads to Karl Rove. This road leads to everyone who is in Washington who is on our side, supposedly, that just wants the power and just wants the money."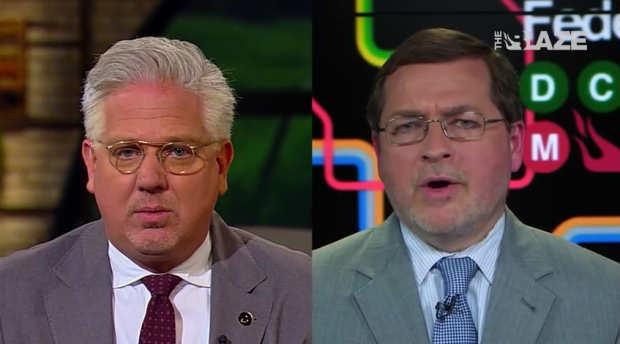 Glenn Beck interviews Grover Norquist on his television program March 26, 2015. (Photo: TheBlaze TV)
Beck said Norquist's arguments were inconsistent, and played audio of his responses. On the one hand, Beck said, Norquist started the Islamic Free Market Institute years before 9/11 with the intention of providing an alternative to rising anti-Americanism in the Middle East, which shows he was "way ahead of the curve."
But on the other hand, Beck said, Norquist pleaded ignorance when it came to the Muslim Brotherhood and a number of Islamic radicals.
"Let's say you want to dedicate your life to stopping the Klan, and you want to start a big foundation," Beck said. "What are some of the things that you do? When you're looking for people to join you, what are the things you do? ... Who do you take money from? Who do you have as partners?"
Beck noted that Norquist's foundation accepted at least $20,000 from Abdurahman Alamoudi, who allegedly raised money for Al Qaeda and is currently in prison on terrorism charges.
"If you had people who were members of the Klan, full-fledged members of the Klan, would you take money from them?" Beck asked. "Would you take other people's word for, 'No, he's a good guy. He's a good guy. Well, he seems to have a lot of Klan stuff at his house. Nah, he's a good guy.' Or would you take it upon yourself as the guy setting up an institution, stoptheKlan.org, would you take it upon yourself to [do your own homework]?"
Beck said he does not believe Norquist wants to "destroy the United States of America," but that some of his actions may be guided by a desire for "power and money."
"This didn't go well for Grover, and he knows it because this story is not in the Hill today," Beck said. "It's not in Politico today. It's nowhere. I haven't seen this story anywhere. And I can tell you that Grover Norquist would have called everybody in all of the circles in Washington, D.C., all the things that the political powerful read in Washington, D.C., had it been a win for him."
Beck said people ultimately have to decide if they are willing to turn a blind eye to Norquist's connections because they agree with some of the work he is doing in Washington, D.C.
"Are you willing to sacrifice your principles for interests?" Beck asked. "I'm not."
[mlbvideo content_id=55264283]
The full episode of The Glenn Beck Program, along with many other live-streaming shows and thousands of hours of on-demand content, is available on just about any digital device. Click here to watch every Glenn Beck episode from the past 30 days for just $1!