When she steps into her new role as senior adviser to President Barack Obama, Shailagh Murray will become the latest in a long line of former journalists who have left their Fourth Estate roles to go work for the White House.
Murray, a former Washington Post and Wall Street journal reporter, first joined the Obama administration as Vice President Joe Biden's communications director in 2011. On Tuesday, she was named as the replacement for longtime Obama hand Dan Pfeiffer, who departed the West Wing earlier this month.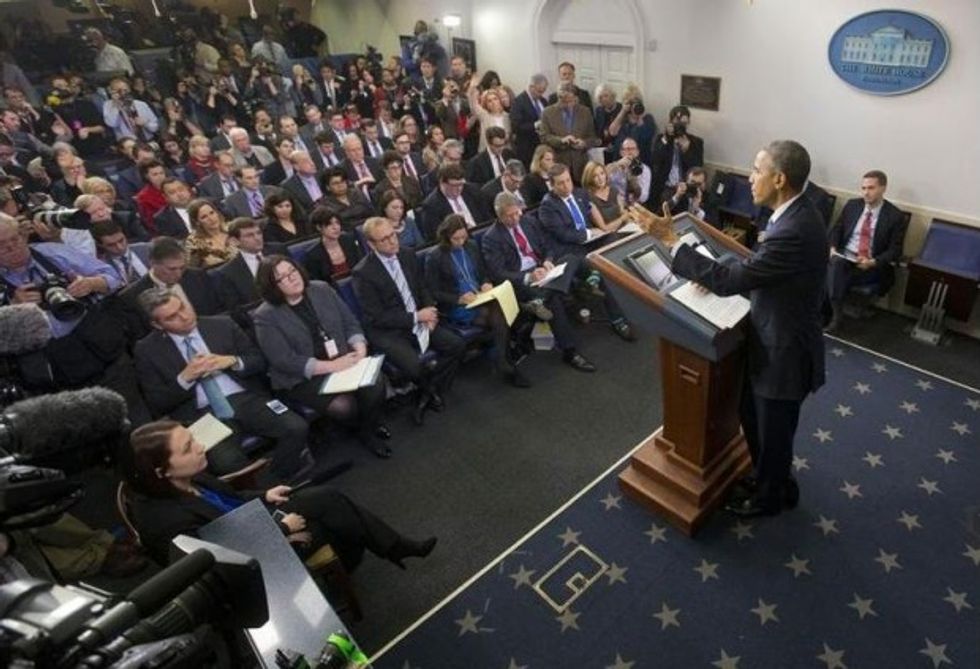 More than two dozen former journalists have taken positions in the Obama administration.(AP Photo/Pablo Martinez Monsivais )
Some 30 journalists have left their profession to go work in the Obama administration or on one of his presidential campaigns, according to the most recent tally by the Media Research Center, a conservative media watchdog group. One of the most visible jumps was by Jay Carney, a former Time reporter who went to work as Biden's communications director — Murray's old post — before ending up as White House press secretary.
While the number of journalists who have gone from covering President Barack Obama to working for him has garnered notice over the years, it's not a brand-new phenomenon.
"It was much more common in the very earlier times," said George Condon, White House correspondent for the National Journal and who's working on a history of the White House press corps. "But it has always happened."
A century ago, President Woodrow Wilson was so pleased with the reporting of Washington Post reporter Raymond W. Pullman that he appointed him District of Columbia police chief. Wilson appointed other journalists he liked to be D.C. commissioners, well before District home rule.
[sharequote align="right"]"It has always happened."[/sharequote]
It's also not unique to Democrats: George W. Bush press secretary Tony Snow ping-ponged between journalism and politics several times, starting his career as a journalist before going to work in the George H.W. Bush administration, then becoming the first host of "Fox News Sunday" in the 1990s, then returning to the White House to serve as press secretary in 2006.
Top George W. Bush adviser Karen Hughes was a Texas TV reporter in the 1970s and early 1980s before leaving the news business to join the Reagan-Bush re-election campaign. Hughes joined up with George W. Bush first on his Texas gubernatorial campaign in 1994, then became a top State Department and counselor to him during his White House tenure.
It wasn't an immediate journalist-to-White House transition for Hughes, just as it wasn't for David Axelrod, a former Chicago Tribune reporter who toiled in politics for some time before going to work for Obama.
Condon recalled that as a young reporter for the San Diego Union newspaper, editor Jerry Warren went to work for Richard Nixon as White House deputy press secretary before going back to journalism in 1975 after Watergate. Commentator Pat Buchanan left his job at the St. Louis Globe-Democrat to work as a speechwriter for Nixon and ended up a senior adviser to Nixon, Ford and Ronald Reagan.
In Bill Clinton administration, former U.S. News and World Report reporter Don Baer became White House communications director, and Strobe Talbott, a former Time editor, served as a deputy secretary of state.
Two legendary journalists held roles in Democratic administrations, Condon noted: CBS broadcaster Edward R. Murrow and NBC newsman John Chancellor. Murrow went to work for the John F. Kennedy administration to run the United States Information Agency, which later became Voice of America. Chancellor ran Voice of America under Lyndon Johnson.
It was previously common for all press secretaries to come from the ranks of the press, Condon said, as 12 of the first 13 White House press secretaries were all once reporters. After the tumult of Watergate, just four of the next 18 press secretaries were former reporters.
While some would point to the new uptick in journalists going to work for the Obama administration as evidence of a certain coziness, Condon said he thinks it has more to do with economics.
"The number was up a little when Obama came in, but that's because it was such a time of turmoil in journalism," Condon said. "For newspapers, there were a lot of reporters out of work. So I'm not surprised it's up under Obama."
But Brent Baker, vice president for research and publications at the Media Research Center, said he's been tracking the "revolving door" of journalists going into government for the last three decades and said the number of prominent journalists joining Democratic administrations or campaigns has been consistently higher than those joining Republican administrations or campaigns.
"The claim that this occurs equally with Democratic and Republican administrations is bogus," Baker told TheBlaze. "Tony Snow is the exception, and he never worked for a major mainstream media outlet, unlike Jay Carney."
Baker has monitored TV networks, major news magazines and newspapers with a national reach and says the numbers are clear.
"I've been tracking the revolving door since the late Reagan years and the ratio is a good 3– or 4–to–1 toward journalists going to work for Democratic administrations and campaigns over any back-and-forth between journalism and Republican administrations," Baker said. "As soon as Clinton came into office, a flood of journalists joined his team, to say nothing of his operatives who became major media figures [like ABC News anchor] George Stephanopoulos. And it happened again as soon as the Obama transition began in late 2008. And I'm sure we'll soon see some Obama officials taking prominent journalism positions."
[sharequote align="center"]"The claim that this occurs equally with Democratic and Republican administrations is bogus."[/sharequote]
Condon said he's less concerned about journalists leaving the news business for politics than the notion of how easy it is to return to journalism afterward.
"You have to be on guard against the revolving door of coming and going," Condon said. "The bigger problem is leaving and coming back to journalism and acting like nothing happened. It should be clear in your coverage that you are not carrying any baggage."
It's a history that predates Stephanopoulos' turn from top Clinton aide to "Good Morning America" and "This Week" host. Pierre Salinger, who served as John F. Kennedy's press secretary, also went to work as an ABC News correspondent. Both had to prove their credentials, Condon said.
Others see little problem with the overlap between working for politicians and working in the media.
"There have been instances where journalists have run for office and politicians have become writers," said Todd Gitlin, a professor at Columbia University's Graduate School of Journalism. "In my mind, there is no hard and fast line that says writers can't have views of the world they experience. There's nothing scandalous about it."
Gitlin said that as long as there is no corruption involved, such as a tradeoff for positive coverage, there is nothing wrong with a politician hiring a journalist as their spokesman. His bigger concern is journalists not covering politicians honestly while they are journalists.
He referred to the late NBC "Meet the Press" host Tim Russert, who was once chief of staff to former New York Democratic Sen. Daniel Moynihan, and who was often regarded as tough interviewer. Gitlin disagrees, noting that he made his criticism when Russert was alive.
"I would say he would bend over backwards to be cozy with politicians," Gitlin said. "It's not because I cared what was on his resume. It's because I cared about him being a sober, competent and instructive journalist."
Regardless of where or when they work, Gitlin said, "we still have to be vigilant about anything said by journalist and presidents."