Sheepdogs might have tucked their tails to worry about their corner on the herding market when the movie "Babe" showed a little pig doing their job, but now both animals could be ousted by a high-tech system.
Meet Shep the Drone — the "sheepdog of the future."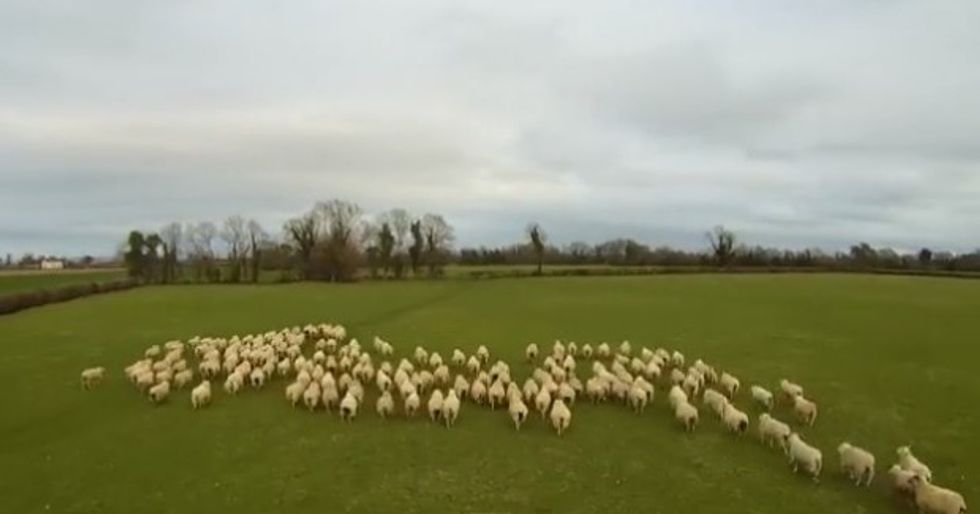 Image source: YouTube
Farmer Paul Brennan in Carlow, Ireland, demonstrated the drone's abilities:
This isn't the first time drones have been used to shepherd animals. One problem with drones compared to sheepdogs though is that the sheep might feel bolder in the face of technology that doesn't have the threat of a well placed nip. Just watch what this sheep defy a drone in a faceoff.
Shepherding isn't the only task farmers are looking at drones to perform either. The Sheep Site, an industry news website, reported earlier this month that crop farmers were looking into drones to get an overall view of the fields to assess things like growth and potential issues. They were also lauded as being able to give farmers views of areas that might otherwise be inaccessible.
In the U.S., the Federal Aviation Administration has been granting permits on a case-by-case basis to companies that want to use drones for aerial photography, to monitor crops and pipelines, and to inspect bridges, cell phone towers, oil platforms and other tall structures. But the agency has a backlog of more than 400 applications for permits, and the list is growing.
Under streamlined rules released earlier this month, the FAA said last week it will grant blanket flying permission to applicants whose drones weigh less than 55 pounds and who agree to keep flights under 200 feet, to fly only in the daytime, and to keep away from airports.
(H/T: io9)
—
The Associated Press contributed to this report.