Methuselah lived 969 years, the Book of Genesis described, making Noah's grandfather the man to have lived longer than anyone else.
So it's fitting that researchers in the southern Israeli Negev desert chose that name for a date palm they cultivated from a 2,000-year-old seed found during excavations in Masada.
Dr. Elaine Solowey, director of the Center for Sustainable Agriculture at the Arava Institute for Environmental Studies at Kibbutz Ketura in Israel, successfully germinated and sprouted the seed in 2005. Methuselah was the only plant that grew from among several ancient seeds that she was given by the Hadassah Medical Organization.
Solowey told TheBlaze Monday that she has germinated Methuselah with modern female date palms, but her real dream is to one day grow a female tree from ancient seeds to breed with Methuselah and hopefully discover the exact kind of dates eaten in ancient Judea.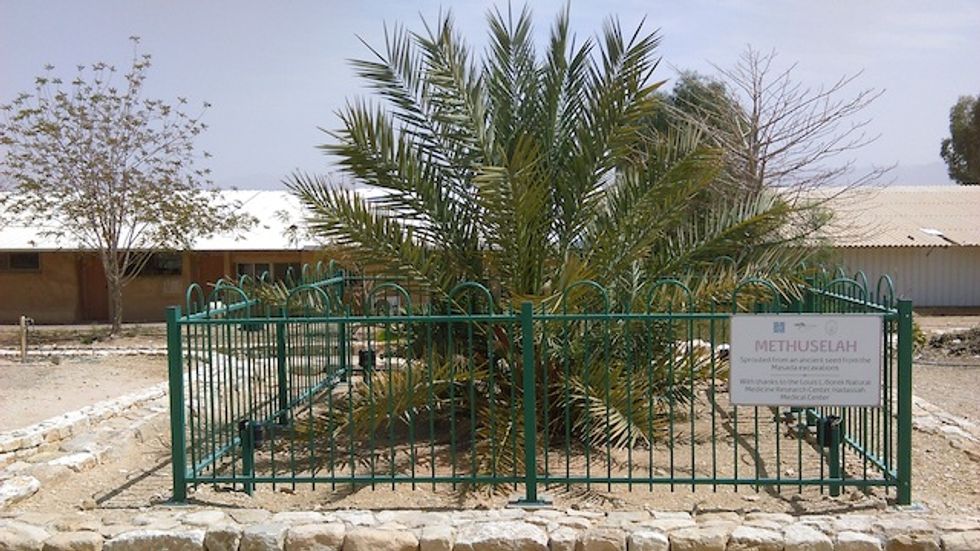 The tree named Methuselah was sprouted from an ancient seed found near Masada. It could one day reveal one kind of food once eaten in ancient Judea. (Photo courtesy: Dr. Elaine Solowey, Arava Institute for Environmental Studies)
Solowey started her project by planting the ancient seeds in quarantine conditions and said she wasn't even sure what all of them were. Those she thought might be for almond trees were not. The one that successfully sprouted was the date tree.
"I knew it was a date seed, but unfortunately I didn't know if any would sprout," Solowey said. "Some I didn't recognize. … Some looked like almonds but they weren't."
The plant spent a long time in quarantine and three years ago was moved outside.
At more than 9-feet-tall, "he's a big boy now," Solowey told TheBlaze by phone.
She said she knows "his pollen is good" from the successfully pollination of a modern female tree.
"We have half of the way of reviving the Judean date, because we have the [ancient] male," Solowey said.
Methuselah has flowers and offshoots, a few little male trees.
"We're just trying to get him a girlfriend," Solowey joked.
The hunt is now on near Masada for seeds for a female tree from the same era. The Dead Sea area possesses the conditions necessary to protect seeds from insects, radiation, and excessive humidity, which enhances the chance of finding a viable seed.
Methuselah's seed was carbon dated to between 35 A.D. and 65 A.D.
Masada gained notoriety a short time later as the site of the 73-74 A.D. Roman siege of the Judean desert mountaintop fortress where Jewish families had taken refuge. The Jewish rebels famously chose to commit mass suicide rather than be killed or enslaved by the Romans.
"The Romans had nothing good to say about [the area] here, but liked the dates and used to buy them," Solowey said.
Solowey said that Roman emperors ate the Judean variety dates which are believed to possess medicinal properties, another area of study that interests researchers.
"There is a legend that the way the dates got into Israel was that they came as seeds with the children of the exodus from Egypt," Solowey said, though she noted that would be challenging to prove.
The research could have historical and agricultural implications beyond simply the impressive achievement of growing the ancient seed.
"I hope we plant an ancient grove of 100 percent ancient genome dates. Then we'll really know what they ate in those days," she said.
There may also be a contribution to modern agriculture as some of the ancient plants are believed to have "disease resistance and other qualities that could be useful."
"Modern natural cloned dates are susceptible to disease," she observed.
As for the Genesis-era character. Methuselah, the tree, is about twice as old genetically as the biblical Methuselah was.
"Maybe we should have called him Methusaleh times 2," Solowey quipped.
(H/T: National Geographic)