A wild rhinoceros charged through a city in southern Nepal Monday, goring and killing one woman and injuring others in its path.
According to the Associated Press, the incident happened in Hetauda. Ram Prasad Thapaliya, an administrator in the city, said the number of people injured is unknown at this time but a 61-year-old woman was killed.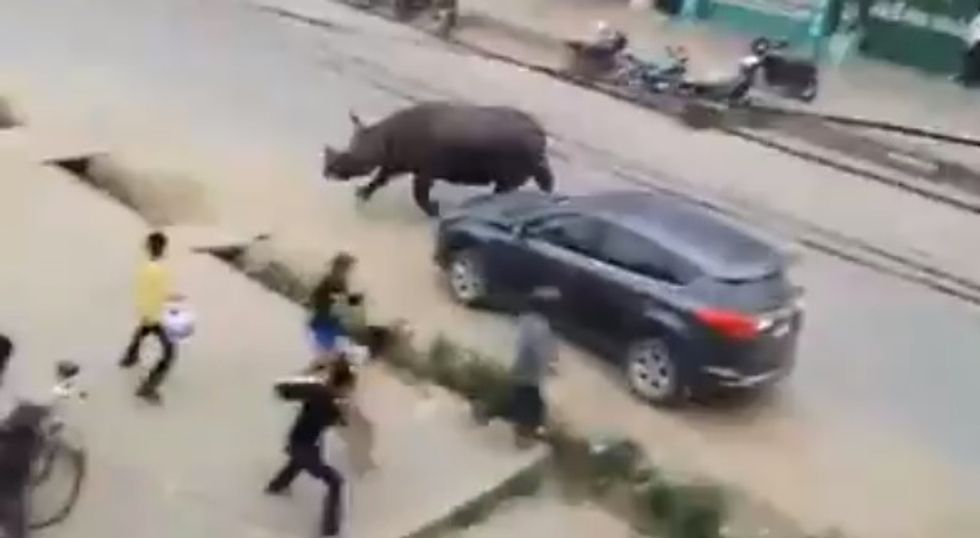 Image source: YouTube
Watch this footage of the animal on the run:
"The whole town is terrorized by this animal. It even entered the local hospital, forcing terrified people to jump over the fences," Thapaliya said, according to AP.
The official added that a team was on its way to tranquilize the animal after efforts to peacefully guide it out of the city through honking of horns and banging drums did not work.
Krishna Poudel told the Wall Street Journal that animals coming through the city isn't unheard of, but this is the first time it has been a rhino.
"I have never seen a rhino come into our area," Poudel told WSJ. "Sometimes elephants do come."