An Alabama mother is gaining attention this week for penning a viral note on Facebook after she learned of the "rude, disrespectful and awful behavior" her girls exhibited at a local movie theater.
Kyesha Smith Wood dropped her two girls and son at a Bessemer movie theater over the weekend to see "Cinderella." However, after the movie, Wood's son informed her of the "disrespectful" way her daughter and step-daughter behaved.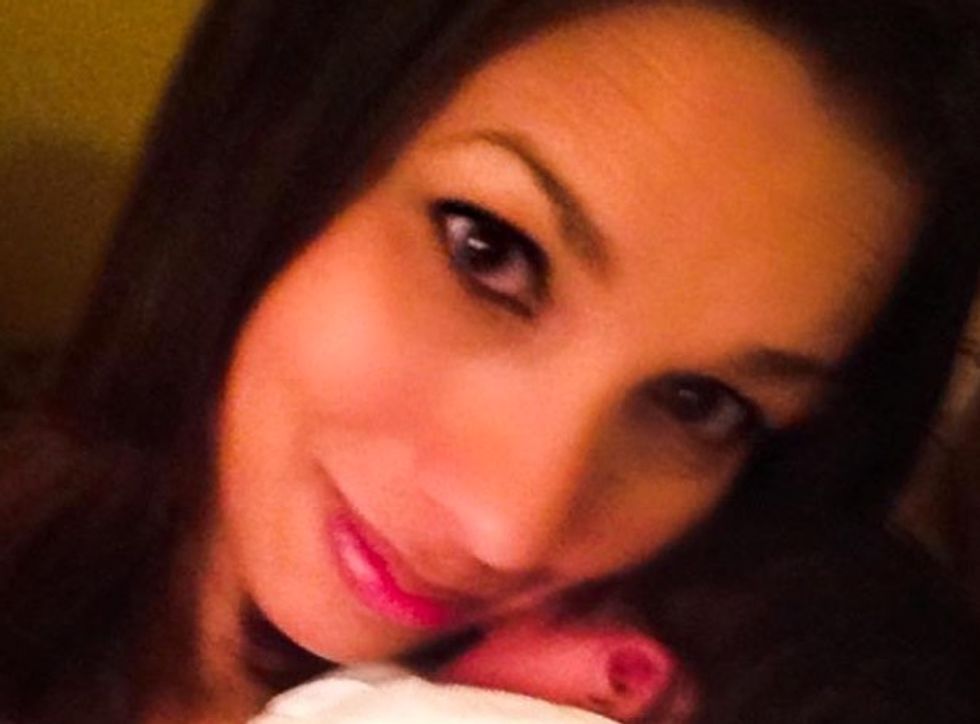 Image source: Facebook
Feeling horrible, Wood turned to Facebook in an attempt to apologize to the woman her children offended.
"This is a long shot, but I'm looking for a woman that was at Tannehill Premier tonight seeing Cinderella at 7pm," Wood wrote. "I dropped my teenager daughter, step daughter, and son off at the movie. My son later told me, much to my humiliation and embarrassment, that my girls were rude and obnoxious during the movie."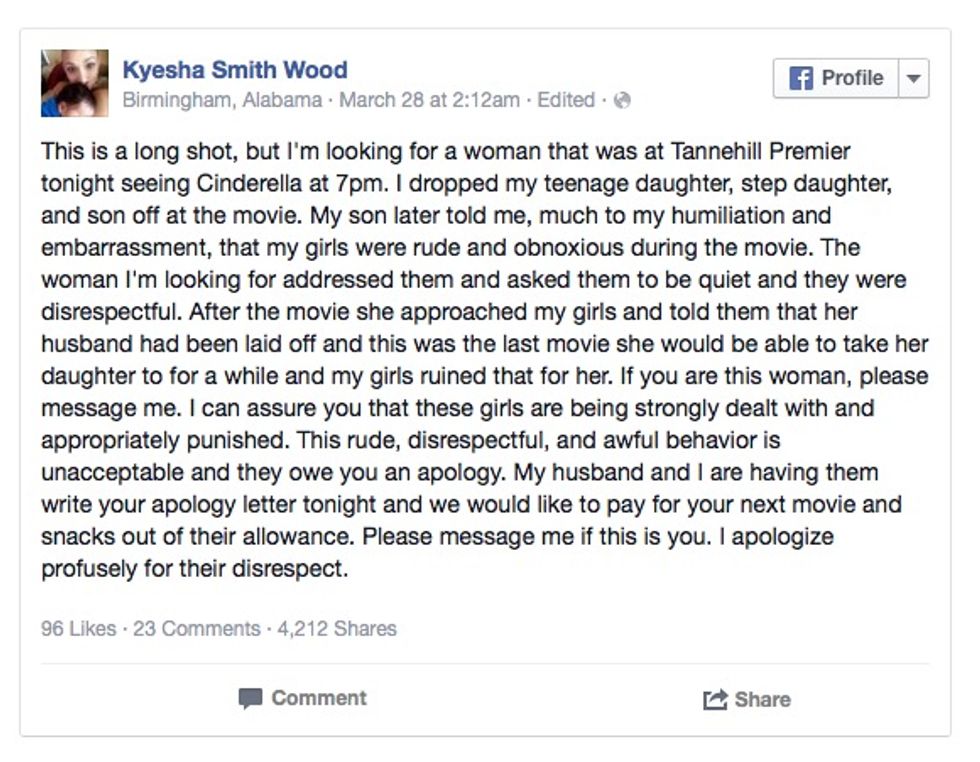 Image source: Facebook
"The woman I'm looking for addressed them and asked them to be quiet and they were disrespectful," the mother continued. "After the movie she approached my girls and told them that her husband had been laid off and this was the last movie she would be able to take her daughter to for a while and my girls ruined that for her."
Wood then used the post to publicly detail the discipline she handed down to her girls.
"I can assure you that these girls are being strongly dealt with and appropriately punished," she wrote. "This rude, disrespectful, and awful behavior is unacceptable and they owe you an apology. My husband and I are having them write your apology letter tonight and we would like to pay for your next movie and snacks out of their allowance."
"I apologize profusely for their disrespect," Wood concluded.
The post has since gone viral on the Internet, amassing more than 50,000 shares on Facebook and more than 250,000 likes on a local law enforcement page.
Woods said that her girls are embarrassed by the punishment.
"My girls are so mortified," Wood told WBMA-TV. "They are humiliated. And that's OK because I told them, 'You know what, you're not going to do this again.'" 
The mother in the theater was later identified as Rebecca Boyd. She messaged Wood after seeing the post on Facebook.
"She's the most gracious, kind and forgiving woman. I am so humbled by that and I've been telling people the real hero of the story is her," Wood told WBMA. "She took it upon herself to correct my girls and one else around them did."
WBMA reported that the Boyd family has since received a few job offers following the attention from news reports.
—
Follow Oliver Darcy (@oliverdarcy) on Twitter