It's not an April Fool's joke. This is for real.
Amazon is offering a new service called Dash Button that will allow some customers to simply push a button whenever they need to reorder basic necessities – items like toilet paper, dishwasher soap and batteries. The buttons can be attached to just about any surface to which you can stick other adhesives, the Verge reported.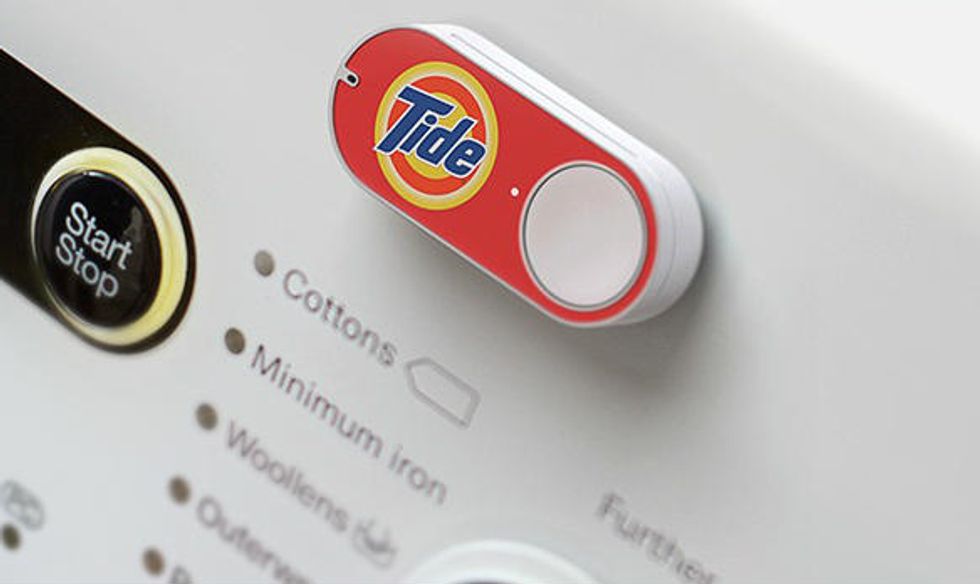 Image source: Amazon.com
Amazon Dash Button is currently available only to Prime members. The idea is that Prime members already use Amazon to order everyday items anyway, so why not make it easier and quicker for them to do it.
To make the Dash Button possible, Amazon partnered with 18 different companies, according to the Verge. Right now, each of those companies has a dibs on certain generic products offered through Dash Button. For example, if a customer is about to run out of toilet paper, pressing the button will only order you the brand Amazon Dash Button associates with that product.
Amazon is making the buttons free, but again, it's only for Prime members who already pay $99.99 per year for special perks like free two-day shipping and unlimited TV show and movie streaming. And because customers who use Dash Button are already Prime members who get free two-day shipping, they can expect to receive their items no more than two days after pressing the button.
But while it sounds great, The Verge points out at least one downfall:
Another issue is that the size, price, and availability of Prime-eligible products can frequently change on Amazon. Sometimes that means a multi-pack of something can become markedly cheaper, or make the product you buy considerably more expensive. Longtime users of Amazon's "subscribe and save" service also tend to get better deals on recurring purchases on the very same types of products where Dash buttons would make the most sense, but Dash isn't able to optimize for price changes, at least not right now.
Here's Amazon's official video:
–
Follow Jon Street (@JonStreet) on Twitter