Self-professed "cool mom" Mrs. George, played by actress Amy Poehler, in the movie "Mean Girls" tells her daughter's new friend there is of course not alcohol in her "happy hour" after-school drink but quietly adds that should she want a little bit she'd "rather you do it in the house."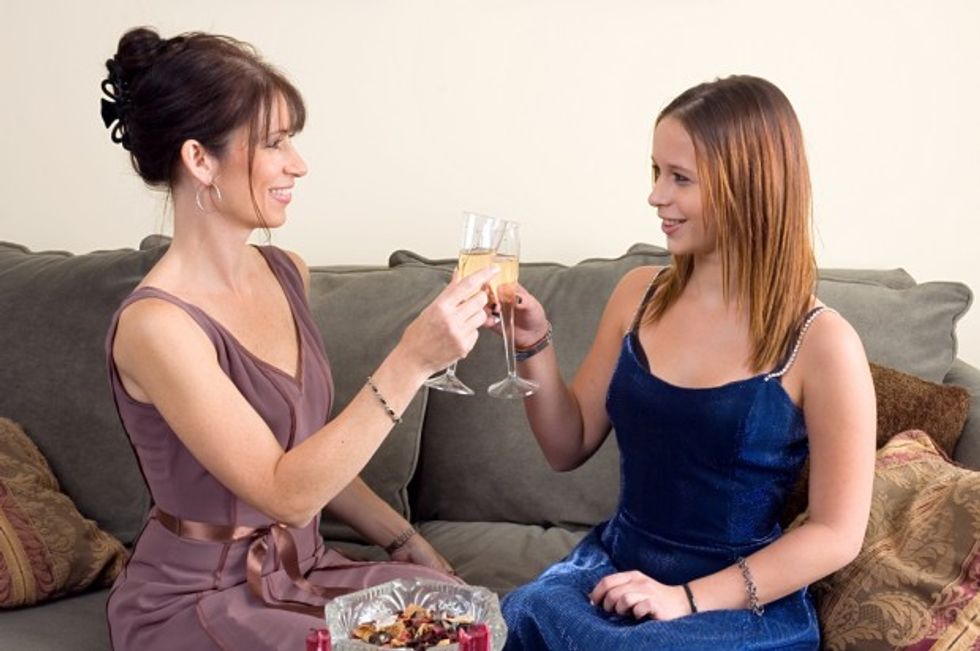 Photo credit: Shutterstock
Such is the sentiment of many parents who hope to control their child's introduction to alcohol, but a new study is joining others that have found this can have the opposite effect that parents are trying to achieve.
Research published in the Journal of Studies on Alcohol and Drugs found that children who are allowed to take "just a sip" of their parent's drink are more likely to start drinking in high school.
The long-term study of 561 students found those who "sipped" in the sixth grade were five times more likely, compared to those who didn't, to have a full drink in high school and were four times more likely to have binged or gotten drunk.
Dr. Kristina Jackson with the Center for Alcohol and Addiction Studies at Brown University said that these findings don't mean that the sips officially lead to the child choosing to drink while still underage, but it "provides evidence to the contrary" that the "European model" of introducing alcohol at a young age takes away its mystique.
"At that age, some kids may have difficulty understanding the difference between a sip of wine and having a full beer," she said in a statement, explaining that the sip method might send "mixed messages."
Jackson added that she's not saying "whether it's 'OK' or 'not OK' for parents to allow this" or that children who have been allowed to take a sip are "doomed." Simply, parents need to send "clear, consistent messages," she said.
The Partnership for Drug-Free Kids has laid out many of the "myths" it says people have about underage drinking in the home.
"Many well-intentioned parents think that supplying alcohol for their child to drink at home may teach them how to 'drink responsibly' and might prevent them from drinking elsewhere," the nonprofit's president and CEO Steve Pasierb said in a statement. "But the truth is that early consumption of alcohol in any context increases the likelihood of harmful effects in the long run. What's more, studies have shown that when parents supply alcohol to their kids, it actually increases the risk for continued consumption during childhood and lifetime problem drinking. Drinking in the home does not prevent children from drinking outside the home or with their friends."
According to the National Institute on Drug Abuse, a 2014 survey found underage alcohol use in all grades declined. Less than 24 percent of high school sophomores reported using alcohol in the past month when the survey was conducted and 37.4  seniors said they had used alcohol, dropping from 30.4 percent 43.5 percent, respectively, in 2009.
—
Front page image via Shutterstock.