Motorists in Chicago know where not to park their car if they want to be able to remotely lock or unlock it.
Several drivers have now reported their key fobs do not work when they try to use them in a certain part of the city near Lincoln Park. But when used somewhere else, they work just fine.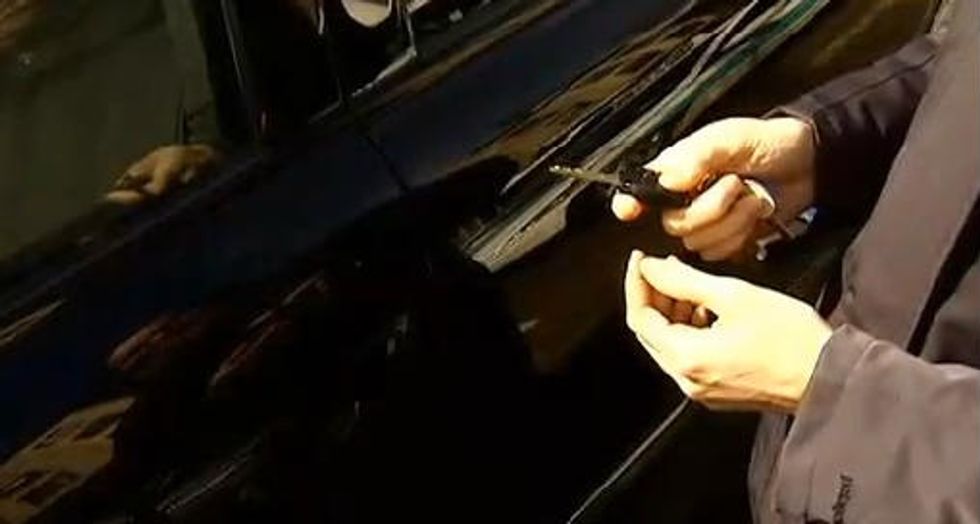 Image source: WFLD-TV
"Periodically, I would try to get back in my vehicle and it wouldn't unlock using the key fob. So I have to just use my regular key," Cindy Summers told WFLD-TV.
Summers is the owner of a local pastry shop and used to park her car right outside of her store – but not anymore. Her keyless remote failed to work on multiple occasions when she parked in that spot.
Summers didn't know what to make of why it didn't work there, but never imagined others had been experiencing the same problem. Local reporter Larry Yellen heard about what was happening and decided to see if his own car's keyless remote would work in that spot, but there was no such luck.
"I am totally shocked. Because when you mentioned this happened to you, I thought, 'Oh. Yes, It has been happening to me," Summers said.
While this mysterious "dead zone," as WFLD described it, is inconveniencing drivers, it's also baffling mechanics.
Yellen went to Nortown Automotive after he discovered that his key fob wouldn't work in the area. But mechanic George Clos couldn't find anything wrong.
"The batteries, they test okay," Clos said.
This isn't the first time Clos has had customers with similar issues.
"There [have] been many occasions where customers have called me and couldn't get into their car, couldn't make it work. [They] towed their cars in, and everything starts to work fine when we get them in there," Clos said.
While it has not been determined just what is causing this "dead zone," experts have offered some clues.
"Most likely there is some kind of outside radio interference. Either on the same frequency, or another signal that's just so powerful its drowning out the small signal that you're just sending to your car," Illinois Institute of Technology professor Jeremy Hajek told WFLD.
David Maxson, a wireless expert for the Massachusetts-based company Isotrope, gave another possible explanation, saying that other "dead zones" have been linked to stores that use radio signals to try to keep track of all of their shopping carts. He's even heard of an instance where it happened because of the light control panel at a nightclub.
(H/T: WFLD-TV)
–
Follow Jon Street (@JonStreet) on Twitter