House Select Committee on Benghazi Chairman Trey Gowdy (R-S.C.) on Tuesday formally asked Hillary Clinton to appear before his committee to take questions about her decision to use a personal email account while serving as Secretary of State.
The request came just days after Clinton's lawyers said Clinton had deleted all non-work emails from her personal server, a move that Republicans say was made without any outside review of what might have been on those emails. Gowdy has said he still sees gaps in the work emails his committee has received from Clinton, which leaves open the possibility that some emails related to the 2012 attack in Benghazi may have been deleted.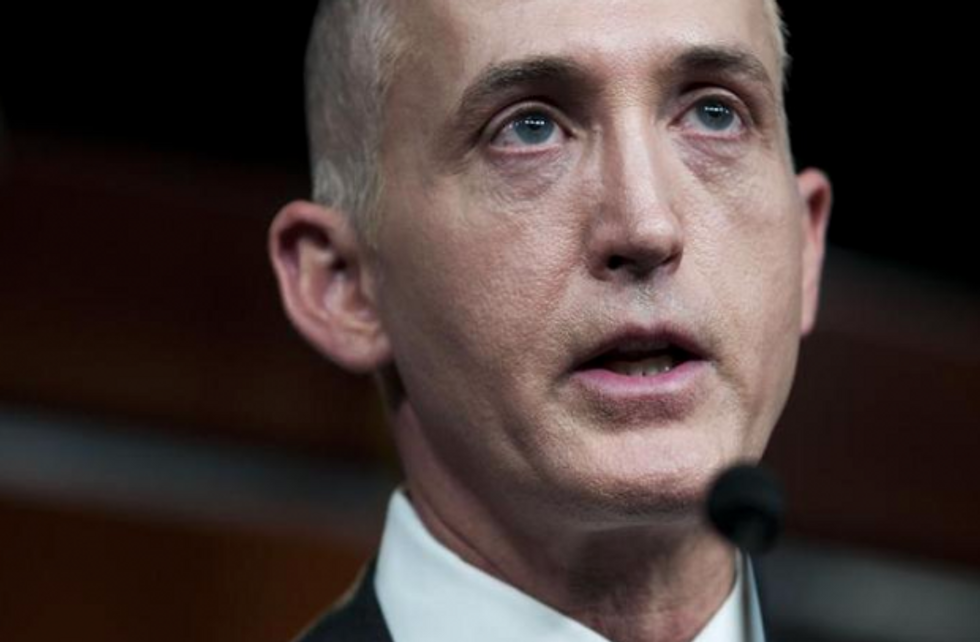 House Select Committee on Benghazi Chairman Trey Gowdy (R-S.C.) on Tuesday formally asked Hillary Clinton to testify before his committee on her email practices. Image: Gabriella Demczuk/Getty Images
"[T]his committee is left with no alternative but to request Secretary Clinton appear before this committee for a transcribed interview to better understand decisions the secretary made relevant to the creation, maintenance, retention, and ultimately deletion of public records," Gowdy wrote to Clinton's lawyer. "The committee is willing to schedule the interview at a time convenient for Secretary Clinton, but no later than May 1, 2015."
In the last paragraph of his letter, Gowdy suggested a "private transcribed interview," which he said would help protect Clinton's privacy. He stressed again the his committee has "no interest" in reviewing Clinton's private emails.
"The committee believes a transcribed interview would best protect Secretary Clinton's privacy, the security of the information queried, and the public's interest in ensuring this committee has all information needed to accomplish the task set before it," he added.
Rep. Elijah Cummings (D-Md.), the top Democrat on the committee, said he would prefer a public hearing.
"Rather than drag out this political charade into 2016 and selectively leak portions of a closed-door interview, the committee should schedule the public hearing, make her records public, and re-focus its efforts on the attacks in Benghazi," he said.
Gowdy's request came just hours after he said that House Republicans were considering whether another committee should take up the investigation into Clinton's email practices. Gowdy indicated on Fox News Monday night that House Speaker John Boehner (R-Ohio) was mulling the idea of letting Gowdy's committee focus on Benghazi, while another committee, perhaps the House Oversight Committee, looks into Clinton's email practices.
"I'm not looking to enlarge the jurisdiction of our committee," he said. "Four murdered Americans is more than enough for me."
But with his Tuesday letter, Gowdy's committee appears set to look at both issues. Gowdy's committee has been credited with discovering Clinton's use of personal email, as it worked to figure out how Clinton reacted to the 2012 attack.
Gowdy said Friday that he was told by Clinton's lawyers that the emails were deleted sometime between late October and mid-December of 2014.
Read Gowdy's letter to Clinton's lawyer here: