Crystal O'Connor, the co-owner of Memories Pizza in Indiana, says it may not be safe to re-open their pizzeria after they said they wouldn't cater a gay wedding.
"I don't know if we will re-open, or if we can, if it's safe to re-open," O'Connor said on TheBlaze TV's Dana. "We're in hiding basically, staying in the house."
O'Connor recently told WBND-TV, "If a gay couple came in and wanted us to provide pizzas for their wedding, we would have to say no."
She made it clear that they are happy to serve gay customers, but would not be a part of the wedding because of their religious beliefs. National news outlets quickly picked up the story.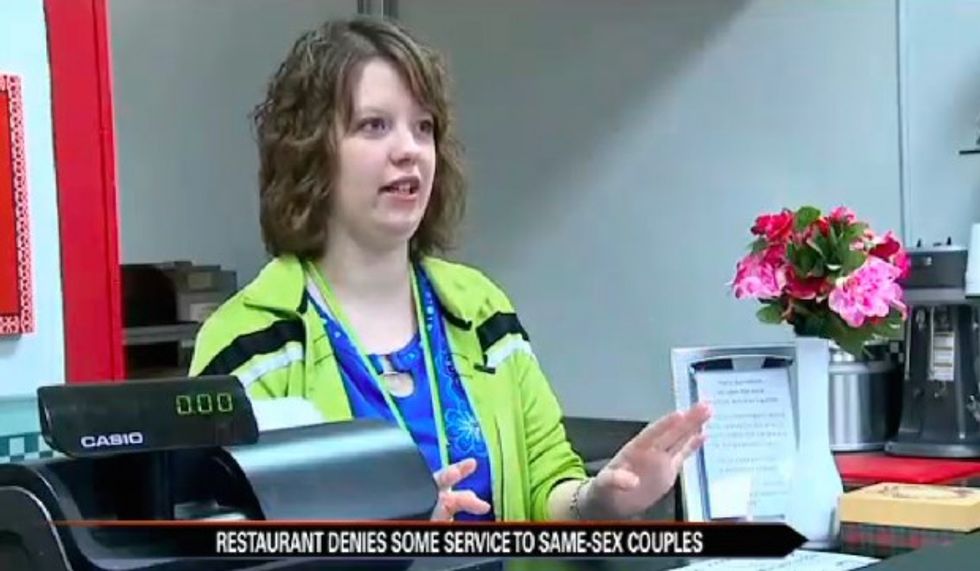 Crystal O'Connor, the co-owner of Memories Pizza, speaks with ABC57. (Image credit ABC57)
O'Connor said they have since received an endless flood of "bashing" comments on social media, and their Yelp page has been trashed. One reviewer wrote that they serve an "intolerance special with toppings of hate, bigotry, stupidity, and old fashioned beliefs." And a high school coach from Goshen, Indiana has been suspended after urging people on Twitter to burn down their establishment.
"Who's going to Walkerton, IN to burn down #memoriespizza w me? Agree with #FreedomofReligion bill? 'That's a lifestyle they CHOOSE' Ignorant," coach Jess Dooley wrote.
O'Connor said the media is distorting what her family truly believes. They are happy to serve gay customers, she reiterated, but object to being forced to participate in a gay wedding, since they don't believe in gay marriage.
"We're very hurt and confused and we stood up for what we believe," she said. "The news just took it totally out of proportion. They lied about it. We said that we would serve anyone that walked in that door, even gays, but we would not condone a wedding. We would not cater that because it's against our religious beliefs."
[mlbvideo content_id=59190383]
The full episode of The Glenn Beck Program, along with many other live-streaming shows and thousands of hours of on-demand content, is available on just about any digital device. Click here to watch every Glenn Beck episode from the past 30 days for just $1!
--
This post has been updated.