Senior government officials are incredibly nervous about legislative proposals aimed at making them more accountable and making it easier to fire corrupt or inefficient workers, and say these ideas will likely prompt many of them to retire early rather than risk being fired.
The Senior Executives Association, which represents senior executive service (SES) officials in the government, released a report Wednesday that said almost none of the nearly 500 current and former SES workers polled believe these "at will" employment proposals are a good idea. Some said the accountability measures would create a culture of "fear" in the government, while others said it would no longer be worth working for the government with these changes in place.
Senior federal officials in Washington, D.C., aren't very happy with legislative proposals aimed at making them more accountable.
"Passage of at will legislation will undermine the merit system and create a culture of fear and intimidation that will inhibit excellence," one official told the group.
"I'm reconsidering my career plans," said another. "I can't afford to put my compensation at risk while I still have kids in school."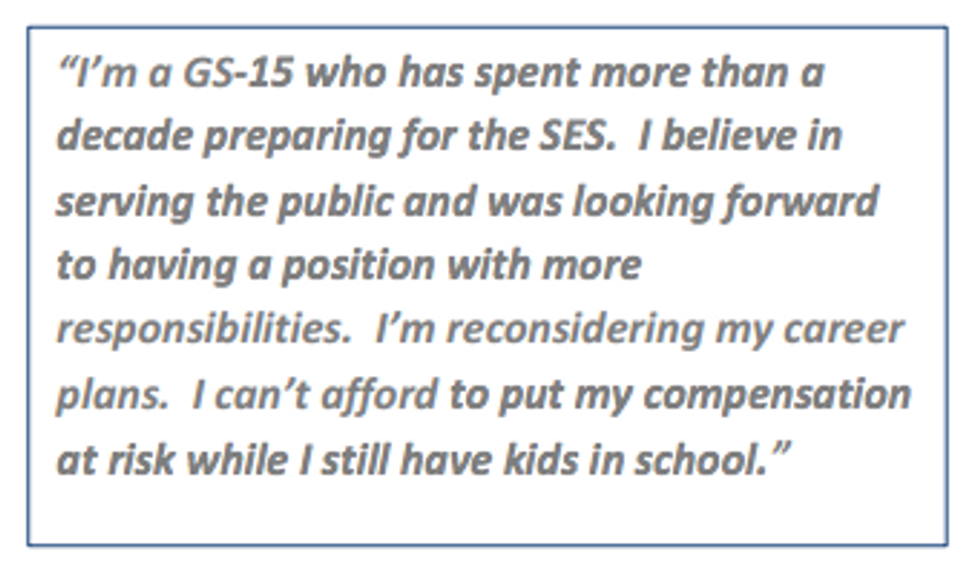 "At will" proposals and other bills aimed at improving accountability have been introduced in the wake of serious performance problems at the IRS, the Department of Veterans Affairs and other federal agencies. Those events prompted some members of Congress to propose ways to allow for the quick firing of senior officials who are found to be corrupt, negligent or inefficient.
But the Senior Executives Association seemed to downplay those problems in their report, with language that seemed to dismiss the idea that real scandals have taken place in those agencies.
"The advent of highly publicized 'scandals' and alleged mismanagement involving senior level officials arising at the Department of Veterans Affairs, Internal Revenue Service, and the General Service Administration has led to increased congressional oversight of and demands for reforms in senior executive pay, employment security and accountability at these agencies as well as legislative proposals that would bring about government-wide system changes, including allowing agencies to terminate career SES employees with minimal or no due process," the report said.
The group's president, Carol Bonosaro, told TheBlaze that quotes were used around the word "scandals" because that's how the press refers to them, even though very few officials have been fired over these events.
"In fact, for example, only one executive at GSA was found to have engaged in wrongdoing with regard to the Las Vegas conference, by violating procurement regulations," she said. "At VA, to our knowledge, the only executive who was fired whose case is public because of her appeal to the MSPB was fired due to the improper acceptance of gifts from a contractor."
But many members of Congress have said the absence of any significant firings at these agencies is itself a part of the ongoing scandal. For example, Congress has passed legislation allowing the VA secretary to immediately fire officials for cause, a change that had overwhelming support in both parties after evidence was found that hundreds of top officials at the VA were involved in a scheme to deny veterans access to health care.
Members of Congress have criticized the VA for failing to use that law to fire anyone involved in the scandal yet — a handful have been fired, but others have been allowed to retire, and even those fired were officially let go for reasons other than the health care scandal.
Still, SES workers told the Senior Executives Association that there is nothing to like at all about these sorts of legislative changes. The report made five key findings, including that senior officials "overwhelmingly" see these changes as a bad idea.
When current senior officials were asked, 92.4 percent of those surveyed said it was a bad idea, and only 5 percent said it was a good idea. Most also agreed that it would be harder to keep good workers in the government, and that many would quickly look to retire.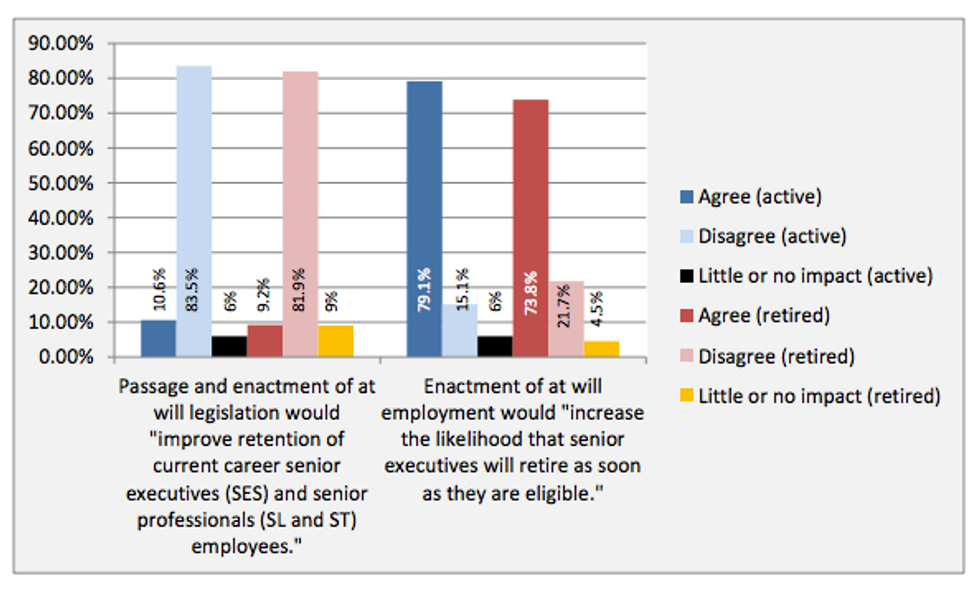 Last year's VA law included a process that senior officials can use to appeal decisions that she should be removed, and some VA officials targeted for removal have used this process to their benefit. Still, many senior government workers seem to believe that these legal changes would allow them to be fired for any reason at all, including that their boss just doesn't like them.
"Members of the SES who are top performers, but not the personal pick of a new political, will find themselves out on the street with a 'poor performer' label," one official said.
"I would not have entered the SES eight years ago and made the sacrifices I've made, if I knew I could be replaced at the whim of agency leadership or as a result of personal bias," said another.

Others indicated that the chance of being removed no longer makes government work worthwhile at all. "This is moral busting and career threatening to me," one said.
The other key findings from the report are that accountability laws would make it harder to recruit people for the SES, and would hurt "innovation" within the government. The report said the proposals would "be harmful to the efficiency, effectiveness, integrity, productivity, innovation and operational stability of the government, as well as the public's confidence in it."