UPDATE, 11:58 p.m. ET: More than $445,000 has now been donated to Memories Pizza.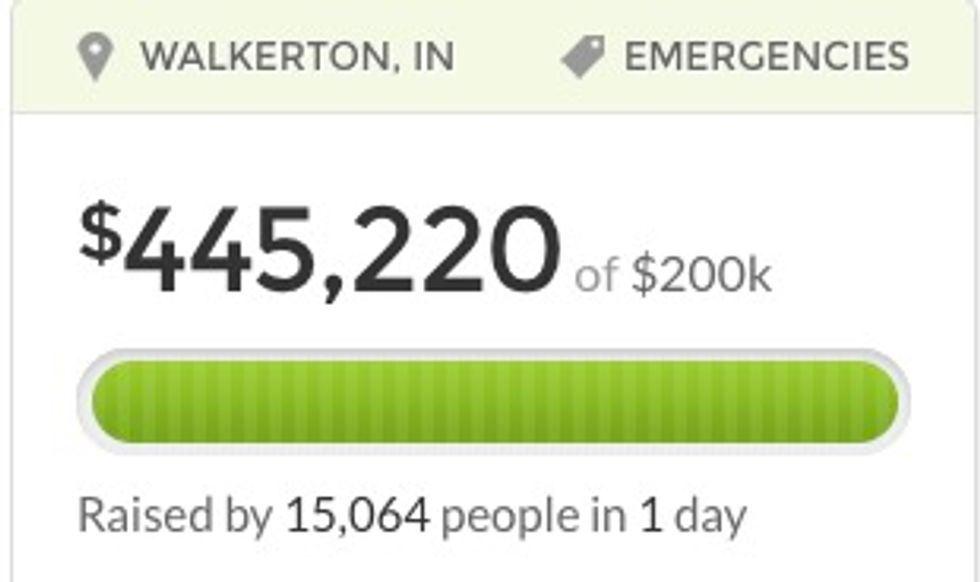 Screen grab
—
In less than 24 hours, over 8,000 people have donated more than $228,000 for the embattled Christian owners of Memories Pizza in Walkerton, Indiana. A slew of online threats forced the small business to close its doors after the owners told a local news station that they would refuse to cater for same-sex weddings based on their religious beliefs.
Among all of the donations was a $20 contribution that is being called the "greatest things I've seen in years" and the epitome of "real tolerance." The GoFundMe page was set up by Lawrence Jones, a contributor for TheBlaze TV's "Dana."
A woman, who identified herself as Courtney Hoffman, wrote:
"As a member of the gay community, I would like to apologize for the mean spirited attacks on you and your business. I know many gay individuals who fully support your right to stand up for your beliefs and run your business according to those beliefs. We are outraged at the level of hate and intolerance that has been directed at you and I sincerely hope that you are able to rebuild."
The reaction to her donation was overwhelmingly positive:
This is what equal tolerance looks like! Thank you for people like her. #RFRA#MemoriesPizza@DLoeschpic.twitter.com/9aIt1sG2ix

— Kris RC ✝ (@rc_kris) April 2, 2015
@rc_kris@DLoesch That's the greatest thing I've seen in years.. Why can't more people be like that. Agree to disagree and accept. Well done

— KaliseN (@Kalisen_D) April 2, 2015
@rc_kris@ChrisLoesch@DLoesch That is exactly what " tolerance " is .....Bravo

— darthsparticus (@sithschnauzer) April 2, 2015
.@rc_kris: Take note #BoycottIndiana gaystapo. This is what real tolerance looks like. @DLoesch@ChrisLoesch

— #HandsOffMyGun (@CHOWSTL) April 2, 2015
April 2, 2015
@rc_kris@DLoesch For Courtney Hoffman...my hats off to you, young lady. That is as American and as nobel a gesture as they come.

— Goo T. Gwaba (@GooGwaba) April 2, 2015
Indiana's "religious freedom" bill has sparked a nationwide controversy, with critics claiming that it permits businesses to discriminate against members of the LGBT community.
Earlier this week, Indiana Gov. Mike Pence criticized the media's "sloppy reporting" and called for legislative clarification to the contentious law intended to reinforce freedom of religion.
---
UPDATE: It appears that Hoffman is not the only member of the gay community supporting Memories Pizza. "Buz Smith" donated $250 to the pizzeria and included the following message: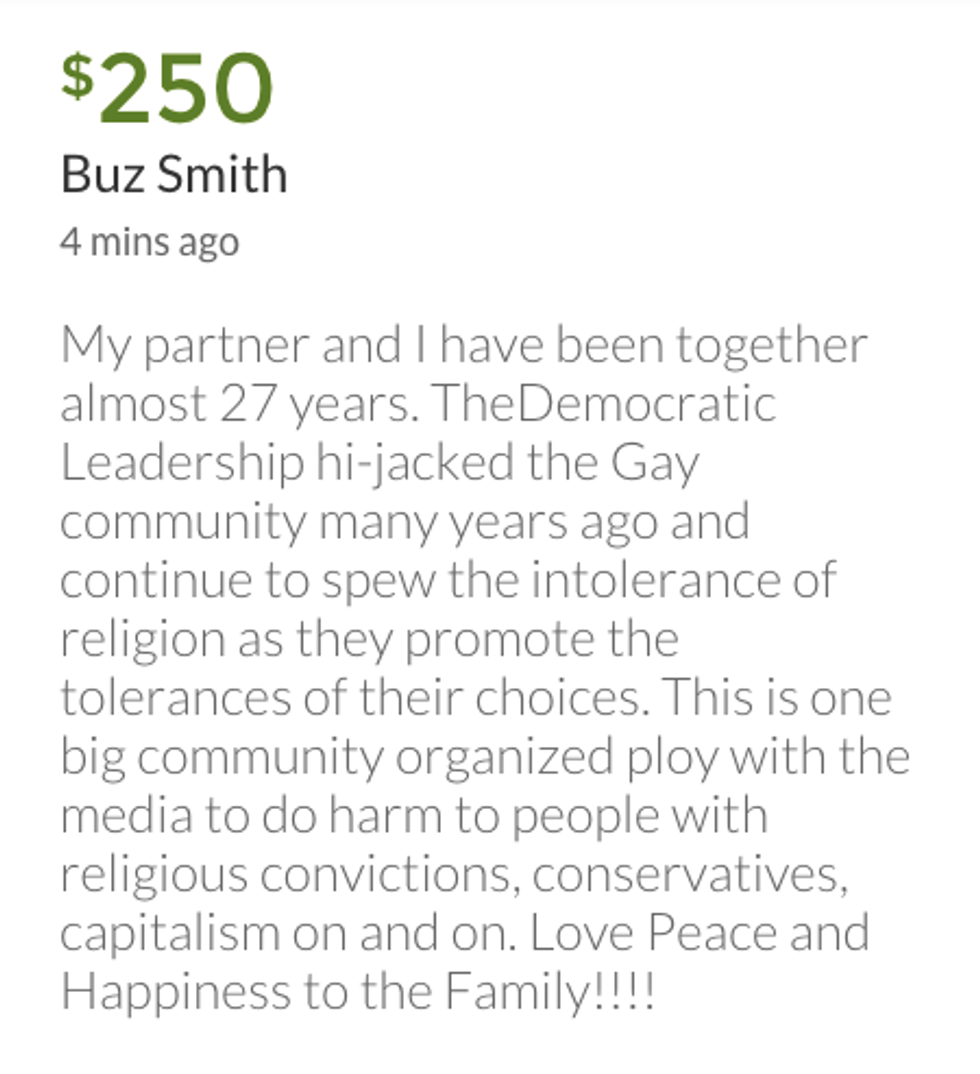 (GoFundMe)
---